Birding Tour Calendar – Summaries
2023 Birding Tour Summaries
September 2023
20th-30th September: Morocco Autumn Birding Tour – £TBA per person
Northern Bald Ibis, Thick-billed Lark, Cream-coloured Courser, Desert Sparrow, Moussier's Redstart, Egyptian Nightjar, Mourning (Maghreb) Wheatear, Marbled Duck, Levaillant's Green Woodpecker, Spotted Sandgrouse, Pharaoh Eagle Owl, African Crimson-winged Finch, Black-crowned Tchagra
Beginning in bustling Marrakech we leave the city behind for our introduction into Morocco's birds in areas of agriculture before making the journey into the high Atlas mountains. From here we make birding stops while heading over the Tizi-n-Tichka pass towards the town of Boumalne du Dades from which we will go birding ,,,,,
Read the full itinerary – Morocco Autumn Birding Tour
---
October 2023
---
November 2023
18th – 30th November; Cuba Endemics – £3925 per person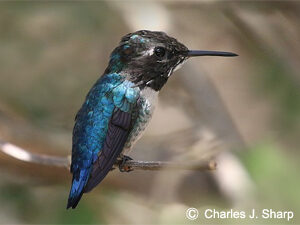 Bee Hummingbird, Cuban Tody, Bare-legged Owl, Cuban Trogon, Cuban Green Woodpecker, Red-legged Thrush, White-crowned Pigeon, Cuban Oriole, Zapata Wren, Western Spindalis, Cuban Emerald, Blue-headed Quail-Dove, Loggerhead Kingbird, Cuban Solitaire
Starting from Cuba's capital, Havana, we begin by heading west to the forests of La Güira National Park where we can see our first Cuban endemics as well as a wide variety of regional specialities. After a few days here we make a long journey east to the coastal habitats of Caya Coco where we can find many exciting species in both coastal woodland/gardens as well as in the wetlands. From here we head south stopping at La Belen with its diversity of habitats providing us with a wide variety of species. Moving back towards Havana we visit our final birding location of the trip at the famous Zapata Swamp where we will stay for a few days to enjoy our final Cuban endemics and some top quality birding before finishing the trip at Havana airport. Read the full itinerary and details here – Cuba Endemics Birding Tour
20th November-2nd December; Sri Lanka Endemics – £3275 per person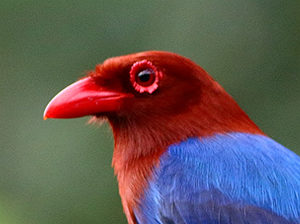 Sri Lanka Frogmouth, Spot-winged Thrush, Serendib Scops Owl, Malabar Trogon, Indian Pitta, Sri Lanka Grey Hornbill, Red-backed Flameback, Sri Lanka Blue Magpie, Crimson-fronted Barbet, Pied Thrush, Malabar Pied Hornbill, Chestnut-backed Owlet
Passing through the capital city of Colombo we immediately head inland to the forests of the interior at Kitulgala where we expect to see our first endemics in the lush habitat here.  Next we visit the magnificent Sinharaja National Park to spend several days birding in Sri Lanka's most intact rainforest, home of some its most sought-after birds. From here we head south into the dry forests, open country and wetlands culminating in a visit to another of Sri Lanka's most famous birdwatching sites, Yala National Park as well as nearby Bandala National Park. Here we hope to see some exciting mammals as well as birds before heading back to the highlands at Horton Plains. The trip concludes with birding around the forest patches, parks and botanical gardens in and around the historical towns of Nuwara Eliya and Kandy. Read the full itinerary and details here – Sri Lanka Endemics Birding Tour
---
December 2023
5th-16th December; Western Ghats Endemics Birding Tour – £3250 per person
Wayanad Laughingthrush, White-bellied Treepie, Palani Laughingthrush, Malabar Grey Hornbill, White-cheeked Barbet, Nilgiri Thrush, Black-and-orange Flycatcher, Nilgiri Woodpigeon, Crimson-backed Sunbird, Nilgiri Blue Robin, Painted Spurfowl
Starting from Cochin we begin our birding by visiting the world famous Thattekkad Bird Sanctuary where a high number of Southwestern India's endemic birds can be found in the rainforest habitat here which is interspersed with patches of grassland and riverine habitat. Moving on we maximise our chances of the region's most exciting birds with visits to Mudumalai and Eravikulam National Parks before heading to the hill station of Ooty where the high altitude will provide us with cooler weather and birds that are altitudinally restricted in range. Finally we end the trip with some wetland and open country birding at Mysoore where a few species that have declined in much of their range still occur. Read the full itinerary and details here – Western Ghats Endemics Birding Tour
---
2024 Birding Tour Summaries
January 2024
3rd-15th January; South Korea Winter Birding Tour – £3750 per person
Steller's Sea Eagle, Varied Tit, White-naped Crane, Saunders's Gull, Solitary Snipe, Japanese Pygmy Woodpecker, Red-crowned Crane, Baikal Teal, Cinereous Vulture, Hooded Crane, Yellow-throated Bunting, Oriental Stork, Pallas's Reed Bunting, Siberian Accentor.
Beginning in Seoul we plan to visit a variety of birding sites throughout mainland South Korea. We plan to begin close to Seoul in the pleasant woodland of the National Arboretum. From here we visit the DMZ for the wonder that is the "Flight of the Cranes". Visiting a large ride for Steller's Sea Eagle we move on to the historic wooded hills of Namhansanseong. Heading towards the coast we then explore harbours, bays and beaches, as well as taking a boat trip, to see gulls, alcids and wildfowl in impressive numbers. Moving south to Busan we look for some rare birds in the estuary and enjoy masses of species at close range at delighful Junam. Checking out the crane flocks at Suncheon we finish on the west coast to find the last of the key winter species of Korea including some impressive wildfowl flocks. Finally we conclude by returning to Incheon airport. Read the full itinerary  – South Korea birding tour
---
February 2024
1st-22nd February; Central and Northern Thailand – £4395 per person
Spoon-billed Sandpiper, Nordmann's Greenshank, Great Hornbill, Giant Nuthatch, Black-and-red Broadbill, Mrs Hume's Pheasant, Scarlet-faced Liocichla, Blue Pitta, Yellow-breasted Bunting, Spot-breasted Parrotbill, Black-headed Woodpecker, Asian Dowitcher.
Starting in the city of Chiang Mai we visit the northern mountains of Doi Lang and Doi Ang Kang nestled on the border with Myanmar, where a large number of high altitude birds can be found, before looking for migrants in rice fields and wetlands. Moving on to Thailand's highest point at Doi Inthanon we will enjoy a variety of colourful species at close-quarters and then travel to Bangkok, the capital city. From here we enjoy some tropical forest birding at Khao Yai National Park and then visit probably the world's best shorebird site at Pak Thale, where there is not only a wide variety of wading birds but also huge numbers and high rarity value, as well as wide variety of wetland and open-country birds in nearby rice fields. Finally we move on to one of Southeast Asia's best forest birding sites, Kaeng Krachan, where we can see some of the most iconic Asian forest birds, finishing the tour in Bangkok. Read the full itinerary and details here – Thailand birding tour
---
March 2024
12th-26th March; Cambodia Birding Specialities – £3850 per person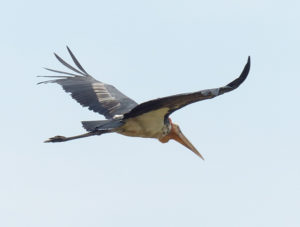 Giant Ibis, Cambodian Tailorbird, Greater Adjutant, Bengal Florican, Mekong Wagtail, Sarus Crane, Black-headed Woodpecker, White-rumped Vulture, Milky Stork, Chinese Grassbird, White-shouldered Ibis, Great Slaty Woodpecker, White-rumped Falcon
Beginning at Siem Reap we start birding around the grounds of the magnificent Angkor Wat, spending a day enjoying the birds and historic sites of this World Heritage site. Following this we visit a series of wetland and fringing grassland habitats where we expect to see a wide variety of birds including some of the region's most impressive large water birds. Moving on to the dry dipterocarp forests that cover much of the north of the country we can find lots of habitat specialists, a wide variety of woodpeckers and some of Southeast Asia's rarest species in their last refuges. The spectacle of the Vulture Restaurant should be a memorable one, particularly given the rarity of the diners, before we move on to the Mekong river where taking a boat trip will reveal yet more exciting birds. Finally we finish in the capital city, Phnom Penh, making a stop for Cambodia's most recently discovered endemic species. Read the full itinerary – Cambodia Birding Tour
---
April 2024
29th March – 9th April; Best of Central Vietnam – £2900 per person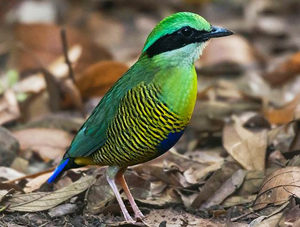 Bar-bellied Pitta, Vietnamese Cutia, Germain's Peacock Pheasant, Collared Laughingthrush, Blue-rumped Pitta, Vietnamese Greenfinch, Pale-headed Woodpecker, Indochinese Green Magpie, Siamese Fireback, Annam Barbet, Black-hooded Laughingthrush.
We begin in Ho Chi Minh City in southern Vietnam driving north to the famous tropical forest reserve of Cat Tien National Park. The lush forest here is a great place to start our tour, with some special birds to look forward to. Plenty of time here will allow us to find most of the fantastic key species here before heading further north to the Dalat plateau. Here we will search for high altitude species in contrast to the lowlands that we began in with a lower average temperature as well as a completely different set of exciting birds. Visiting further highland birding sites near the town of Di Linh we can also visit some stakeouts where we hope for some close encounters with some of Central Vietnam's most exciting species. Keeping all our birding sites relatively close together means that we drive back to Ho Chi Minh City where the trip concludes. Read the full itinerary – South and Central Vietnam birding Tour
19th April – 3rd May; Thailand and Vietnam Pittas – £3450 per person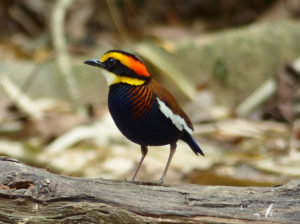 Blue Pitta, Malayan Banded Pitta, Mangrove Pitta, Blue-winged Pitta, Hooded Pitta, Brown-winged Kingfisher, Long-tailed Broadbill, Ruddy Kingfisher, Black-and-red Broadbill, Stork-billed Kingfisher, Bar-bellied Pitta, Oriental Dwarf Kingfisher, Blue-rumped Pitta.
Beginning in Ho Chi Minh City, Vietnam, we spend sufficient time in the lush tropical forests of Cat Tien National Park to have some memorable experiences with several species of Pitta. Relocating to Bangkok, Thailand, we enjoy some relaxing but exciting wetland birding before moving inland and west to Kaeng Krachan National park. This site is one of the best in Southeast Asia and as well as several Pittas it should supply us with a good helping of Broadbills. As well as these colourful birds Kaeng Krachan should provide a number of other highly sought-after Asian birds. The third section of this birding trip takes us to Phang Nga province of southern Thailand in search of some of the mangrove and lowland forest specialities of the region. Finally there is a flight back to Bangkok where the tour finishes. Read the full itinerary – Thailand and Vietnam Pitta Birding Tour
---
May 2024
---
June 2024
16th – 30th June; Central Mongolia – £4150 per person
Henderson's Ground Jay, Oriental Plover, Pallas's Sandgrouse, White-naped Crane, Mongolian Lark, Azure Tit, Swan Goose, Black-billed Capercaillie, Siberian Rubythroat, Saker Falcon, Godlewski's Bunting, Altai Snowcock, Saxaul Sparrow, Kozlov's Accentor.
Beginning and ending in the capital city, Ulanbataar, we first drive into the steppe and wetlands that stretch far and wide from the city and host flocks of widfowl and breeding cranes as well as steppe specialities such as Mongolian Lark. Traditional ger camps will form the bulk of our accommodation as we explore the open spaces of this amazing country. From steppe we move on to taiga, the northern boreal forests that stretch from Siberia into Mongolia's north, to search for an exciting array of woodland birds. A short flight takes us south to the Gobi Desert where we go in search of the curious Henderson's Ground Jay. Visiting saxual scrub and the impressive dunes of the "singing sands" will produce some great birds and more amazing scenery while the Altai mountains will give us access to some superb high altitude birds. Read the full itinerary – Central Mongolia Birding Tour
---
July 2024
20th July – 4th August; Mexico Rare Endemics – £3850 per person
Eared Quetzal, Thick-billed Parrot, Maroon-fronted Parrot, Worthen's Sparrow, Tawny-collared Nightjar, Aztec Thrush, Tamaulipas Pygmy-Owl, Blue-capped Motmot, Bronze-winged Woodpecker, Crimson-collared Grosbeak, Thicket Tinamou, Elegant Trogon
Birding in parts of Mexico not frequently visited by birding tours at a time of year when key species are breeding we start from Monterrey and head into the Sierra Madre Oriental visiting both oak/pine forest as well as more tropical forest habitats at the famous El Cielo Biosphere Reserve, with a side excursion to the coast.  From here we move on to the north west of Mexico where the most seldom-seen Mexican endemics are to be found. Visiting the forests and canyons of the Sierra Madre Occidental we visit the refuge of some really rare and range-restricted species of forest and grassland plateau. We finish this Mexico rare endemics birding tour in farmland, woodlands and scrub of the open coastal plains, looking for Mexican endemics at the northern limit of their range, finishing in Hermosillo. Read the full itinerary – Mexico Rare Endemics Birding Tour
---
August 2024
1st – 24th August; West Java & Sumatra – £4325 per person
Javan Banded Pitta, Pygmy Bushtit, Christmas Island Frigatebird, Schneider's Pitta, Large Frogmouth, Oriental Bay Owl, Graceful Pitta, Javan Cochoa, Red-billed Partridge, Salvadori's Pheasant, Javan Tesia, Bonaparte's Nightjar, Javan Trogon, Javan Kingfisher.
Using Jakarta as a hub we first visit the north coast of Java, taking a couple of boat trips for a nice to start the tour. Moving to the west coast we start our forest birding at Carita before moving on to Halimun national park for more forest endemics. Continuing on to Cibodas and Gunung Gede we alternate our time between hiking the mountain to find key Javan endemics and easy birding around Cibodas Botanical Gardens. Our final stop in Java is at the pleasant Bogor Botanical gardens before we fly to the island of Sumatra. Visiting Way Kambas is a superb way to catch up with many rare Southest Asian species and night birding is very special here. A flight back to Jakarta and then on to Padang gets us to central Sumatra where we visit Gunug Kerinci and Tapan Road, two excellent places for seeing a lot of exciting Sumatran endemic species. Read the full itinerary – West Java and Sumatra birding tour
---
September 2024
6th-18th September: Peninsula Malaysia, Iconic Birds of Southeast Asia – £3950 per person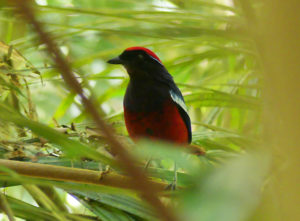 Garnet Pitta, Malaysian Rail Babbler, Malayan Banded Pitta, Rhinoceros Hornbill, Green Broadbill, Mountain Peacock Pheasant, Crested Fireback, Red-naped Trogon, Chestnut-naped Forktail, Black Laughingthrush, Malayan Laughingthrush.
Arriving in Kuala Lumpur we start by birding in a variety of open country and wetland sites before reaching Kuala Selangor. A morning at Kuala Selangor allows us to see some smart mangrove species before we move on to Fraser's Hill, birding along the way. Three full days at Fraser's Hill gives us plenty of time at this wonderful location, which provides superb birding in close proximity to our accommodation and some cooler weather. From here we head to the lowlands at Krau Forest Reserve for some key forest species before traveling to the fantastic Taman Negara. This national park protects some of the finest tropical forest in Southeast Asia along with many iconic species. Patience is required here but the rewards are great with many incredible, colourful species to find. Finally we visit Bukit Tinggi for a little more montaine birding before heading back to Kuala Lumpur via some wetland sites. Read the full itinerary – Peninsula Malaysia Birding Tour
---
October 2024
26th October-5th November: Thailand Raptor Migration Tour – £3150 per person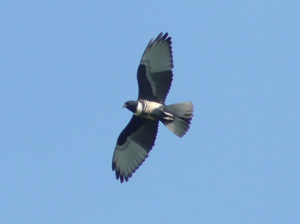 Black Baza, Oriental Honey-buzzard, Grey-faced Buzzard, Black-thighed Falconet, Spoon-billed Sandpiper, Lesser Fish Eagle, Pied Harrier, Malaysian Plover, Chinese Egret, Crested Goshawk, Chinese Sparrowhawk, Eastern Marsh Harrier, Greater Spotted Eagle
From Bangkok, we head south visiting rice fields to start with a wide variety and high number of species. Further south we spend time at Thailand's premier raptor migration hotspot at Chumpon. With several days here we expect  flocks of migrating raptors passing by our hillside observation spot before taking a boat trip on Chieow Larn Lake. Here spectacular limestone karst is the backdrop for searching for some of Thailand's rarest resident raptors. After a morning of southern forest birding we then return northwards up the peninsula to visit the shorebird hotspot of Pak Thale. Here we hope to find the returning Spoon-billed Sandpipers which are normally seen at this time of the year. Time in the forests of Kaeng Krachan will allow us to pick up a few more resident and migrant raptors as well as some impressive and colourful forest-dwelling birds.  Read the full itinerary – Thailand Raptor Migration Tour
---
November 2024
---
December 2024
---
January 2025
10-24th January; Myanmar Birding Tour – £TBA per person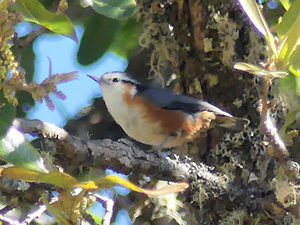 Mount Victoria Babax, White-browed Nuthatch, Burmese Bushtit, White-throated Babbler, Hooded Treepie, Jerdon's Minivet,  Chin Hills Wren Babbler, Burmese Bushlark, Rusty-fronted Barwing, Assam Laughingthrush, Black-bibbed Tit
Beginning in Yangon we first visit the dry forest and grassland of nearby Hlawga National Park before taking a short flight to Bagan where birding among the temples and along the Irrawaddy river provide us with views of several of this country's endemic birds.  Driving from Bagan we then spend a total of five days in which we explore the forest at different elevations on Mount Victoria and all the endemic birds and range-restricted birds that this fabulous location hosts. After returning to Bagan another short flight takes us to the hill station of Kalaw with its pine forests before we finish this Myanmar birding tour on a boat, birding the wetlands around Inle Lake and another short internal flight back to Yangon. Read the full itinerary and details here – Myanmar Birding Tour
---
February 2025
---
March 2025
---
April 2025
---
May 2025
22nd May-4th June; Kazakhstan & Kyrgyzstan Birding Tour – £TBA per person
Himalayan Snowcock, White-browed Tit-Warbler, Caspian Plover, Sociable Lapwing, Ibisbill, White-capped Bunting, MacQueen's Bustard, Himalayan Rubythroat, Black Lark, Guldenstadt's Redstart, Saxaul Sparrow, Fire-fronted Serin, White-winged Lark.
Starting in Almaty with the backdrop of the Tien Shan Mountains we visit the Kaskelyn Valley for our first introduction to the birds of Kazakhstan.  From here we journey through villages and traditional farmland until we reach the craggy wilderness of the Kokpek Pass before emerging into the wide open spaces of the Sogety Plains. Staying in an old hunting lodge we make several birding forays into the wilderness here and then cross the border into Kyrgyzstan where we will spend a few days exploring the forests and high mountains with their signature birds; a truly memorable experience. After travelling back to Almaty we then investigate the birds of Lake Sorbaluk and then stay in a yurt camp to bird the semi desert and dry woodland. After this a short flight takes us to Kazakhstan's capital, Nur Sultan, from where we plough into the Steppe and wetlands surrounding the city for some of the most exciting birds of Central Asia. Read the full itinerary and details here – Kazakhstan Birding Tour
---
June 2025
---
July 2025
---
August 2025
24th August – 6th September; North Borneo Birding, Sabah – £4225 per person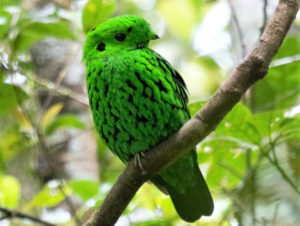 Whitehead's Broadbill, White-fronted Falconet, Helemeted Hornbill, Fruithunter, Bornean Bristlehead, Blue-headed Pitta, Whitehead's Trogon, Bare-headed Laughingthrush, Bornean Ground Cuckoo, Bornean Wren Babbler, Black-crowned Pitta
Starting and finishing in the city of Kota Kinabalu we visit the most famous birding sites in the state of Sabah on the northern tip of the island of Borneo. The first birdwatching site we visit is Tambunan Rafflesia Centre before moving on to the highest mountain in Borneo, Mount Kinabalu, where we stay for several days to enjoy the wonderful birding this site provides. Moving on to Sepilok Forest Reserve we will search for key bird species as well as expecting an encounter with Orang Utans. Next we visit the Kinabatangan River birding from the boat which should reward us with some superb birds as well as memorable mammal sightings. We finish this North Borneo Birding Tour at the famous Danum Valley where some of the most colourful and exciting birds of the trip await us. Read the full itinerary – North Borneo birding tour
---
All of our tours are compliant with The Package Travel and Linked Travel Arrangements Regulations 2018.