Morocco Autumn Birding Tour

20th-30th September 2023: Morocco birding highlights include Levaillant's Green Woodpecker, Thick-billed Lark, Northern Bald Ibis, Cream-coloured Courser, Egyptian Nightjar, Spotted Sandgrouse, Marbled Duck, Pharaoh Eagle Owl, African Crimson-winged Finch, Mourning (Maghreb) Wheatear, Temminck's Lark, Moussier's Redstart, Desert Sparrow, Black-crowned Tchagra – £2225 per person.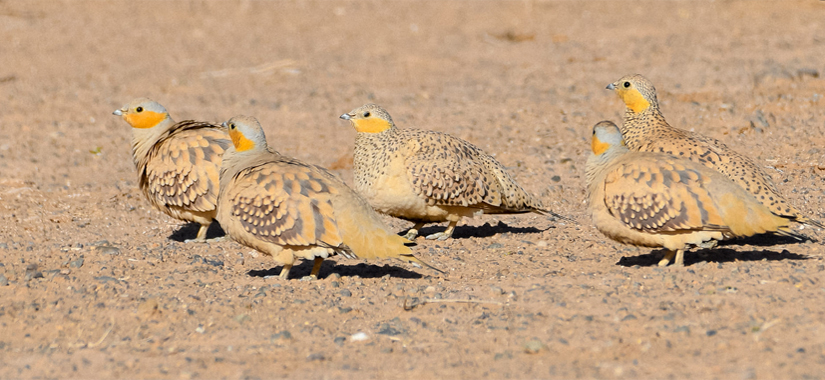 Trip Details
Dates: 20-30th September 2023
Cost: £2225
Single Supplement: £200
Deposit: £330
Tour length: 11 Days (9 days birding)
Min/Max group size: 4 / 9
Start/Finish: Marakech
Tour Type: Birding
Photo Opps: Good to very good
Physical Classification: Easy
Tour Leaders: TBA
If you have any questions about this trip, please feel free to contact us at info@calidrisbirdingtours.com
Morocco Birding in Autumn
Set
Day 1, Arrival in Marrakech – 20th September 2023
Flights will arrive today and transfer to a hotel in Marrakech where we the group will assemble for dinner together and meet the guides. There will be a pre-trip briefing to prepare for an early start in the morning before heading into the Atlas Mountains.
Day 2, Marrakech to High Atlas Mountains – 21st September 2023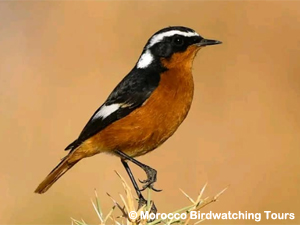 Leaving Marrakech in the early morning we start our birding journey in Morocco by driving through villages and cultivated fields where we can make our first birding stops. In an arid country areas of cultivation always attract birds and in these agricultural areas we are likely to find gems like Sardinian Warbler in low vegetation and the smart Southern Grey Shrike sitting on top of small trees or man-made perches. Spotless Starling is one of those birds with a very restricted global range but we can expect to see this smart species sitting on their favourite perches or foraging in the fields alongside many of the commoner birds of the area.
Little Owl may be a familiar bird to many participants of this Morocco birding tour but it is the unfamiliar that will excite most of us and the highly attractive Moussier's Redstart will satisfy us on that account. We will search for this memorable little bird among its rocky, open woodland habitat with its highly restricted range adding to its attraction. House Bunting is another smart little bird to enjoy while Maghreb Magpie is a split that we can debate after having noted the differences from the more familiar Eurasian Magpie.
As we climb up into the High Atlas Mountains the scenery will gradually change, becoming a feature of the trip in itself but, of course, higher up in the scenic mountains we will be looking for a different selection of Morocco's exciting birds; perhaps most notably the regionally endemic, Levaillant's Green Woodpecker which we can see in areas of open oak and coniferous woodland on the hillsides. On rocky outcrops on the slopes we will scan for Blue Rockthrush sitting upright on their lookout posts, but eventually our drive will take us up to the ski resort at Oukaimeden, close to the snowline.
At this altitude of 2000 metres plus we can check along the snowline for small groups of handsome African Crimson-winged Finches feeding on the ground. Restricted to the barren landscapes of the high Atlas Mountains of Morocco and Algeria this is another speciality bird of this tour. The handsome Black Wheatear can be found at this altitude too flitting between grassy tussocks to rocky perches while searching for insects, as can jaunty groups of Alpine Choughs, African Chaffinch, Rock Sparrow and (Atlas) Horned Lark.
Day 3, High Atlas Mountains to Boumalne du Dades – 22nd September 2023
After an early breakfast we leave the mountains behind, perhaps pausing again en route for Levaillant's Green Woodpecker. From the flat plains of Marrakech we turn back uphill, and drive to Boumalne du Dades via the Tizi-n-Tichka pass (2260 meters), a spectacular and long drive. On the Pass we'll try for yet another endemic "Tristram's Warbler". This species has very specific habitat requirements away from its wintering grounds and not always easy to find. As the road climbs into the hills, we may start to see some raptors such as Long-legged Buzzard and Bonelli's Eagle both possible. Before reaching Boumalne du Dades we'll stop in Amerzgane to look for the rare Wheatear "Maghreb Wheatear".
Day 4, Boumalne du Dades to Tagdilt Track – 23rd September 2023
aaaa
Today we will start early, to head to the Tagdilt Track. This is without doubt one of the top areas for birding in the South of Morocco. Excellent chances exist for seeing Red-rumped Wheatear, Thekla Lark, Trumpeter Finch, Temminck's Lark, Short-toed Lark, Trumpeter Finch, Cream-coloured Courser and the highly nomadic Thick-billed Lark. If the heat allows, we will dedicate most of our day to exploring this area, then we visit a rocky canyon searching for Maghreb Wheatear, Desert Lark and our first chance of "GAYUIN" Pharaoh Eagle Owl where the people live in caves here with flocks of sheep and goats.
Dinner and accommodation in Boumalne du Dades.
Day 5, Todra Gorge to Merzouga – 24th September 2023
mmm
Day 6, Erg Chibbi Desert & Dunes – 25th September 2023
Today we will dedicate the whole day to exploring the sandy dunes and the nearby stony desert of Erg Chebbi – the largest dune system in Morocco by 4×4 vehicles. Brown-necked Raven, Hoopoe Lark, Desert Sparrow, African Desert Warbler, Desert Lark, Bar-tailed Lark, Fulvous Babbler, Spotted Sandgrouse, Crowned Sandgrouse and Lanner Falcon. In addition, If rains have been plentiful a seasonal lake near Merzouga can be very interesting, with ducks, waders and their attendant raptors. Chances also exist for Egyptian Nightjar in the daytime. Dinner and accommodation in Merzouga
Day 7, Anti Atlas Mountains & Mansour Eddahbi Barrage – 26th September 2023
Transfer day from Merzouga to Ouarzazate. Drive through the Anti-Atlas Mountains, a series of rocky hills, cliffs and deep gorges of volcanic formations. Roadside birding could produce plenty of White-crowned Wheatear and Southern Grey Shrike. Before reaching our hotel in Ouarzazate we'll stop to explore the Barrage at Mansour Eddahbi. Here we have the chance of seeing Marbled Duck, Ruddy Shelduck, Black-winged Stilts and Maghreb Lark, as well as Cormorants and Herons and a selection of waders.
Dinner and accommodation in Ouarzazate.
Day 8, Anti Atlas Mountains & Souss Valley – 27th September 2023
A long drive to the west will take us over the Anti Atlas mountains into the Souss Valley and on to Agadir. Initially we will keep our eyes open for various larks by the roadside and for wheatears. Finally
after another exciting stop we arrive at our Hotel in Agadir for three nights.
Dinner and accommodation in Agadir.
Day 9, Oued Massa – 28th September 2023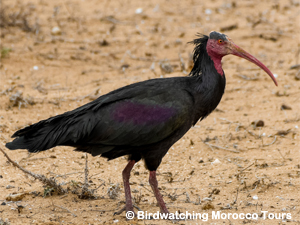 South of Agadir is the famous Oued Massa. We have an early start to Oued Massa on the Atlantic Coast. Target birds: the Northern Bald Ibis, Black-crowned Tchagra, Moussier's Redstart, Sardinian Warbler, Little Owl, Stone Curlew, Glossy Ibis, Moroccan Cormorant, Laughing Dove and Brown-throated Martin.
Day 10, Oued Souss – 29th September 2023
After breakfast at the hotel, we visit the Oued Souss – an excellent area for Flamingos, shorebirds and large numbers of roosting gulls and terns. Then transfer from Agadir to Marrakech through the Atlas mountains.
Late in the afternoon we arrive to Marrakech. Free evening to visit the old quarter of Marrakech and the impressive Jema-el-fna square which is an unbelievable experience for any visitor – snake charmers, water sellers and spice stalls plus the charm of bargaining in the Souk (OPTIONAL).
In the evening we will have our final dinner together in Marakech when we can discuss our favourite species of this birding tour and enjoy the local cuisine.
Day 11, Departure – 30th September 2023
Transfer from our hotel in Marakech to the airport for our flights home.
Below is a list of what we think are the key species on this Morocco birding tour in respect of them being highly memorable and/or endemic species/regional specialities. We cannot guarantee that we will see all of these birds as some of them are rare and hard to find, but we will put in the effort to find them and expect to locate a high proportion of them based on previous experience.
Northern Bald Ibis
Marbled Duck
Long-legged Buzzard
Bonelli's Eagle
Stone Curlew
Cream-coloured Courser
Audouin's Gull
Spotted Sandgrouse
Crowned Sandgrouse
Pharaoh Eagle Owl
Egyptian Nightjar
Levaillant's Green Woodpecker
Lanner Falcon
Desert Lark
Bar-tailed Lark
Thick-billed Lark
Greater Hoopoe Lark
Temminck's Lark
Brown-throated Martin
Moussier's Redstart
Desert Wheatear
Mourning (Maghreb) Wheatear
White-crowned Wheatear
Black Wheatear
Red-rumped Wheatear
Blue Rockthrush
African Desert Warbler
Tristram's Warbler
Streaked Scrub Warbler
Southern Grey Shrike
Black-crowned Tchagra
Fulvous Babbler
Alpine Chough
Brown-necked Raven
Spotless Starling
Rock Sparrow
Desert Sparrow
African Chaffinch
Trumpeter Finch
African Crimson-winged Finch
House Bunting
The following is a selection of the birds of Morocco photographed at sites visited on this tour.
Greater Hoopoe Lark

Little Owl

Desert Lark

Desert Wheatear

Rufous-tailed Scrub Robin

Crowned Sandgrouse

Tristram's Warbler

Desert Sparrow
---
Tour Details
Tour Cost: £2225 per person
Single Supplement: £200
Included in the tour cost: All transport including airport transfers, road tolls, national park entry fees, accommodation including on the night before commencement of the tour and on the final night, all meals, bottled water, services of English-speaking birding guide and Calidris Birding Tours guide.
Not included in the tour cost: International flights, travel insurance, visa (most nationalities get visa-free entry for up to 30 days), alcoholic and soft drinks, tips, laundry, excess baggage fees, hotel mini bar, phone calls and any other items of a personal nature.
Accommodation: All accommodation has been selected for its convenience of location to the birding sites that we will visit. In Marrakech we stay in a comfortable hotel with all modern facilities. At other sites we stay in local hotels that are comfortable and convenient. Wifi is expected at all locations.
Physical effort: This birding tour is suitable for most people.
Weather: m
Food: Typically breakfast and dinner are served in our hotels while lunch is usually taken in local restaurants which gives us the opportunity to enjoy the local cuisine with many traditional dishes to try. The local speciality is tajine, a type of meat/vegetable stew slow cooked in a clay pot and flavoured with vairous local spices. Moroccan tea and bread are also commonly served. Catering to vegetarians is not a problem in Morocco but do please let us know if you have any particular eating requirements, including any food allergies, you may have in advance.
---
Tour Leaders

Nick Upton
Nick Upton has been birding since the age of seven and leading birding tours full-time since 2007. After travelling extensively in Asia he settled in Thailand in 1997, teaching English and science while establishing thaibirding.com. With a BSc (Hons) Wildlife & Countryside Conservation he is well placed to understand the ecology and conservation issues that affect birds as well as being adept at finding them.
Nick is co-founder/director of Calidris Birding Tours.
---
While we will make every effort to adhere to the advertised itinerary of this Morocco Autumn birding tour, we reserve the right to make changes in the case of unforeseen circumstances that are beyond our control. These include problems with accessibility, national park closures, unseasonal weather events or any other reason that may demand an itinerary change.
---
Recommended Field Guide
Collins Bird Guide
In the absence of any English-language field guide specifically for Morocco this superb publication contains all of the species, along with range maps for the North African region, that we are likely to see on this Morocco autumn birding tour. We recommend that participants on this tour obtain a copy of this field guide, if they do not already have one, well in advance of the tour beginning in order to become familiar with many of the species we can potentially see.
The checklist that Calidris Birding Tours will issue for this trip will use IOC taxonomy with reference to the taxonomy used within this field guide so that it is relevant to both.
Read our full review of the book here – Collins Bird Guide.
---
Related Blog Posts
---
Terms and conditions: Please read full Calidris Birding Tours terms and conditions which apply to the Morocco Autumn Birding Tour.