Western Ghats Endemics Birding Tour
5th – 16th December 2023: Western Ghats endemics birding tour in India highlights include White-bellied Treepie, Palani (Kerala) Laughingthrush, Nilgiri Woodpigeon, Malabar Parakeet, Malabar Grey Hornbill, Black-and-orange Flycatcher, Nilgiri Pipit, Malabar Trogon, White-cheeked Barbet, Nilgiri Thrush, Crimson-backed Sunbird, Indian Pitta, Wayanad Laughingthrush, Nilgiri Blue Robin, Painted Spurfowl – £2750 per person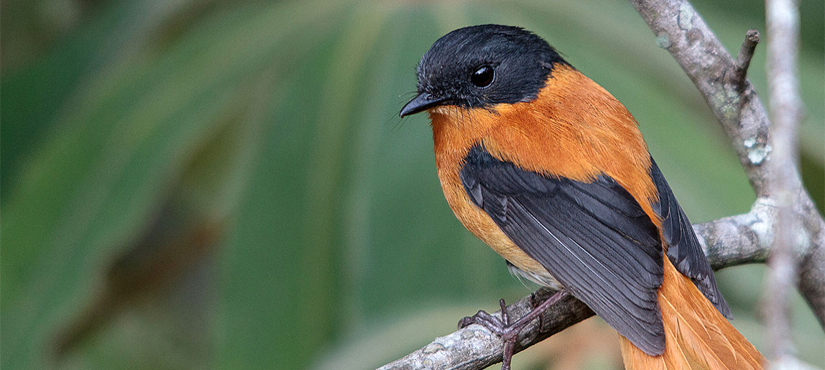 Trip Details
Dates: 5th  – 16th Dec 2023
Cost: £2750
Single Supplement: £TBA
Deposit: £500
Tour length: 12 Days (10 days birding)
Min / Max group size: 5 / 10
Start/Finish: Cochin
Photo Opps: Good
Physicality: Easy
Tour Leaders: Nick Upton & Local Guides
If you have any questions about this trip please feel free to ask by contacting us at info@calidrisbirdingtours.com
Western Ghats Birding
Visiting one of South Asia's centre's of endemism
Day 1, Arrival in Cochin – 5th December 2022
Flights to Cochin will arrive on this day from mid-morning to mid-afternoon with a short transfer to a nearby, comfortable hotel for the night. In the early evening you will have dinner with your guide and there will be a pre-trip briefing. Here you will get a good night's sleep before the adventure begins the following morning.
Days 2-4, Thattekkad – 6th-8th December 2022
We start our birding tour by visiting what many birders know as the "jewel in the crown" of birding in Kerala and, indeed, the whole of South India; Thattekkad Bird Sanctuary, also known as the Salim Ali Bird Sanctuary. Just around an hour from our hotel we head straight into the forest home of a high proportion of the endemic species of the Western Ghats. A mixture of lowland habitats that include tropical and deciduous forest, riverine grassland and nearby scrublands will provide us with three days of excellent birding in search of groups of noisy Malabar Grey Hornbills passing through the trees, White-bellied Blue Flycatcher in the shadows, Malabar Barbet with its repetitive call and one of the smartest parakeets in Asia in Malabar Parakeet alerting us to its presence with its raucous screeching.
Spending time birding in the forest we will be looking for some good birds including the colourful and range-restricted Malabar Trogon, the endemic White-bellied Treepie, an impressive bird, as well as the endemic Crimson-backed Sunbird. There is plenty to see in the forest and around the gardens of the accomodation with superb White-bellied Woodpecker to enjoy as well as Loten's Sunbird feeding on flowers plus Southern Hill Myna, the endemic White-cheeked Barbet, Black-hooded Oriole, Green Imperial Pigeon and colourful Indian Roller. The lowland habitat here hosts not only birds endemic to the Western Ghats but many species that are much depleted throughout their Asian range.
Nocturnal birds are a feature here too but we do expect to see many of them on daytime roosts given the intimate knowledge of our local guides. Large Owls such as Mottled Wood Owl, Brown Fish Owl and Spot-bellied Eagle Owl are frequently seen as are smaller species including Indian Scops Owl and Oriental Scops Owl although Sri Lanka Bay Owl might be rather harder to locate. There is also a very good chance of seeing the weird and cryptic Sri Lanka Frogmouth, a regional endemic that is often seen on daytime roosts in this area.
For some really amazing views we can also spend some time watching birds from a hide as a variety of species come to drink and bathe. In this way we can observe endemic species such as White-bellied Treepie, Flame-throated Bulbul, Blyth's Starling and White-browed Bulbul as well as more widespread species like Black-naped Monarch and Blue Whistlingthrush. There are plenty of options for us in this area and the length of time here means that we should be able to connect with a very high proportion of the target species and enjoy the birding at a good pace.
Day 5, Munnar – 9th December 2022
Today we make a day trip to the hill station of Munnar, leaving early in the morning, making a two-hour drive through tea plantations where Long-tailed Shrike and Pied Bushchat are common, along with migratory Brown Shrike. Our first port of call in this region will be Eravikulum National Park, an area of rolling mountains with extensive areas of upland grassland, interspersed with forested gulleys and valleys and areas of shrubland among rocky cliffs. This is more than just a scenic area being the best place to see some of the region's endemic species and we will time our arrival to spot Nilgiri Woodpigeons perched in the open, enjoying the early morning light.
Other key birds here to search for include the smart Palani (Kerala) Laughingthrush, split from Grey-breasted Laughingthrush, and a species that can be quite confiding at the right spot, Yellow-throated Bulbul and Nilgiri Flycatcher. More widespread species are also likely to include Large-billed Leaf Warbler, Tytler's Leaf Warbler and Tickell's Leaf Warbler to test our skills with Phylloscopus warblers, Indian Scimitar Babbler, Indian Black-lored Tit, the stunning Indian Blue Robin, Indian Blackbird and Orange Minivet.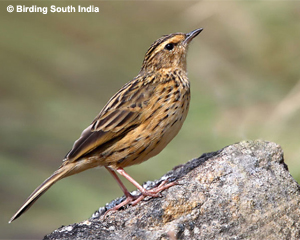 Higher up the mountain within woodland patches and the shola grasslands we expect to see the endemic Nilgiri Pipit, a specialist of upland grasslands with the lovely White-bellied Blue Robin to find too. If we are lucky we may be able to find Broad-tailed Grassbird, but this species can be very skulking and hard to see. In the leaf litter of the woodland we have a great opportunity to spot a cryptic Zoothera thrush in Nilgiri Thrush as well as intricately marked Painted Bush Quail with other possibilities including Malabar Whistlingthrush, Grey-fronted Green Pigeon, Yellow-browed Bulbul, Velvet-fronted Nuthatch and the stunning Blue-capped Rockthrush as well as another chance of the amazing Malabar Trogon.
Our time here will be spent targeting the key species in and around the Munnar area as well as enjoying the birds with a wider range along the way, before we head back, at the end of the day, to our base at Thettakad.
Day 6, Thattekkad – 10th December 2022
kkk
Day 7, Thattekkad to Mudumalai – 11th December 2022
lklk
Day 8, Mudumalai – 12th December 2022
ooiii
Day 9, Ooty – 13th December 2022
ppp
Day 10, Mysore – 14th December 2022
uuuu
Day 11, Departure – 15th December 2022
iiii
The following list is of the key species of birds that we have a very good chance of finding based on the experience of previous visits. The list is not meant as a complete inventory of the birds that we will search for but they are many of the regional highlights that we will put effort into locating because they are memorable and/or have restricted ranges. We do expect to find a very high proportion of these birds but we obviously cannot guarantee that we will see all of them.
Painted Bush Quail – Perdicula erythrorhyncha
Red Spurfowl – Galloperdix spadicea
Painted Spurfowl – Galloperdix lunulata
Grey Junglefowl – Gallus sonneratii
Savanna Nightjar – Caprimulgus affinis
Sri Lanka Bay Owl – Phodilus assimilis
Indian Scops Owl – Otus bakkamoena
Indian Eagle Owl – Bubo bengalensis
Spot-bellied Eagle Owl – Bubo nipalensis
Brown Fish Owl – Ketupa zeylonensis
Mottled Wood Owl – Strix ocellata
Malabar Trogon – Harpactes fasciatus
(Southern) Greater Coucal – Centropus sinensis (parroti)
Nilgiri Woodpigeon – Columba elphinstonii
Great Thick-knee – Esacus recurvirostris
River Tern – Sterna aurantia
Indian Vulture – Gyps indicus
Malabar Grey Hornbill – Ocyceros griseus
White-cheeked Barbet – Psilopogon viridis
Malabar Barbet – Psilopogon malabaricus
Brown-capped Pygmy Woodpecker – Yungipicus nanus
Black-rumped Flameback – Dinopium benghalense
White-bellied Woodpecker – Dryocopus javensis
Plum-headed Parakeet – Psittacula cyanocephala
Blue-winged (Malabar) Parakeet – Psittacula columboides
Indian Pitta – Pitta brachyura
Orange Minivet – Pericrocotus flammeus
Malabar Woodshrike – Tephrodornis sylvicola
White-bellied Treepie – Dendrocitta leucogastra
Indian Black-lored Tit – Machlolophus aplonotus
Indian Bushlark – Mirafra erythroptera
Syke's Lark – Galerida deva
Malabar Lark – Galerida malabarica
Grey-headed Bulbul – Pycnonotus priocephalus
Yellow-throated Bulbul – Pycnonotus xantholaemus
Flame-throated Bulbul – Pycnonotus gularis
Yellow-browed Bulbul – Acritillas indica
Hill Swallow – Hirundo domicola
Tytler's Leaf Warbler – Phylloscopus tytleri
Broad-tailed Grassbird – Schoenicola platyurus
Indian Scimitar Babbler – Pomatorhinus horsfieldii
Dark-fronted Babbler – Rhopocichla atriceps
Rufous Babbler – Argya subrufa
Wayanad Laughingthrush – Pterorhinus delesserti
Nilgiri Laughingthrush – Montecincla cachinnans
Palani (Kerala) Laughingthrush – Montecincla fairbanki
Southern Hill Myna – Gracula indica
Malabar (Blyth's) Starling – Sturna blythii
Orange-headed Thrush – Geokichla citrina
Nilgiri Thrush – Zoothera neilgherriensis
Indian Nuthatch – Sitta castanea
White-spotted Fantail – Rhipidura albogularis
White-bellied Blue Flycatcher – Cyornis pallidipes
Nilgiri Flycatcher – Eumyias albicaudatus
Malabar Whistlingthrush – Myophonus horsfieldii
Indian Blue Robin – Larvivora brunnea
Nilgiri Blue Robin – Sholicola major
White-bellied Blue Robin – Sholicola albiventris
Rusty-tailed Flycatcher – Ficedula ruficauda
Black-and-orange Flycatcher – Ficedula nigrorufa
Blue-capped Rockthrush – Monticola albogularis
Nilgiri Flowerpecker – Dicaeum concolor
Crimson-backed (Small) Sunbird – Leptocoma minima
Loten's Sunbird – Cinnyris lotenius
White-browed Wagtail – Motacilla maderaspatensis
Nilgiri Pipit – Anthus nilghiriensis
The map of South India below displays the main locations visited on this Western Ghats endemics birding tour. Depending on local knowledge at the time there may be other sites visited and there will be a number of shorter birding stops on some of the journeys between sites.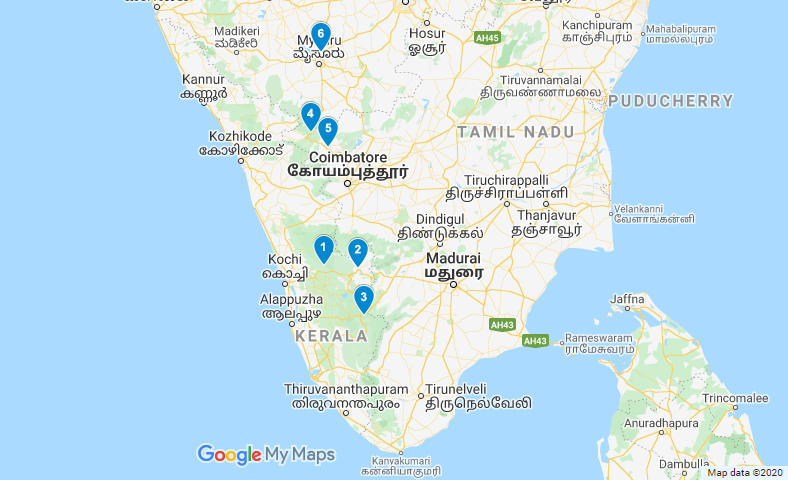 ---
Tour Details
Tour Cost: £2750 per person
Single supplement: £TBA
Included in the tour cost: All transport including airport transfers, all meals, accommodation (based on two people sharing a
Not included in the tour cost: International flights, travel insurance, visa (most nationalities get 30-day visa-free entry), alcoholic and soft drinks, tips, excess baggage fees, laundry and any other items of a personal nature.
Accommodation: All 
Physical effort: This birding tour does not require a high level of physical exertion, participants simply need to be able bodied and capable of spending all day in the field, making mostly short walks from the vehicle although there may be one or two longer walks along forest trails.  
Weather: At most 
Food: food
---
Tour Leaders

Nick Upton
Nick Upton has been birding since the age of seven and leading birding tours full-time since 2007. After travelling extensively in Asia he settled in Thailand in 1997, teaching English and science while establishing thaibirding.com. With a BSc (Hons) Wildlife & Countryside Conservation he is well placed to understand the ecology of birds as well as the conservation issues that affect them.
Nick is co-founder/director of Calidris Birding Tours.
---
While we make every effort to adhere to the advertised itinerary for this Western Ghats endemics birding tour, we reserve the right to make changes in the case of unforeseen circumstances that are beyond our control. These can include problems with accessibility, national park closures, unseasonal weather events or any other reason that may demand a change of itinerary.
---
Recommended Field Guide
Birds of India
In
When booking this Western Ghats Endemics Birding Tour customers will be given a 10% discount code for use when ordering the book directly from Lynx Edicions.
Read our full review of the book here – Birds of India.
---
Related Birding Links
---
Terms and conditions: Please read full Calidris Birding Tours terms and conditions which apply to the Western Ghats Endemics Birding Tour.