Cuba Endemics Birding Tour

18th – 30th November 2023: Cuba endemics birding tour highlights include Bee Hummingbird, Cuban Trogon, Cuban Bullfinch, Gundlach's Hawk, Cuban Grassquit, Oriente Warbler, Cuban Nightjar, Blue-headed Quail-Dove, Cuban Tody, Fernandina's Flicker, Blue Grosbeak, White-crowned Pigeon, Bare-legged Owl, Red-legged Thrush, Cuban Solitaire, West Indian Woodpecker, Key West Quail-Dove, Cuban Pygmy Owl, Olive-capped Warbler – £3925 per person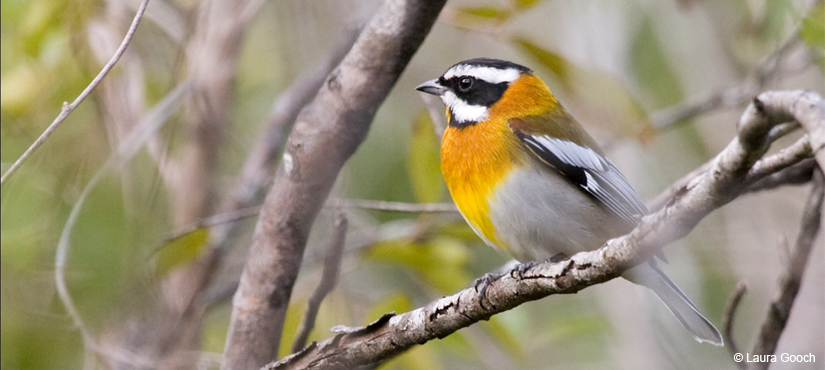 Trip Details
Dates: 18th – 30th November 2023
Cost: £3925
Single Supplement: £225
Deposit: £650
Tour length: 13 Days (11 days birding)
Min / Max group size: 6 / 10
Start/Finish: Havana
Tour Type: Birding
Photo Opps: Very good
Physicality: Easy
Tour Leaders: Fraser Bell & Local Experts
If you have any questions about this trip, please feel free to contact us at – info@calidrisbirdingtours.com
Cuba Birding
Imagine yourself in one of the most economically and politically isolated countries in the world with a wide variety of forest, farmland, wetland and coastal habitats; more pertinently, a country where exciting species such as Cuban Trogon, Bee Hummingbird, Western Spindalis, Cuban Parrot, Stygian Owl, Red-legged Thrush and Blue-headed Quail-Dove can all be seen. This gives you a picture of birding in Cuba.
Cuba is at the heart of the Caribbean region and at a crossroads between North and South America which results in the country being blessed with a rich and variety avifauna which includes colourful tropical species alongside Cuba's highly sought-after endemics. The good-humoured people, the rustic charm of the countryside, pleasant accommodation and varied habitats make Cuba an interesting place for birding in the region, particularly for those birders with a big gap to fill on their lists! Cuba is an enjoyable country to travel around as well as a great birding destination where ecotourism income can make a real difference. From the more widespread wetland birds on the coast, seen alongside coral reefs, through a variety of birds adapted to farmland to Cuba's woodland species there is a fascinating array of species no matter where you look in Cuba; and who doesn't want to see the smallest bird in the world?
For birders wishing to add Cuban specialities such as Giant Kingbird, Cuban Bullfinch, Gundlach's Hawk, Cuban Pugmy Owl and Oriente Warbler a visit to Cuba is essential. However, birding in this country has far more than just the endemics to offer with a number of unique subspecies also present alongside a wide range of the region's birds including Black Skimmer, Blue Grosbeak, Limpkin, Smooth-billed Ani, White Ibis and Bahama Mockingbird. While the main focus of this birding tour will be the Cuban endemic species, the pace of the trip is such that there will be plenty of time to enjoy a wide selection of Cuba's birds.
Day 1, Arrival in Havana – 18th November 2023
Arrival time is likely to be in the afternoon at José Marti International Airport, Havana. Here we will meet the guides who will then take you the 2.5 hours to our accommodation; Hotel Los Jazmines in the west of the country. We will have our first dinner together and get a briefing on essential information on how this Cuba birding tour will proceed.
Days 2-3, La Güira National Park – 19-20th November 2023
Our tour starts in the well-forested western highlands, where we have two full days to explore the bird life of La Güira National Park – the expansive park where Che Guevara hid during the Cuban missile crisis. Passing the impressive entrance gate of the Hacienda Cortina Estate which resembles a medieval fortress, and the grounds of the now restored hacienda, we head into a limestone karst valley to do our first birding of the trip.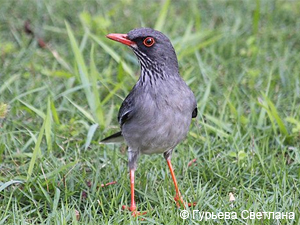 Arriving in a new country is always exciting and La Güira provides an excellent site for an initial foray into Caribbean bird watching with its mix of karst, moist deciduous and rugged pine forests. While we should encounter large numbers of more widespread species such as comical groups of Smooth-billed Ani, we are here to target some of the regional specialities. Red-legged Thrush, Cuban Pewee, or La Sagra's Flycatcher may well be one of our first birds of the day, while the bright Cuban Emerald or Cuban Tody are fairly common here, and a male Western Spindalis is not easily forgotten either. The Yellow-headed Warbler is often found picking its way through the foliage, and we have a good chance of finding Cuban Pygmy-Owl perched high up in the trees in the early morning.
However, our main targets are the range-restricted endemic, the Cuban Solitaire which is often found by its beautiful haunting calls, and the near endemic Olive-capped Warbler, a specialist of the pine forests. For those of us who love woodpeckers the real treat here is the possibility of the endemic Cuban Green Woodpecker or Fernandina's Flicker, the more widespread Yellow-bellied Sapsucker and Northern Flicker are always a delight, while West Indian Woodpecker should provide us with another regional speciality.
Day 4, La Güira National Park – Cayo Coco – 21st November 2023
We can do some birding close to our accommodation before breakfast, trying for Cuban Grassquit – a species which is becoming harder to see across much of Cuba, if we didn't encounter them on the previous day, but the majority of the day is allocated to travel.
We will journey east, passing through the Cuban countryside on our way to the island paradise of Cayo Coco (700 km, 8.5 hrs). Depending on timing, we aim to search some mangroves and wetlands just before arriving to the isle, in hope of encountering Mangrove Cuckoo and Key West Quail-Dove.
Days 5-6, Cayo Coco – 22nd-23rd November 2023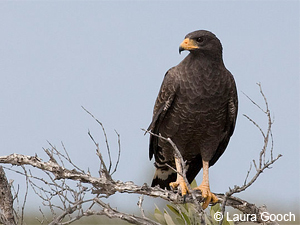 With its white sand beaches and clear calm water, Cayo Coco may be a surprising birding destination, but the extensive tidal lagoons, marshes and mangroves here make this an exciting area, with some specialised endemics found here alongside numerous waterbirds and wintering neotropical migrants. We spend the next two full days birding the cays at a relaxed pace, with accommodation at Hotel Sol Cayo Coco. Our main targets will be the endemic subspecies of Thick-billed Vireo, and Zapata Sparrow, which despite its name is much easier to see here than on the Zapata Peninsula.
The cays are also the stronghold of the Cuban Black Hawk, the only reliable area within Cuba to see the near-endemic Bahama Mockingbird, and here we have a good chance for Key West Quail-dove and West Indian Whistling-duck. We'll visit the wetlands to see large aggregations of wintering waterbirds, which often includes the largest flock of American Flamingo in the Caribbean, and bird coastal thickets for the subtly beautiful Cuban Gnatcatcher, and search for active flocks of Oriente Warbler or neotropical warblers. This is Cuban birding at its best, one at a relaxed pace with the chance for plenty of regional specialities and the excitement of encountering one of the many migrants which could be lurking among the cays.
Between birding we should have time to relax, explore the area, or snorkel in one of the many diverse reefs just offshore.
Day 7, Cayo Coco – La Belen – 24th November 2023
One final morning exploring the cays, targeting any species we might have missed and continuing our search for migrants, before we drive to the reserve at La Belen, south of Najasa (259 km, 3.5 hrs). The reserve at La Belen is comprised of a mosaic of interesting habitats, of lowland forests, cultivated grasslands and savannahs, and on arrival we'll start picking up a few of the commoner specialities of the area, such as Cuban Pygmy Owl and the Cuban Crow with its odd mechanical and guttural vocalisations. Here we have two nights at the Finca La Belen ranch, while we explore the reserve and the Sierra del Najasa.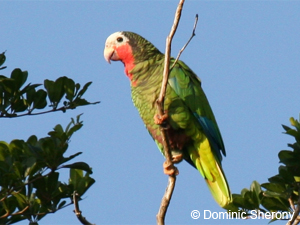 Day 8, La Belen – 25th November 2023
With an early start we'll focus our attention to a few localised species of this area, searching for Cuban Palm Crow, and declining globally threatened Plain Pigeon and Giant Kingbird, the later now restricted to a handful of sites in Cuba. Birding here will give us a high chance of encountering some of the less common Cuban specialties, such as Cuban Parakeet, Cuban Parrot, Fernandina's Flicker, and perhaps the hardest of them all, Gundlach's Hawk. Aside from regional endemics, this area is good for Eastern Meadowlark, while the wetlands are often good for waterfowl, and the open savannah woodlands are excellent for woodpeckers and flycatchers.
Day 9, La Belen – Zapata Swamp – 26th November 2023
Today we transfer to the Zapata Peninsula (465 km, 6 hrs), one of, if not the most avian diverse areas in the Greater Antilles, and probably the whole of the Caribbean, with more than 200 species recorded. We stay at the Hotel Playa Larga for four nights, which is ideally situated in the Bay of Pigs at the entrance to the Zapata Swamp. The birding here is simply amazing, and on arrival we'll have a short excursion to start our stay off the right way – either visiting one of the local gardens or woodlands to start our quest for quail-doves and the world's smallest bird, the Bee Hummingbird, or we may opt to bird our hotels grounds which is a regular haunt of the elegant Stygian Owl.
Days 10-12, Zapata Peninsula – 27-29th November 2023
Just the name of Zapata swamp will excite many birders as it is the only known location of the critically endangered Zapata Rail. Quite frankly we will consider it a miracle if we see an individual of this secretive and declining bird but by being in the right area we can dream. The other species that this area is the sole home of is the Zapata Wren, a bird that spends its time in the shrubs and scrubby trees of the swamp, and one that we have a far better chance of locating.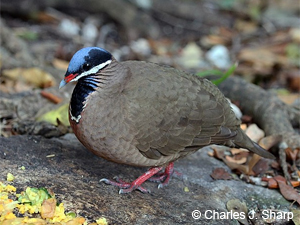 We have three full days to explore the extensive wetlands, woodlands, swamp forests, mangrove, and coastal thickets on the Peninsula. Many of Cuba's endemic birds are common here and should be relatively easy to find, including a trio of icterids, Cuban Blackbird, Cuban Oriole, Tawny-shouldered Blackbird,and the iconic Great lizard Cuckoo and Cuban Trogon. We'll spend time visiting some of the dry woodland patches in the area, such as those near the village of Bermejas, as the birding here is amazing, it can be fast and boasts an impressive species list. We'll keep a keen eye out for noisy mixed flocks which often contain endemic Cuban Vireo, Cuban Bullfinch, and Yellow-headed Warblers, alongside wintering neotropical warblers.
In this area we will also target the two endemic and threatened quail-doves, the subtly beautiful Grey-fronted quail-dove and the spectacular yet considerably rarer, Blue-headed Quail-dove, both of which are satisfyingly numerous here. The odd, monotypic Bare-legged Owl is often seen here, peering out from a roosting site in a dead palm, and we will have another chance for Cuban Parrot or Cuban Parakeet, which favour the open woodlands here.
On at least one morning we'll make an early start and head into the Zapata swamp itself, searching for Cuban Nightjar en-route. The swamp is the only known location of the critically endangered and highly secretive, Zapata Rail, which hasn't been seen since the turn of the century. Yet, with an early start and a boat trip, we should position ourselves well to spot the other species which is only found here, the Zapata Wren. While this charismatic wren typically moves low down within dense sawgrass, it often uses scrub and trees as a song perch enabling far better chances of locating. While here we will also target the localised, Red-shouldered Blackbird which are specialised to live year-round in swamp and marsh, and we have another chance of Zapata Sparrow. Here the sparrow is a different, more brightly coloured subspecies than what we look for in the cays to the north. Aside from these endemics, the swamp hosts a large diversity of wetland species and wintering migrants, and we'll hope to encounter one of the secretive rails which could be found here, such as Spotted Rail, King Rail or Sora.
Away from the swamp, we'll take time to explore the coastal habitats which, being attractive to many wintering waders and songbirds, are an exciting birding destination. Although we should see world's smallest bird, the Bee Hummingbird, during our time exploring the woodland and swamp here, these are often fleeting encounters as the bird darts past on the hunt for flower patches. As such, we'll likely visit some of the gardens in La Playa Larga, where we can get close enough to admire this tiny charismatic species as it enthusiastically darts around gathering nectar. As with any good birding tour to Cuba, the birding on the Zapata will be at a relaxed pace, true to the Caribbean ethos. We will have the early afternoon period to take time to enjoy the hotel and beach, or snorkel from one of the coral reefs a stone's throw from the hotel, which are some of the most diverse in the whole of the Caribbean.
On the evening of the 29th we will have our last dinner together on this birding tour. We can enjoy reflecting on a successful tour and we will vote on "bird of the trip".
Day 13, Playa Larga – Havana Airport – 30th November 2023
Breakfast at the hotel and we can do some final Cuban birding in the coastal wetlands and woodlands close to the hotel before driving back to Havana in time for our return flights. If you would like a hotel for the night for a flight the next day, let us know and we can help arrange that for you.
Note: If you should wish to spend some time either before the birding tour begins or after visiting the World Heritage Site of Old Havana, please let us know so that the right arrangements can be made for pick up or drop off.
The following is a list of key bird species that we have a high chance of finding based on the experience of previous visits. This is not an exhaustive list of target birds but they are the endemics and some of the regional highlights that we will put effort into finding as well as birds that we think are highly memorable. Equally we cannot guarantee that all of these Cuban birds will be seen but we do expect to locate a high proportion of them.
American Flamingo – Phoenicopterus ruber
Antillean Nighthawk – Chordeiles gundlachii
Antillean Palm Swift – Tachornis phoenicobia
Bahama Mockingbird – Mimus gundlachii
Bare-legged Owl – Margarobyas lawrencii
Bee Hummingbird – Mellisuga helenae
Black Skimmer – Rynchops niger
Blue Grosbeak – Passerina caerulea
Blue-headed Quail-Dove – Starnoenas cyanocephala
Cuban Blackbird – Ptiloxena atroviolacea
Cuban Black Hawk – Buteogallus gundlachii
Cuban Crow – Corvus nasicus
Cuban Emerald – Riccordia ricordii
Cuban Gnatcatcher – Polioptila lembeyei
Cuban Grassquit – Phonipara canora
Cuban Green Woodpecker – Xiphidiopicus percussus
Cuban Martin – Progne cryptoleuca
Cuban Oriole – Icterus melanopsis
Cuban Palm Crow – Corvus minutus
Cuban Parakeet – Psittacara euops
Cuban Parrot – Amazona leucocephala
Cuban Pewee – Contopus caribaeus
Cuban Pygmy Owl – Glaucidium siju
Cuban Solitaire – Myadestes elisabeth
Cuban Tody – Todus multicolor
Cuban Vireo – Vireo gundlachii
Fernandina's Flicker – Colaptes fernandinae
Giant Kingbird – Tyrannus cubensis
Great Lizard-Cuckoo – Coccyzus merlini
Greater Antillean Grackle – Quiscalus niger
Grey-fronted Quail-Dove – Geotrygon caniceps
Key West Quail-Dove – Geotrygon chrysia
La Sagra's Flycatcher – Myiarchus sagrae
Loggerhead Kingbird – Tyrannus caudifasciatus
Magnificent Frigatebird – Fregata magnificens
Olive-capped Warbler – Setophaga pityophila
Plain Pigeon – Ortalis vetula
Reddish Egret – Egretta rufescens
Red-legged Honeycreeper – Cyanerpes cyaneus
Red-legged Thrush – Turdus plumbeus
Red-shouldered Blackbird – Agelaius assimilis
Scaly-naped Pigeon – Patagioenas squamosa
Smooth-billed Ani – Crotophaga ani
Stygian Owl – Asio stygius
Tawny-shouldered Blackbird – Agelaius humeralis
Thick-billed Vireo – Vireo crassirostris
West Indian Whistling Duck – Dendrocygna arborea
West Indian Woodpecker – Melanerpes superciliaris
Western Spindalis – Spindalis zena
White-crowned Pigeon – Patagioenas leucocephala
Yellow-headed Warbler – Teretistris fernandinae
Zapata Sparrow – Torreornis inexpectata
Zapata Wren – Ferminia cerverai
The map below shows the main birding sites that we will visit on this Cuba endemics birding tour.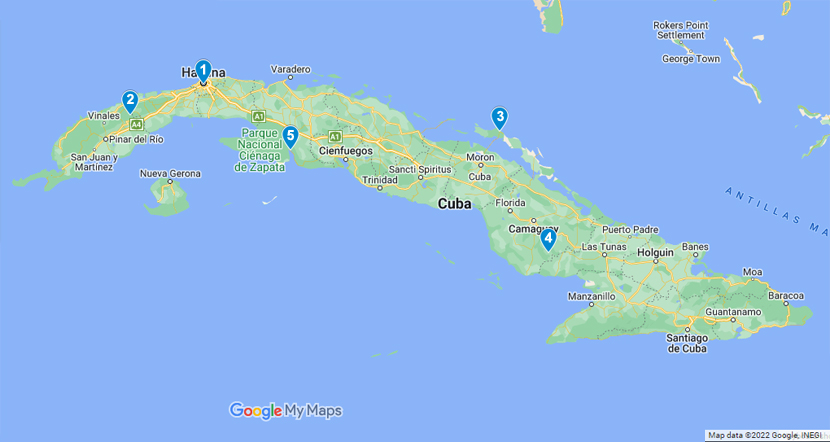 2. La Güira National Park
The following is a selection of the birds of Cuba we have a high chance of seeing on this tour.
Bee Hummingbird

Cuban Gnatcatcher

Cuban Nightjar

Black Skimmer

Cuban Tody

West Indian Woodpecker

Cuban Grassquit

Zapata Sparrow

La Sagra's Flycatcher

Great Lizard Cuckoo

Bahama Mockingbird

Eastern Meadowlark
The above photographs are reproduced under the following licenses;
Creative CommonsAttribution-Share Alike 4.0 International – Bee Hummingbird, Black Skimmer, Red-legged Thrush, West Indian Woodpecker, Blue-headed Quail-Dove, Zapata Sparrow, La Sagra's Flycatcher
Creative CommonsAttribution-Share Alike 2.0 Generic – Cuban Gnatcatcher, Cuban Nightjar, Cuban Grassquit, Cuban Parrot, Cuban Tody, Bee Hummingbird, Zapata Wren, Western Spindalis, Great Lizard Cuckoo, Eastern Meadowlark
Creative CommonsCC0 1.0 Universal Public Domain Dedication – Bahama Mockingbird
---
Tour Details
Tour Cost: £3925 per person
Single supplement: £225
Included in the tour cost: All transport including airport transfers, road tolls, national park fees, accommodation, all meals, bottled drinking water, services of a local driver, English-speaking birding guide and Calidris Birding Tours guide.
Not included in the tour cost: International flights, travel insurance, visa (application online), alcoholic and soft drinks, tips (a $2-$5 tip left for the room maid is the cultural norm in Cuba and tips to local guides and drivers are customary but will be done anonymously so nobody feels any pressure to give any particular amount), excess baggage fees, hotel mini bars, phone calls, laundry and any other items of a personal nature.
Accommodation: All accommodation is convenient for accessing the birding sites and making travel logistics as simple as possible. The quality of accommodation varies from fairly basic to very comfortable depending on how remote the site is but all accommodation has private bathrooms/showers and air-conditioning. Wifi is usually available in some places but the reliability of this service cannot be guaranteed.
Physical effort: This birding trip is suitable for all ages and abilities. Some walks, although mainly on the flat, might be tough in the heat but anyone who finds it too much can be accompanied back to the coach by one of the tour guides. The driver will stay with the vehicle and can run the airconditioning if anyone feels the need to cool down.
Weather: Expect a fairly normal tropical climate with daytime temperatures in the high twenties to low thirties degrees celcius. Humidity is fairly high too although only a little rainfall would be expected.
Food: Food on this Cuba birding trip is generally very simple with no spices, with an exception when we stay at Caya Coco. Chicken and pork are the most commonly served meats throughout although green vegetables are rarely served. Vegetarians can be catered for but it is likely that there will not be a great variety in the options served. Please contact us to discuss any particular allergies or eating requirements so that we can ensure that we can cater for them.
---
Tour Leaders
Dr Fraser Bell
Fraser's passion for birds and their conservation has seen him pursue ornithological work in five different continents, from netting birds in the Peruvian Amazon, surveying for migratory species across Liberia, to teaching field courses in the Cypriot Mediterranean. He has a particular fondness for migratory songbirds, and recently gained his PhD studying their conservation. He currently works within the RSPB's centre for Conservation Science and has led birding tours since 2016.
---
While we will make every effort to adhere to the advertised itinerary of this Cuba endemics birding tour, we reserve the right to make changes in the case of unforeseen circumstances that are beyond our control. These include problems with accessibility, national park closures, unseasonal weather events or any other reason that may demand an itinerary change.
---
Recommended Field Guide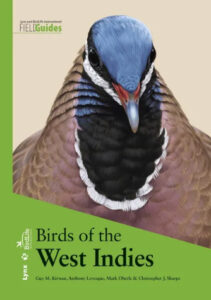 Birds of The West Indies
Another in the excellent series of field guides published by Lynx Edicions that works towards standardizing the format and taxonomy of birding field guides around the world. Covering all of the species found in this region and all of the distinctive subspecies that are potential splits, this is the most up-to-date guide for the birds of all the countries covered.
The checklist that Calidris Birding Tours will issue for this Cuba birding trip will use IOC taxonomy with reference to the taxonomy used within this field guide so that it is relevant to both.
Read our full review of the book here – Birds of The West Indies.
---
Related Blog Posts
---
Terms and conditions: Please read full Calidris Birding Tours terms and conditions which apply to the Cuba Endemics Birding Tour.