South Vietnam Birding Tour

29th March-9th April 2024: South Vietnam birding highlights include Bar-bellied Pitta, Vietnamese Cutia, Germain's Peacock Pheasant, Collared Laughingthrush, Blue-rumped Pitta, Vietnamese Greenfinch, Pale-headed Woodpecker, Indochinese Green Magpie, Siamese Fireback, Annam Barbet, Blue Pitta, Black-hooded Laughingthrush, Necklaced Barbet, Green Peafowl, Black-headed Parrotbill – £2750 per person.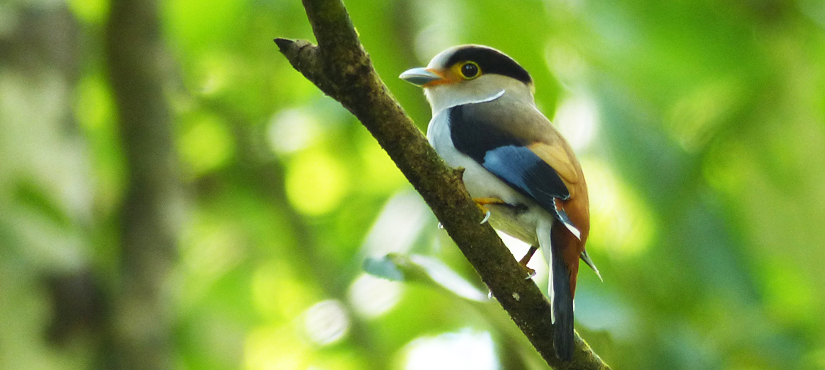 Trip Details
Dates: 29th March-9th April 2024
Cost: £2950
Single Supplement: £325
Deposit: £450
Tour length: 12 Days (10 days birding)
Min/Max group size: 5 / 10
Start/Finish: Ho Chi Minh City
Tour Type: Birding
Photo Opps: Good
Physical Classification: Easy
Tour Leaders: Nick Upton & Local Expert
If you have any questions about this trip please feel free to ask by contacting us at info@calidrisbirdingtours.com
South Vietnam Birding
Visiting lowland tropical forest, both primary and secondary, a secluded wetland set among grassland, patchworks of high altitude forest and farmland, pine woodland as well as mossy montane forest illustrates the variety of habitats that is available in South Vietnam. Exciting birds such as jewel-like pittas on the forest floor, mighty hornbills in the canopy, pheasants and partridges emerging from the forest, woodpeckers drumming on tree trunks, flocks of colourful birds in the mountains and a helping of endemic species paints a picture of birding in this wonderful country.
Vietnam has the highest number of endemic species of any mainland Southeast Asian country as well as some of the most colourful of the more widespread birds of the region alongside sought-after East Asian migrants. The quality of the birding in this part of Vietnam is matched by variety and numbers of species, indeed, one of the strengths of this trip is how much is packed into a short space of time and distance. Good quality accommodation, excellent food and a relative ease of travel, coupled with some excellent birding, make this an ideal tour for those new to Southeast Asia or those who are looking to catch up with some of Vietnam's best birds without overstretching ourselves geographically. This birding trip has been designed so that we have time to enjoy the wonderful birds of South Vietnam properly.
Our prime focus in South Vietnam will be on the key species of the region. We will make every effort to get the best views possible of Bar-bellied and Blue-rumped Pittas, Germain's Peacock Pheasant as it feeds in the morning, Vietnamese Cutia clinging nuthatch-like to branches, psychedelic Indochinese Green Magpie, Siamese Fireback, enigmatic Grey-crowned Bushtit, stunning Collared Laughingthrush and Black-headed Parrotbill to mention a few. With a wide range of other amazing birds acting as a supporting cast this is a bird-filled and diverse tour.
Day 1, Arrival in Ho Chi Minh City – 29th March 2024
Arrival is planned during the day at Tan Son Nhat International Airport, Ho Chi Minh City. You will be met at the airport and transferred to a comfortable hotel close by. In the early evening there will be a pre-tour briefing and dinner before getting a good night's sleep in preparation for the birding which starts the next day.
Days 2-5, Cat Tien National Park – 30th March-2nd April 2024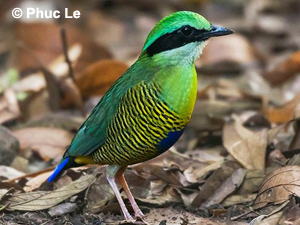 With an early start we make the journey to one of Vietnam's most anticipated birding sites: Cat Tien National park. Cat Tien was the first national park designated in the south of Vietnam, protecting the largest area of lowland tropical forests left in the region. Arriving mid-morning on day two we will spend the next four days exploring the forest here with many exciting birds to find. The forest here is a blend of primary and secondary evergreen and semi-evergreen forest with large areas dominated by grassland and bamboo. This habitat diversity hints at the wide range of species that reside within this site, none more sought-after than the stunning Bar-bellied Pitta. Cat Tien is probably the best place to see this amazing bird but it is just one of the key species we will be hunting here.
Germain's Peacock Pheasant is another star species we are anticipating seeing along the tracks and trails of Cat Tien. Other mouth-watering, ground-dwelling species here include Blue-rumped Pitta, Siamese Fireback which is often seen along the tracks in the early morning and Green-legged (Scaly-breasted) Partridge.
Of course these species are not easy to observe but by spending time, walking quietly we have a very good chance of success. Orange-necked Partridge is another key species here but infrequently seen. Hopefully they will emerge from the forest and give us a chance of seeing them.
There are a wide range of flamboyant Southeast Asian species for us to look for at Cat Tien. Pale-headed Woodpecker is a species that is hard to see through much of its range but we have a very good chance to see it here. Birds such as Banded Kingfisher, Black-and-red Broadbill, Orange-breasted Trogon, Great Hornbill, Heart-spotted Woodpecker and Banded Broadbill are always impressive. The lush forests of Cat Tien are a good place for woodpeckers and seeing a good variety of these character-filled birds is always exciting. Colourful Greater Flameback flits noisily from tree to tree while the impressive White-bellied Woodpecker drums like a jack-hammer on large trees. One of the greatest prizes though will be Great Slaty Woodpecker. This giant woodpecker often travels in small flocks and they make a high-pitching whinnying call as they stretch their wings. Great Slaty Woodpecker is always a highlight and looks something like a pterosaur.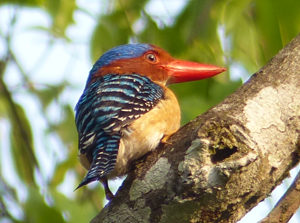 The local subspecies of Scaly-crowned Babbler is sometimes split as Indochinese Babbler and we should see it here. Grey-faced Tit Babbler is a regional endemic to look out for along with more widespread birds including Oriental Pied Hornbill, Red Junglefowl and Blue Bearded Bee-eater. In the evenings we can wait for the impressive Great Eared Nightjar to emerge, flying along in the style of a harrier, while Large-tailed Nightjar is probable too. We will also make time for some night birding with Brown Boobook, Collared Scops Owl and Blyth's Frogmouth possibilities here.
To give us some variety there are some wetlands and grasslands at the famous "Crocodile Lake". This habitat gives us a whole load of new possibilities including the rare Green Peafowl which will hopefully emerge from the grasses. Woolly-necked Stork and Lesser Adjutant are two more birds we will hope to find here, both looking rather prehistoric as they strut around. Common species are likely to include beautiful Chestnut-headed Bee-eaters, Grey-headed Swamphen, Bronze-winged Jacana, Red-breasted Parakeet and Green Imperial Pigeon. If we are lucky we may see Grey-headed Fish Eagle lurking around the waterside or in flight overhead.
Day 6, Cat Tien National Park – Dalat – 3rd April 2024
We have a little time in the morning to look for any of the main targets we may have missed over the previous days, or simply just to appreciate some of the great birds of Cat Tien again. What we decide to do really depends on what we have or have not seen beforehand. If we have seen most of what we were hoping for we may leave for Dalat quite early on to give us a little more time in the afternoon there.
After reaching Dalat we plan to make our first birding foray here in the afternoon. We expect to find the first of the Vietnamese endemics in this region straight away, seeing Vietnamese Cutia, Grey-crowned Crocias or Orange-breasted Laughingthrush would be a nice way to start. With ever-changing taxonomies, listers will be keen to see the very distinct subspecies of Blue-winged Minla (orientalis), Black-headed Sibia (desgodinsi) and Black-throated Sunbird (johnsi) that occur here. All of these are interesting birds in their own right whether you are interested in building a big bird list or not. Dalat Shrike Babbler is a noisy bird that we should be able to locate here while skulking Rufous-browed Flycatcher can sometimes be found in shady areas.
Days 7-9, Dalat – 4th-6th April 2024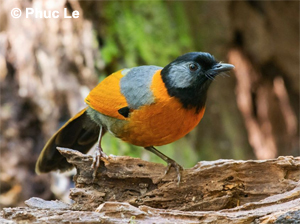 Spending three full days in the Dalat region allows us to explore the variety of productive birding sites spread around the area. We will divide our time between them wisely, using our local guide's up-to-date information to locate as many of the key species as we possibly can. Our time here gets us into a variety of different forest types which will result in a large number of birds which are quite different from those we saw during our stay at Cat Tien.
The highest altitudes that we get into are likely to be at Bidoup National Park. Here the remaining evergreen forest provides cool temperatures and is home to a number of key Vietnamese species. These include a host of mouth-watering birds like Vietnamese Cutia, creeping along mossy branches, cute little Grey-crowned Bushtit, Dalat Shrike Babbler and Yellow-billed Nuthatch foraging up and down tree trunks. Even though these are some wonderful birds they could well be eclipsed by top quality views of the stunning Collared Laughingthrush. We can expect not only quality birds, including many endemics, here but colourful ones too!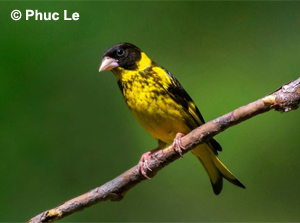 Other birds to look forward to in this montane forest are Hume's Treecreeper, Black-crowned Fulvetta and White-cheeked Laughingthrush. There are a lot of species to see here that are more widespread in Asia but none the less interesting for it. Tiny Ashy-throated Warbler is one of the few easy-to-identify Phylloscopus warblers while the colourful Mrs Gould's Sunbird is always great to see. Add to this birds like Little Pied Flycatcher, Blue Whistlingthrush and Hill Prinia and you can see that there is a good supporting cast to the key birds. In contrast to many of these arboreal birds there are a couple of really cool species to see in the ground layer in the form of Grey-bellied Tesia and Pygmy Wren Babbler.
Another nearby birding site is Ho Tuyen Lam, a man-made lake just out of town, which is set among some pleasant pine forest and offers a different type of birding along with different birds. Pine woodland is home to a number of habitat specialists including localized birds such as the endemic Vietnamese Greenfinch, scarce Indochinese Cuckooshrike, Slender-billed Oriole, smart Burmese Shrike as well as parties of Red (Vietnamese) Crossbill feeding on pine seeds. Brown Prinia is perhaps an unspectacular species but seldom seen and the grassy understorey of this forest should give us a chance to see this bird.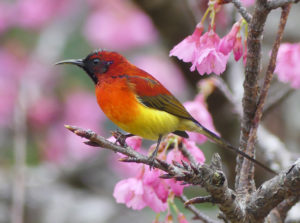 The open nature of the pine forest will assist us in seeing Red-vented Barbet perched high up in the trees along with other species that frequent the canopy. Not all the forest here is pine, there are patches of mixed broadleaved forest too and these can contain colourful birds like Red-billed Scimitar Babbler, Chestnut-vented Nuthatch and Green-backed Tit. It is always good to have back up sites for key species and here we have another chance to find Vietnamese Cutia, one of the most beautiful birds we are likely to see on this South Vietnam birding tour. Grey-crowned Crocias is likely to be calling from the treetops here while Yellow-billed Nuthatch should be seen clinging to tree trunks. Black-headed Parrotbill is another of the target birds here and we should also be looking out for Vinous-breasted Myna, Black-collared Starling and Black-headed Sibia.
There are plenty of other birding spots around this area will give us further chances to find key birds in the shy Orange-breasted Laughingthrush and Grey-crowned Crocias. Other regional highlights like Indochinese (Annam) Barbet, the lovely Grey-crowned Bushtit, Rufous-backed and Black-headed Sibias and Vietnamese Greenfinch can also be located at various places that we can visit too. Our nights will be spent in the town of Dalat.
Day 10, Dalat – Di Linh – 7th April 2024
After breakfast we can do some final birding close to Dalat. Exactly which sites we visit depends very much on which species have been seen beforehand. If we are still searching for any of the key species, such as a skulking Grey-bellied Tesia or difficult-to-see Laughingthrush, we will focus on these. Alternatively we may concentrate on getting better views of something that did not show as well as we would have liked. Perhaps we will have found all of our targets and just use this morning for more views of a favourite and/or photographs.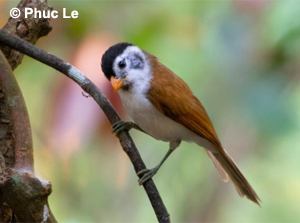 We will make the drive to the town of Di Linh giving us plenty of time to head uphill to Deo Nui San Pass. This area of forested hills is another excellent place for us to locate most of the key higher-altitude species of the area. One of the harder groups of birds to see well are the Laughingthrushes. Species that include Orange-breasted Laughingthrush, White-cheeked Laughingthrush and Black-hooded Laughingthrush can be difficult to connect with but this location gives us another very good opportunity to find them.
Long-tailed Broadbill is a bird that seems to have emerged from the pages of a child's colouring book and at this time of year we have an excellent chance to see it. The endemic Black-headed Parrotbill will be at the top of our wish list at this site and we will look for it among fast-moving flocks that could include White-browed Scimitar Babbler or as it feeds on seeding trees. The orientalis race of Blue-winged Minla should feature again here although the endemic subspecies of Streaked Wren Babbler (brevicaudatus) will be harder to see on the forest floor.
Day 11, Deo Suoi Lanh – Ho Chi Minh City – 8th April 2024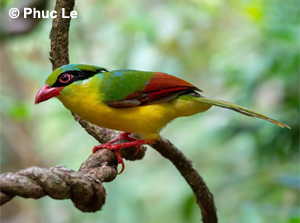 We will revisit the high altitude habitats in the early morning at Deo Nui San Pass to resume our search for the wonderful collection of birds in this area. Here flocks of birds include Brown-rumped Minivet, Lesser Racket-tailed Drongo, Kloss's Leaf Warbler, Black-chinned Yuhina and Mountain Fulvetta while we have more chances to see key Vietnamese species such as Necklaced Barbet, Annam (Indochinese) Barbet, Red-vented Barbet, Grey-throated Tit Babbler and Vietnamese Greenfinch.
We will be birding on the road and along some forest trails where we are hoping to see something very special; Blue Pitta. We have a high chance of seeing this fabulous bird as it often visits a well-used stakeout and other birds that are often sighted here include the range-restricted Indochinese Green Magpie and the lovely Spotted Forktail. It is a difficult bird to find wherever it occurs but at this time of year Green Cochoa will be calling so we have a decent chance of finding one. Lots of other fantastic South East Asian birds occur here too and there is the opportunity to see the stunning Red-headed Trogon, Red-billed Scimitar Babbler and colourful Clicking Shrike Babbler. The local subspecies of Black-throated Sunbird (johnsi) is split by some taxonomies as Langbian Sunbird and can be found here. Other charming, colourful birds here are Black-throated Bushtit and Maroon Oriole as well as another chance to find Black-headed Parrotbill.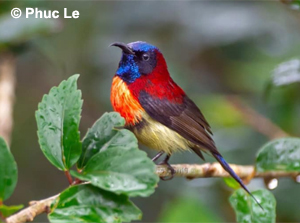 At the time we will be here there should be some migration occurring so there is a good chance of a number of East Asian migrants including Mugimaki Flycatcher, Siberian Thrush, Blue-and-white Flycatcher and Siberian Blue Robin. Migrants such as these are hard to predict but it is likely that there will be a few surprises.
Having enjoyed a last morning here we will travel back to Ho Chi Minh City to finish our trip in a comfortable hotel in the late afternoon. After checking in and taking a shower we will have our last dinner together and take a vote for bird of the trip, there are sure to be plenty of candidates.
Day 12, Departure – 9th April 2024
You will be transferred from our hotel to Tan Son Nhat International Airport at a time convenient for your flight.
The following is a list of key birds species (and subspecies) that we have a high chance of finding on this South Vietnam birding tour based on the experience of previous visits. This is not meant as an exhaustive list of target birds but they are some of the regional highlights that we will put effort into finding and birds that we think are highly memorable and/or regional specialities. We cannot guarantee that all of these birds will be seen but we do expect to locate a high proportion of them.
Orange-necked Partridge – Arborophila davidi
Green-legged (Scaly-breasted) Partridge – Arborophila chloropus
Green Peafowl – Pavo muticus
Germain's Peacock Pheasant – Polyplectron germani
Siamese Fireback – Lophura diardi
Great Eared Nightjar – Lyncornis macrotis
Lesser Adjutant – Leptoptilos javanicus
Woolly-necked Stork – Ciconia episcopus
Lesser Fish Eagle – Icthyophaga humilis
Grey-headed Fish Eagle – Icthyophaga ichthyaetus
Orange-breasted Trogon – Harpactes oreskios
Great Hornbill – Buceros bicornis
Wreathed Hornbill – Rhyticeros undulatus
Blue-bearded Bee-eater – Nyctyornis athertoni
Banded Kingfisher – Lacedo pulchella
Stork-billed Kingfisher – Pelargopsis capensis
Red-vented Barbet – Psilopogon lagrandieri
Necklaced Barbet – Psilopogon auricularis
Annam Barbet – Psilopogon annamensis
Heart-spotted Woodpecker – Hemicircus canente
Pale-headed Woodpecker – Gecinulus grantia
Black-and-buff Woodpecker – Meiglyptes jugularis
Great Slaty Woodpecker – Mulleripicus pulverulentus
White-bellied Woodpecker – Dryocopus javensis
Blue-rumped Pitta – Hydrornis soror
Blue Pitta – Hydrornis cyaneus
Bar-bellied Pitta – Hydrornis elliotii
Long-tailed Broadbill – Psarisomus dalhousiae
Dusky Broadbill – Corydon sumatranus
Black-and-red Broadbill – Cymbirhynchus macrorhynchos
Silver-breasted Broadbill – Serilophus lunatus
Banded Broadbill – Eurylaimus harterti
Dalat Shrike Babbler – Pteruthius annamensis
Clicking Shrike Babbler – Pteruthius intermedius
Indochinese Cuckooshrike – Lalage polioptera
Burmese Shrike – Lanius collurioides
Indochinese Green Magpie – Cissa hypoleuca
Pygmy Cupwing – Pnoepyga pusilla
White-spectacled Warbler – Phylloscopus intermedius
Kloss's Leaf Warbler – Phylloscopus ogilviegranti
Grey-bellied Tesia – Tesia cyaniventer
Grey-crowned Bushtit – Aegithalos annamensis
Indochinese Fulvetta – Fulvetta danisi
Black-headed Parrotbill – Psittiparus margaritae
Red-billed Scimitar Babbler – Pomatorhinus ochraceiceps
Grey-faced Tit Babbler – Mixornis kelleyi
Collared Babbler – Gampsorhynchus torquatus
Black-crowned Fulvetta – Schoeniparus klossi
(Annam) Streaked Wren Babbler – Turdinus brevicaudatus (rufiventer)
(Austen's) Eyebrowed Wren Babbler – Napothera epilepidota
Indochinese Wren Babbler – Rimator danjoui
Vietnamese Cutia – Cutia legalleni
Orange-breasted Laughingthrush – Garrulax annamensis
Black-hooded Laughingthrush – Garrulax milleti
White-cheeked Laughingthrush – Garrulax vassali
Collared Laughingthrush – Trochalopteron yersini
(White-spectacled) Black-headed Sibia – Heterophasia desgodinsi (robinsoni)
Rufous-backed Sibia – Leioptila annectens
(Plain) Blue-winged Minla – Siva cyanouroptera (cyanouroptera)
Grey-crowned Crocias – Laniellus langbianis
Yellow-billed Nuthatch – Sitta solangiae
Golden-crested Myna – Amepeliceps coronatus
Green Cochoa – Cochoa viridis
Large Niltava – Niltava grandis
Rufous-browed Flycatcher – Anthipes solitaris
(Langbian) Lesser Shortwing – Brachypteryx leucophris (langbianensis)
White-tailed Robin – Myiomela leucura
Spotted Forktail – Enicurus maculatus
(Langbian) Black-throated Sunbird – Aethopyga saturata (johnsi)
(Annam) Mrs Gould's Sunbird – Aethopyga gouldiae (annamensis)
Fork-tailed Sunbird – Aethopyga latouchii
Vietnamese Greenfinch – Chloris monguilloti
Red Crossbill – Loxia curvirostra
The map below shows the main birding sites that we will visit on this South Vietnam birding tour.
1. Ta Son Nhat International Airport
2. Cat Tien National Park
The following is a selection of the birds of South Vietnam we have a high chance of seeing on this tour.
Black-and-red Broadbill

(Plain) Blue-winged Minla

Green-legged Partridge

Bar-bellied Pitta

Grey-crowned Crocias

Germain's Peacock Pheasant

Green Cochoa

Siberian Blue Robin

Orange-breasted Laughingthrush

Oriental Honey-buzzard

Black-crowned Fulvetta

Orange-breasted Trogon
All above photos (except where indicated) copyright Nick Upton/Calidris Birding Tours.
---
Tour Details
Tour Cost: £2950 per person
Single Supplement: £325
Included in the tour cost: All transport including airport transfers, road tolls, national park entry fees, accommodation including on the night before commencement of the tour and on the final night, hide fees, all meals, bottled water, boat trip, services of English-speaking birding guide and Calidris Birding Tours guide.
Not included in the tour cost: International flights, travel insurance, visa (most nationalities get visa-free entry for up to 30 days), alcoholic and soft drinks, tips, laundry, excess baggage fees, hotel mini bar, phone calls and any other items of a personal nature.
Accommodation: All accommodation has been selected for its convenience of location to the birding sites that we will visit. In Ho Chi Minh City we stay in a comfortable hotel with all modern facilities. At Cat Tien the accommodation is fairly basic but air-conditioning is in all rooms. At other sites we stay in local hotels that are comfortable and convenient. Wifi is expected at all locations.
Physical effort: This is not a particularly physically demanding trip with birding done along wide tracks and quiet roads. Most walks will be of short distances although there may be a few longer walks to find some key species. However, long days in the field are normal, but the carefully planned itinerary has ensures that there is not too much time pressure. This birding tour is suitable for most people.
Weather: Southern Vietnam has a tropical climate and in the lowlands we can expect it to be hot and humid. However, in the upland locations the humidity will be far lower and early mornings can be cool, although midday temperatures are still high.
Food: The food in Vietnam is typical of Southeast Asia although less spicy than that in many of the neighbouring countries. A wide range of dishes are served at every meal and vegetarian food can easily be provided so long as you tell us in advance. Catering to the needs of those with food allergies is usually possible but please provide details of these in advance so that we can ensure that provision for this can be made.
---
Tour Leaders

Nick Upton
Nick Upton has been birding since the age of seven and leading birding tours full-time since 2007. After travelling extensively in Asia he settled in Thailand in 1997, teaching English and science while establishing thaibirding.com. With a BSc (Hons) Wildlife & Countryside Conservation he is well placed to understand the ecology of birds as well as the conservation issues that affect them.
Nick is co-founder/director of Calidris Birding Tours.
---
While every effort will be made to adhere to the advertised itinerary for this South Vietnam birding tour, we reserve the right to make changes in the case of unforeseen circumstances that are beyond our control. These include problems with accessibility, national park closures, unseasonal weather events or any other reason that may demand an itinerary change.
---
Recommended Field Guides
Birds of Vietnam
This is the only credible field guide dealing exclusively with the birds of Vietnam. All of the species we are likely to see on this birding tour are within this publication. The flexible and lightweight cover makes it easy to carry in luggage and in the field. We recommend that all participants on this tour obtain a copy of this book. The checklist that Calidris Birding Tours will issue for this trip will use IOC taxonomy with reference to the taxonomy within this field guide.
When booking this South Vietnam Birding Tour customers will receive a 10% discount code for use when ordering the book directly from Lynx Edicions.
Read our full review of the book here – Birds of Vietnam.
---
Related Blog Posts
---
Terms and conditions: Please read full Calidris Birding Tours terms and conditions which apply to this South Vietnam Birding Tour.