Birds of the Indonesian Archipelago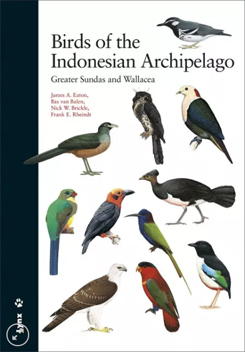 On publication in 2016 the Birds of the Indonesian Archipelago was a long overdue upgrade of the existing options that birders had and has quickly become the must-have book for the region. Covering most of the vast, endemic-rich country of Indonesia this is an ambitious book which not only provides birders with a modern, well-organised guide that covers a large number of species but also a complete taxonomic review all within a guide that is still small enough to be used in the field.
Birds of the Indonesian Archipelago is the field guide that we will use on several of our birding tours:
Sulawesi and Halmahera Birding Tour
Lesser Sundas Birding Tour
We highly recommend that all participants on our trips covered by this field guide obtain a copy. Using an older guide will lead to a lot of confusion given the taxonomical advances that have taken place.
Range Maps
When receiving a new and updated field guide it is always a happy moment when one opens the book and sees that range maps are a feature. Guides that rely on descriptions that include antiquated names of regions that are meaningless to most people are annoying. However, this book takes a novel approach by putting the range maps right next to the species illustrations. This certainly makes it easy to refer to in the field and is one of the nicer innovations here. Given the size of the area that the range maps attempt to cover the level of accuracy seems high. However, fine detail is obviously missing in these maps and they are a guide to birders rather than the final word on distribution.
Illustrations
The illustrations and the lay out of the plates is generally good. However, some of the larger species do end up rather crammed into the pages and some shorebirds are depicted on a tiny scale. Using this field guide we have picked up a few problems with the illustrations including a very poor representation of Olive-backed (Javan) Tailorbird. One group of birds which are very badly illustrated are the swiftlets. These very similar birds are extremely hard to compare given the depiction of some from below and others from above. This is an inconsistency that makes life very hard with these difficult species. These few problems apart, the plates are generally of a high quality.
Species Accounts
As usual with birding guides space for the authors to impart useful information to the reader is at a premium. The authors have done a decent job of making their accounts concise and to the point. Including a section comparing birds to confusion species is a good feature assisting bird id in the field. There is quite a lot of information on the taxonomy of many species, including how it differs from other taxonomies and how it may be split in the future. This is an excellent feature for those who like to keep up to date with taxonomic issues. Given the ground-breaking aims of this book is it also very good that alternate names have been added to each relevant species account.
Other Features
A nice detailed map of the region covered in this book appears between the inside of the front and back covers in two parts, allowing for quick referral in the field. As with many field guides there is a section at the front giving an introduction to the region. This covers issues such as conservation in Indonesia and explaisn the taxonomy.
One major drawback of the Birds of the Indonesian Archipelago is the index. Instead of indexing a bird such as Rufous Piculet under "P" for piculet it appears under "R" for rufous. This system makes it extremely hard to look up birds one is not sure of. However, this annoyance is a small point when considering the advantages of the updated taxonomy and range maps.
Recommended
We highly recommend that all participants on our trips to Thailand obtain a copy of this field guide. Birders booking an Indonesia birding tour with us will receive a discount code to use when purchasing this book directly from the publisher.