Thailand and Vietnam Pittas Birding Tour

19th April-3rd May 2024: Thailand and Vietnam Pittas birding tour highlights include Blue Pitta, Hooded Pitta, Blue-winged Pitta, Bar-bellied Pitta, Blue-rumped Pitta, Mangrove Pitta, Malayan Banded Pitta, Banded Kingfisher, Great Hornbill, Ruddy Kingfisher, Black-and-red Broadbill, Ratchet-tailed Treepie, Germain's Peacock Pheasant, Oriental Dwarf Kingfisher, Black-headed Woodpecker – £3450 per person.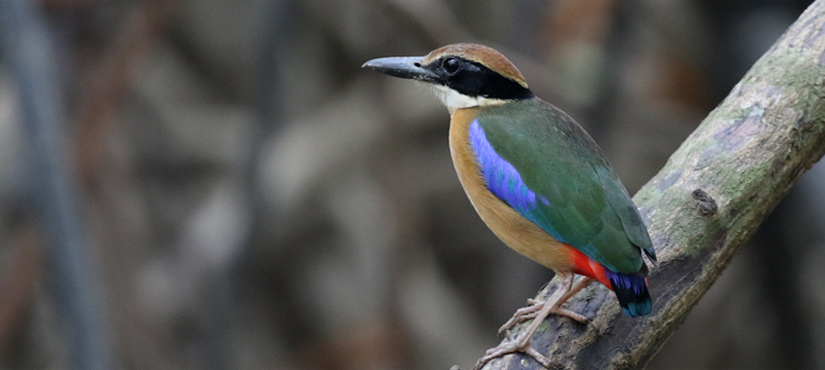 Trip Details
Dates: 19th April-3rd May 2024
Cost: £3450
Single Supplement: £TBA
Deposit: £500
Tour length: 15 Days (13 days birding)
Min/Max group size: 5 / 9
Start/Finish: Ho Chi Minh City/Bangkok
Tour Type: Birding
Photo Opps: Good
Physical Classification: Easy
Tour Leaders: Lee Collins & local guides
If you have any questions about this trip please feel free to ask by contacting us at info@calidrisbirdingtours.com
Thailand and Vietnam Pitta Quest & Other Breeding Birds
Tropical forest, full of strangler figs and buttressed trees will provide much of the backdrop and the sound of gibbons calling will be the soundtrack to this unique birding tour to Vietnam and Thailand targeting seven species of pitta. Visiting a variety of tropical forest types, wetlands and mangroves during the breeding season colourful and secretive Southeast Asian species including Bar-bellied Pitta, Brown-winged Kingfisher, Black-and-red Broadbill, Germain's Peacock Pheasant, Ruddy Kingfisher, Black-headed Woodpecker, Oriental Dwarf Kingfisher and Blue Pitta can be expected. Birding in Thailand Vietnam in the breeding season can be amazing.
Southern Vietnam, Central and Southern Thailand are at the heart of three different biogeographical regions, presenting the opportunity to see a wide variety of Southeast Asian species. The opportunity to see a large number of bird species infrequently encountered on many birding itineraries to the region is an exciting prospect even before considering the species of pitta we will be searching for. Coupled with ease of travel, good infrastructure, comfortable hotels and good food Thailand and Vietnam offer some of the most enjoyable birding available in this part of Asia. As well as some superb birds we can expect smiling locals, dazzlingly green rice fields, dense forests and some of the most amazing coastal scenery consisting of mangroves punctuated by massive limestone outcrops.
While top priority will be given to getting the best views of the pittas that is possible the diversity of species likely to be seen on this birding tour should not be overlooked. This variety includes busy weavers nest-building in the rice fields, magnificent Hornbills flying between towering trees, cute Malaysian Plover on the sandy coastline, mangrove-dwelling brown-winged Kingfisher, Storks and Egrets in wetlands, an amazing variety of Woodpecker along with stunning Pittas. With a large supporting cast of other resident birds along with a good helping of passage migrants this is a tour as bird-filled as it is unique.
Day 1, Arrival in Ho Chi Minh City – 19th April 2024
Planned arrival time is around mid-morning to late afternoon at Tan Son Nhat International Airport. You will be met here by your guides and taken to check-in at a nearby hotel. In the evening the group will have dinner together and receive a pre-trip briefing on what is in store in this Thailand and Vietnam Pittas birding tour. A good night's sleep in a comfortable hotel will ensure everyone is able to enjoy the first day's birding to the full without being too tired – there are lots of really good birds to see right from the beginning.
Days 2-4, Cat Tien National Park – 20-22nd April 2024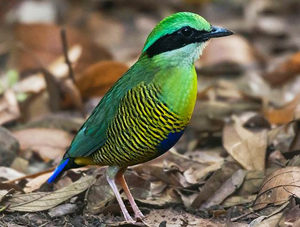 Leaving Ho Chi Minh City we drive to Cat Tien national park, the largest remaining piece of tropical forest in the south of Vietnam. We will have three days to explore this wonderful habitat and locate as many of the exciting birds here as possible. Our primary targets here will be the two "pitta specials" of Cat Tien; Bar-bellied Pitta and Blue-rumped Pitta. Both of these species can usually be found by our experienced guides and hopefully at least one of these will attend a feeding station to put on a good performance.
Of course there are a lot of other wonderful birds to look for here. Taking a jeep to the start of a trail to "crocodile lake" often results in sightings of Germain's Peacock Pheasant and Siamese Fireback, two species with very small global ranges. The five-kilometre trail to the lake take us through some top-quality forest giving us more chances to see these two ground-dwelling birds. This walk will also take us into the realm of Pale-headed Woodpecker, a species which is hard to connect with throughout most of its range but we have a very real chance of finding it here.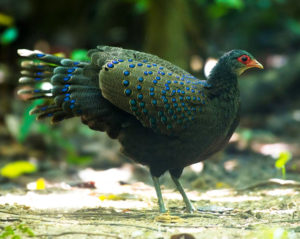 Another species which has less of a visual impact but is an Indochinese endemic is Grey-faced Tit Babbler which we should locate here. Red-vented Barbet is fairly abundant here too, another speciality of the region. Species such as Banded Kingfisher, Great Slaty Woodpecker, Banded Broadbill, Silver-breasted Broadbill and Van Hasselt's Sunbird are all here for us to find, although we do have other chances to see them later in the trip.
The area around "crocodile lake" provides us with some birding in a different habitat, open-country, grassy areas and wetlands. In this area we hope to find Green Peafowl, a stunning bird and less familiar than its more widely-known cousin that is often kept in captivity. We hope that the pools here contain Woolly-necked Stork and even Lesser Adjutant while commoner species that are expected are Red-breasted Parakeet, Grey-headed Swamphen, Bronze-winged Jacana and Chestnut-headed Bee-eater.
Other species we might expect to see at Cat Tien include Green Imperial Pigeon, a declining species in much of its range, Scaly-crowned Babbler, Oriental Pied Hornbill, Blue-bearded Bee-eater, Laced Woodpecker, Golden-crested Myna and our first chance at seeing Blue-winged Pita. The number of possibilities here are large but we will be concentrating on the key species that we are unlikely to see anywhere else on this birding tour.
Day 5, Cat Tien National Park – Ho Chi Minh City – Bangkok – 23rd April 2024
A final morning for us to search for any of Cat Tien's key bird species that we may still be looking for. Perhaps we will just take another look at the stunning Bar-bellied Pitta or just see what else we can add to our Vietnam bird lists.
Leaving by late morning we will make the journey back to Ho Chi Minh City and take a short flight to Bangkok, Thailand's capital city, where we check in to a comfortable hotel close to the airport.
Day 6, Petchaburi Rice Fields – 24th April 2024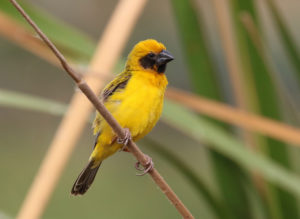 Leaving Bangkok very early to avoid the infamous traffic we will find ourselves arriving at Petchaburi rice fields at around 7am, a great time to enjoy a flurry of early morning bird activity. At this time of year weavers are nesting and the distinctive nests of Baya Weaver, Streaked Weaver and the stunning Asian Golden Weaver will provide a nice spectacle for us to enjoy. Javan Pond Herons will have completed their transformation into breeding plumage too and there could be one or two Chinese Pond herons or Indian Pond Herons among them. Watercock is an increasingly scarce bird through much of Asia but we should be able to find a few males calling from the bright green rice fields.
Of course there are a large number of wetland species to see in the rice fields with Bronze-winged Jacanas strutting around and large congregations of egrets, including (Eastern) Great Egrets with their blue bills and red legs in breeding condition. Yellow Bitterns are usually fairly common and a few Black Bitterns should give us flight views at this time of year. Purple Heron, Cinnamon Bittern and Oriental Darter are also likely and we should also find Cotton Pygmy Goose in small numbers.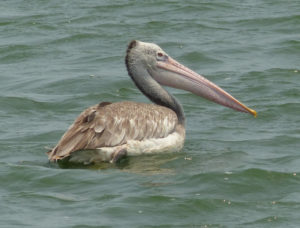 A nearby series of fish ponds is a good place to check for large waterbirds and they should hold good numbers of colourful Painted Storks, along with some dull juveniles, as well as Spot-billed Pelicans. We should also check the storks to see if there are any Milky Storks among them, but these are rare here. Indian and Little Cormorants are commoner though and here we should be able to compare them side by side. Of course these days Asian Openbill is an extremely common bird in Thailand so we will be able to watch these interesting birds deal with snails at any point during the day. There are not many raptors in this area at this time of year but the handsome Brahminy Kite is always present and there are usually a few Black-winged Kites to enjoy too. There could be a few late migrating raptors too, perhaps Black Baza or Oriental Honey-buzzard.
A full day here will give us some time to relax in our nearby hotel during the hottest part of the day but in the late afternoon the bird activity increases again and we can use this time to look for interesting birds that include Stork-billed Kingfisher, Chestnut-capped Babbler, Blue-tailed Bee-eater and perhaps even Freckle-breasted Woodpecker if our luck is in. A few migrant species should still be present in small numbers so it may be possible to add Pallas's Grasshopper Warbler, Oriental Reed Warbler and Black-browed Reed Warbler to our list. As the day draws to a close we should be able to enjoy colourful Pink-necked Green Pigeons as they emerge to perch on road side wires and small trees. It is then only a very short drive back to our hotel, a shower and some good Thai food.
Day 7, Khao Luk Chang – Kaeng Krachan National Park – 25th April 2024
After breakfast we will make a drive of around 35 minutes to a patch of dry dipterocarp woodland at Wat Khao Luk Chang. Here you will see White-handed Gibbons that are being rehabilitated to go back to the wild but the key bird we are after is the very handsome Black-headed Woodpecker. There are only very small numbers of these birds here and they can be hard to find but at this time of year we should locate a few. Spotted Owlet is easy to see here at known roost sites and Asian Barred Owlet is vocal and can be tracked down relatively easily.
The dry woodland here is not a habitat where we can expect to see a high abundance of birds but species such as Lineated Barbet, Rufous Treepie, Red-breasted Parakeet, Greater Racket-tailed Drongo, Racket-tailed Treepie and Rufescent Pria are resident here. At this time of year there should be some passage migrants to be seen. Likely species include Square-tailed Drongo Cuckoo, Forest Wagtail, Yellow-rumped Flycatcher, Black-naped Oriole and even Chestnut-winged Cuckoo if we are lucky.
Some very dry areas close to the woodland fragment will be hot by the time we reach them but at this time of the year they usually host a nesting colony of Blue-tailed Bee-eaters along with smaller numbers of Blue-throated Bee-eaters. It is in these savanna-like patches of habitat that we have a chance of seeing Indian Thick-knee too.
By mid-morning we will head to our accommodation at Baan Maka Nature Lodge where we can relax for a while in the garden where species such as White-rumped Shama, Indochinese Blue Flycatcher, Puff-throated Babbler and Lesser Necklaced Laughingthrush often come to entertain birders. Some passage migrants are likely too; we should look out for Eastern Crowned Warbler, Yellow-rumped Flycatcher and Sakhalin Leaf Warbler here. Blue-winged Pittas frequent the garden here and we may see this cool bird right away.
Later in the afternoon we will visit one of the hides that are dotted around the edge of the national park in dry secondary forest. Spending several hours here should result in some memorable sightings, none less than the tiny Lesser Mouse Deer! Plenty of birds are regular too and we are hoping for Bar-backed Partridge to make an appearance and possibly Kalij Pheasant too. Lots of small birds come to drink and bathe in a small pool including Indochinese Flycatcher, Abbott's Babbler, Black-naped Monarch, Pin-striped Tit Babbler and several others. White-browed Scimitar Babbler often turns up too along with Red Junglefowl and gangs of Lesser and Great Necklaced Laughingthrushes. Hopefully there will be a few surprises too in the form of passage migrants dropping in.
Days 8-10, Kaeng Krachan National Park – 26-28th April 2024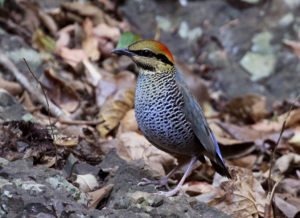 Three full days in one of Thailand's most wildlife-rich national parks gives us plenty of time to locate the key birds and top of the agenda will be Blue Pitta. Sometimes there are hides to visit where this bird is appearing but at other times we have to go out and find it the "old-fashioned" way. In late April they should be calling so we have a great chance of tracking them down. This is not to forget Blue-winged Pitta which we should be able to see fairly easily at our accommodation and we also have an excellent chance to find Hooded Pitta at this location too.
While the pittas are the star attraction the broadbills are not far behind. Kaeng Krachan at this time of year is a great place for many species of these incredible birds, none more crazy-looking than Black-and-yellow Broadbill. A rival to this bird is the stunning Black-and-red Broadbill which we have another chance to see here, while Silver-breasted Broadbill is perhaps the most beautiful of the broadbills. There is also a good chance to see Long-tailed Broadbill, Banded Broadbill and Dusky Broadbill here too.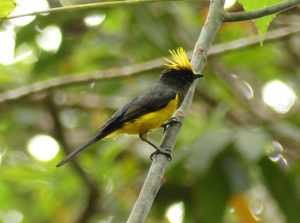 Forest Kingfishers should also be a highlight of this birding tour and there is another chance to find Banded Kingfisher at Kaeng Krachan. One of the jewels of the forest at this time of year is the tiny Oriental Dwarf Kingfisher which we have a high chance of seeing here and if we are lucky Blue-banded Kingfisher is a possibility too.
Our time at Kaeng Krachan should allow us to see a high number of other exciting birds too including the magnificent Great Hornbill an incredible sight both perched and in flight, Orange-breasted Trogon, the curious Heart-spotted Woodpecker, the range-restricted Tickell's Brown Hornbill, Greater Flameback, Black-thighed Falconet, Sultan Tit, Common Green Magpie, Greater Yellownape, Asian Fairy Bluebird and perhaps Great Slaty Woodpecker.
We will be in Thailand at a time when many birds are migrating so we should find some interesting species passing through, although predicting exactly what they will be is tricky. Yellow-rumped Flycatcher is perhaps expected and Indian Cuckoo, Oriental Cuckoo, Ferruginous Flycatcher, Eastern Crowned Warbler and Black Baza are all likely; hopefully a few surprises will turn up. Hooded Pitta calling from one if its regular territories will be high on our list of migrant targets.
Most of our tour will be conducted in forest lowlands but Kaeng Krachan will give us a chance to get up to higher altitude and see a wide variety of species to our list. The main target here will be the incredible Ratchet-tailed Treepie but species such as Red-headed Trogon, Collared Babbler, Long-tailed Broadbill, Speckled Piculet, Blue-throated Barbet, Great Barbet and a number of species of bulbuls and babblers are not to be ignored. At this time of year Rusty-naped Pitta is often heard calling in this area but due to the nature of the topography actually seeing one is extremely difficult. We don't expect that we will actually see this exceptionally difficult bird but sometimes we get lucky!
Over the course of the three days we will use local knowledge to see if another hide is worth a visit. At this time of year it is highly likely that we will take this option with some hides often attracting Ferruginous Partridge and other exciting birds. Throughout our time here we will be staying at Baan Maka Nature Resort which is an excellent base with great food and some good birds in the grounds as well.
Day 11, Kaeng Krachan National Park – Bangkok – Sri Phang Nga – 29th April 2024
This morning we will pack up and leave early, stopping at a dry, savanna-like patch of farmland along the way where a few Indian Thick-knees live. We will spend an hour or so here looking for these birds and hoping for a few Vinous-breasted Starlings too. Other birds that occupy this area are Plain-backed Sparrow, Indochinese Bushlark, Green Bee-eater and Eurasian Hoopoe. There are likely to be a few passage migrants around here too. After a some birding here we head towards Bangkok for our flight south to Phuket.
From Phuket airport we head northwards along the Andaman coast with some time to stop at Laem Pakarang, a coral spit where some late migrating shorebirds will probably be lingering. Here we might be able to see some Lesser Sand Plovers in breeding plumage, Terek Sandpiper or even Grey-tailed Tattler. Late afternoon here can be quite nice with a warm glow from the setting sun. Pacific Reef Egret and Indian Pond Heron are other possibilities here.
Day 12, Sri Phang Nga National Park – 30th April 2024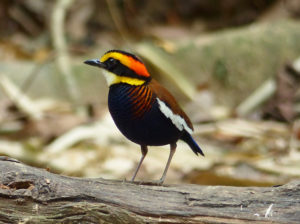 The main focus of our visit here is to see Malayan Banded Pitta. This superb bird sometimes visits a feeding area but it is likely that we will have to be patient and find one on one of the trails. If the water levels in the streams are favourable then we have a good chance to see Chestnut-naped Forktail while Banded Woodpecker, Red-bearded Bee-eater, Black-and-yellow Broadbill and Bushy-crested Hornbill are all high on our target list too.
Fruiting trees in the campsite often attract species such as Scaly-breasted Bulbul, Black-crested Bulbul, Yellow-vented Flowerpecker, Asian Red-eyed Bulbul and Yellow-breasted Flowerpecker. We might get lucky with a flyover Great Hornbill in the campsite and Wallace's Hawk Eagle is often seen perched in trees around the area in the early morning. At this time of year we also have another chance for Hooded Pitta in the campsite area.
Birding along the track and trails here can often turn up Purple-naped Spiderhunter, Chestnut-breasted Malkoha, Grey-capped Pygmy Woodpecker and several species of southern bulbuls and babblers. Another exciting bird we will try for here is Rufous-collared Kingfisher; a difficult bird but one we have a good record of success with at this site. In some years Gould's Frogmouth is found on a daytime roost, finger's crossed. There are a lot of possibilities here but we will be focusing on Malayan Banded Pitta.
Day 13, Sri Phang Nga National Park – Phang Nga Bay – 1st May 2024
This morning we can visit a different section of Sri Phang Nga National Park where there is another chance to find Malayan Banded Pitta if we were not successful on the previous day. However, this area is also a good one for locating the impressive Green Broadbill, a really incredible bird that we will make an effort to see. This spot also provides more chances to see Blue-winged and Hooded Pittas. The lowland forest here is mostly secondary but still plays host to birds that include Maroon Woodpecker, Red-bearded Bee-eater, Dusky Broadbill, Chestnut-winged Babbler, Van Hasselt's Sunbird, Crimson Sunbird and Orange-bellied Flowerpecker.
By late morning we will probably be thinking of leaving and heading south to Thai Muang for lunch where we will hopefully be able to spot Spotted Wood Owl on its daytime roost. A couple of these impressive owls roost in a small area of parkland although the trees here are huge and spotting the birds always presents a challenge. Lineated Barbet, Black-naped Oriole and Chestnut-headed Bee-eater are also likely here.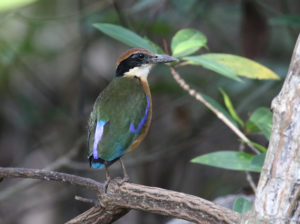 After lunch we will continue our drive south to Phang Nga Bay national park headquarters which is set among some amazing limestone karst scenery. We will bird around the headquarters, along a boardwalk and a dirt road in order to find Mangrove Pitta, our final pitta of this birding tour. This species is fairly abundant at this location and it will be calling so we are hoping to get good views of several of these birds. Mangrove Pitta's huge bill makes it unique among the pittas and we should have good opportunities to study it.
There are some other really good birds to find here and this location normally turns up the goods with fabulous Ruddy Kingfisher, Chestnut-bellied Malkoha, Black-and-red Broadbill as well as Streak-breasted Woodpecker. Kingfishers will have been a feature of this tour and we expect to be able to end the tour with the highly range-restricted Brown-winged Kingfisher here. Late in the afternoon it is usually easy to see smart Rufous-bellied Swallows, Pacific Swallow and Asian Glossy Starling here.
Day 14, Phang Nga Bay – Bangkok – 2nd May 2024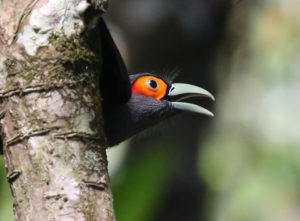 Our final morning of this Thailand and Vietnam Pittas birding tour will give us another opportunity to visit the mangroves and get better views of any species that we may not have seen well on the previous afternoon. Morning is usually a good time to encounter White-chested Babbler too, a declining species which still hangs on here. Ashy Tailorbird, Olive-winged Bulbul and Brown-throated Sunbird are birds we can also expect to see and if there is a fruiting tree we might also spot Pink-necked Green Pigeon, Vernal Hanging Parrot and Black-hooded Oriole too.
A short drive will take us to a different area of mangroves. Along the entry road we will look out for Jungle Myna among the White-vented Mynas while on the boardwalk we will attempt to lure in Mangrove Whistler. Visiting this area will give us the chance of adding new birds to our list even on the last day with Copper-throated Sunbird being another possible sighting along with Golden-bellied Gerygone and Swinhoe's White-eye. If we have not already seen it we can look for Blue-throated Bee-eater on the way back to Phuket airport. From here we will fly back to Bangkok and check in to a hotel close to the airport where we will have dinner.
Day 15, Departure – 3rd May 2024
This Thailand and Vietnam Pittas birding tour will conclude with a free transfer to Suvarnabhumi International Airport. Our hotel provides this service according to their shuttle bus timetable.
Below is a list of species that we will target on this Thailand and Vietnam birding tour; birds that we have a good chance of finding based on the expeience of previous visits. It is not an exhaustive list of species that we will look for but these are the main highlights due to them being memorable and/or restricted ranges. Of course we cannot guarantee that we will see all of these birds; tropical forest birds are far less approachable than those in zoos!
Bar-backed Partridge – Arborophila brunneopectus
Orange-necked Partridge – Arborophila davidi
Green-legged Partridge – Arborophila chloropus
Green Peafowl – Pavo muticus
Germain's Peacock Pheasant – Polyplectron germaini
Kalij Pheasant – Lophura leucomelanos
Siamese Fireback – Lophura diardi
Pink-necked Green Pigeon – Treron vernans
Great Eared Nightjar – Lyncornis macrotis
Large-tailed Nightjar – Caprimulgus macrurus
Watercock – Gallicrex cinerea
Painted Stork – Mycteria leucocephala
Black Bittern – Ixobrychus flavicollis
Javan Pond Heron – Ardeola speciosa
Spot-billed Pelican – Pelicanus philippensis
Indian Thick-knee – Burhinus indicus
Malaysian Plover – Charadrius peronii
Oriental Pratincole – Glareola maldivarum
Collared Scops Owl – Otus lettia
Orange-breasted Trogon – Harpactes oreskios
Red-headed Trogon – Harpactes erythrocephalus
Great Hornbill – Nuceros bicornis
Tickell's Brown Hornbill – Anorrhinus tickelli
Oriental Pied Hornbill – Anthracoceros albirostris
Blue-bearded Bee-eater – Nyctyornis athertoni
Oriental Dwarf Kingfisher – Ceyx erithaca
Banded Kingfisher – Lacedo pulchella
Stork-billed Kingfisher – Pelargopsis capensis
Brown-winged Kingfisher – Pelargopsis amauroptera
Ruddy Kingfisher – Halcyon coromanda
Rufous-collared Kingfisher – Actenoides concretus
Red-vented Barbet – Psilopogon lagrandieri
Heart-spotted Woodpecker – Hemicircus canente
Bamboo Woodpecker – Gecinulus viridis
Pale-headed Woodpecker – Gecinulus grantia
Black-headed Woodpecker – Picus erythropygius
Great Slaty Woodpecker – Mulleripicus pulverulentus
White-bellied Woodpecker – Dryocopus javensis
Black-thighed Falconet – Mycrohierax fringillarius
Blue Pitta – Hydrornis cyaneus
Blue-winged Pitta – Pitta moluccensis
Hooded Pitta – Pitta sordida
Mangrove Pitta – Pitta megarhyncha
Malayan Banded Pitta – Hydrornis irena
Bar-bellied Pitta – Hydrornis elliotii
Blue-rumped Pitta – Hydrornis soror
Dusky Broadbill – Corydon sumatranus
Black-and-red Broadbill – Cymbirhynchus macrorhynchos
Long-tailed Broadbill – Psarisomus dalhousiae
Silver-breasted Broadbill – Serilophus lunatus
Banded Broadbill – Eurylaimus harterti
Black-and-yellow Broadbill – Eurylaimus ochromalus
Green Broadbill – Calyptomena viridis
Ratchet-tailed Treepie – Temnurus temnurus
Common Green Magpie – Cissa chinensis
Sultan Tit – Melanochlora sultanea
Indochinese Bushlark – Mirafra erythrocephala
Large Scimitar Babbler – Erythrogenys hypoleucos
Collared Babbler – Gampsorhynchus torquatus
Grey-faced Tit Babbler – Macronus kelleyi
Lesser Necklaced Laughingthrush – Garrulax monileger
Greater Necklaced Laughingthrush – Pterorhinus pectoralis
Vinous-breasted Starling – Acridotheres leucocephalus
Indochinese Blue Flycatcher – Cyornis sumatrensis
Yellow-rumped Flycatcher – Ficedula zanthopgia
Rufous-browed Flycatcher – Anthipes solitaris
Asian Golden Weaver – Ploceus hypoxanthus
The map below shows our route around Vietnam and Thailand with the main birding sites. There are likely to be a few other stops between these sites too but these are the birding locations we will be concentrating on.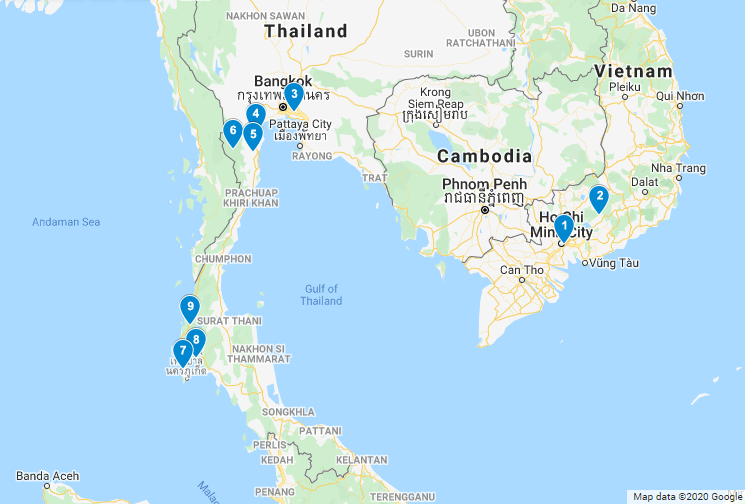 1. Tan Son Nhat International Airport
5. Khao Look Chang
9. Sri Phang Nga National Park
2. Cat Tien National Park
6. Kaeng Krachan National Park
3. Suvarnabhumi International Airport
7. Phuket International Airport
4. Petchaburi Rice Fields
8. Ao Phang Nga National Park
The photos below are of birds that we have a good chance of seeing on this Thailand and Vietnam Pittas tour. All photos were taken at sites that we will visit on this bird watching trip.
Pale-headed Woodpecker

Rufous-bellied Swallow

Yellow-bellied Prinia

Long-tailed Broadbill

Ruddy Kingfisher

Blue-tailed Bee-eater

Javan Pond Heron

Orange-breasted Trogon

Banded Woodpecker

Silver-breasted Broadbill

Blue-rumped Pitta

Black-and-red Broadbill
All above photographs copyright Nick Upton/Calidris Birding Tours.
---
Tour Details
Tour Cost: £3450
Single Supplement: £TBA
Included in the tour cost: All transport and fuel including airport transfers and local off-road vehicles, road tolls, all entry fees, all accommodation from arrival until departure, Ho Chi Minh City-Bangkok, Bangkok-Phuket-Bangkok flights, all meals, drinking water, boat trip, services of English-speaking birding guide, translator and Calidris Birding Tours guide.
Not included in the tour cost: International flights, travel insurance, entry visa fees (most nationalities get visa-free entry to Thailand for stays of less than 30 days), alcoholic and soft drinks, tips, laundry and any other items of a personal nature.
Accommodation: All accommodation is convenient for visiting the birding sites to make travel logistics as simple as possible. All accommodation is comfortable, with private shower/toilet, air-conditioning and good food is available at, or close to, all hotels/guesthouses. Wifi is available at all locations used in Thailand and Vietnam.
Weather: Hot and humid weather is expected at all locations throughout the trip, this is tropical Asia after all. It is possible that there could be a few heavy showers at this time of year although it would be normal for the weather to be mostly dry.
Food: Thai food is well-known for its usage of a variety of flavours and it is often quite spicy due to the Thai people's love of chillies. However, many dishes are not spicy at all and most of those that are can be adjusted to suit anyone's taste. Thai food is based on a variety of stir-fried dishes eaten with steamed rice. Most dishes are meat or fish based but it is easy to cater to vegetarians. Vegan food can also be provided although it may take a little more time to cook. People with food allergies should not be put off but please advise us in advance of any eating requirements you have so that we can check that we can provide for you.
---
Tour Leaders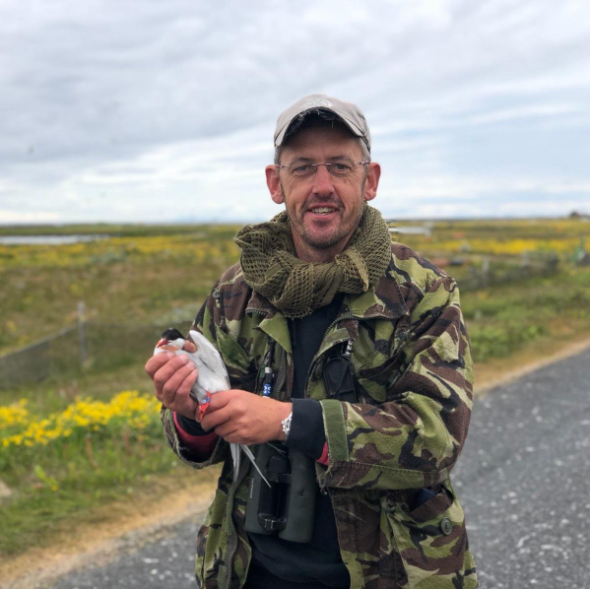 Lee Collins
Lee is a lifelong birder who specializes in local patch birding at Dawlish Warren, UK, where he has found many national rarities. Having traveled in most continents he is a highly-experienced birder and his attention to detail, honed through ring-reading is highly valued. Lee's good humour and people skills are as important to us as his expertise in birding.
---
While every effort will be made to adhere to the advertised itinerary for this Thailand and Vietnam Pittas birding tour, we reserve the right to make changes in the case of unforseen circumstances that are outside of our control. These include problems with accessibility, national park closures, unseasonal weather events or any other reason that may demand an itinerary change.
---
Recommended Field Guides
The best field guides for Thailand and Vietnam are the guides published by Lynx Edicions. However, we do realize that carrying two field guides for one tour may be too much for many people to carry. If only one of these guides is to be carried then the one for Thailand contains almost all of the species we will see. One field guide that does contain all of the birds on this trip is Birds of Southeast Asia by Craig Robson.
Birds of Vietnam
The only field guide available that deals exclusively with the birds of Vietnam. This is our preferred field guide for this country.
The checklist that Calidris Birding Tours will issue for this trip will use IOC taxonomy with reference to the taxonomy used within this field guide so that it is relevant to both.
Read our full review of the book here – Birds of Vietnam.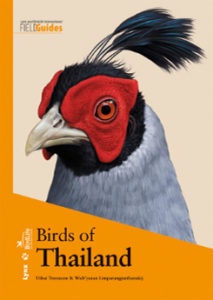 Birds of Thailand
This is the best field guide for Thailand in our opinion, using a up-to-date taxonomy that works well with whichever world list you are using.
The checklist that Calidris Birding Tours will issue for this trip will use IOC taxonomy with reference to the taxonomy used within this field guide so that it is relevant to both.
Read our full review of the book here – Birds of Thailand.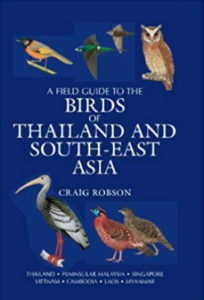 Birds of Southeast Asia
This is the best version of this field guide for the Southeast Asia region and the one that we prefer. All other versions are more out of date than this one.
The checklist that Calidris Birding Tours will issue for this trip will use IOC taxonomy which will be a little at variance with the taxonomy used within this field guide.
Read our full review of the book here – Birds of Southeast Asia.
---
Related Blog Posts
---
Terms and conditions: Please read full Calidris Birding Tours terms and conditions which apply to the Thailand and Vietnam Pittas Birding Tour.