Myanmar Birding Tour

10th -24th January 2025: Myanmar birding tour highlights include Mount Victoria Babax, White-browed Nuthatch, Burmese Bushtit, White-throated Babbler, Hooded Treepie, Jerdon's Minivet, Collared Myna, Chin Hills Wren Babbler, Burmese Bushlark, Rusty-fronted Barwing, Assam Laughingthrush, Black-bibbed Tit, Jerdon's Bushchat, Black-tailed Crake, Brown-capped Laughingthrush – £TBA per person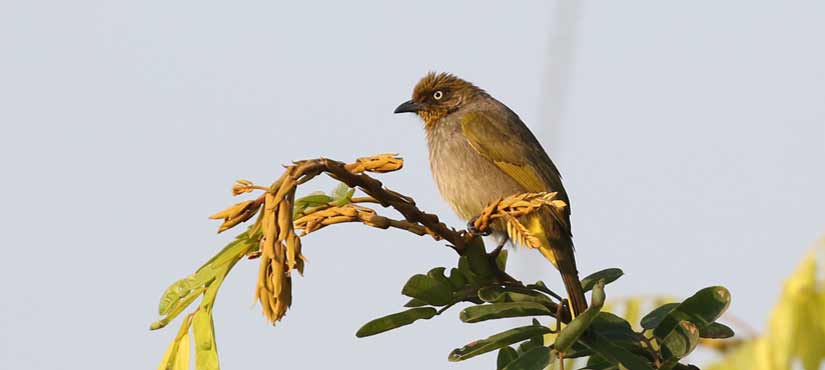 Trip Details
Dates: 10th- 24th January 2025
Cost: £TBA
Single Supplement: £TBA
Deposit: £550
Tour length: 17 Days (15 days birding)
Min / Max group size: 5 / 10
Start/Finish: Yangon
Tour Type: Birding
Photo Opps: Fair to good
Physicality: Moderate
Tour Leaders: Nick Upton & Local Guide
If you have any questions about this trip, please feel free to contact us at info@calidrisbirdingtours.com
Myanmar Endemic Birding
Birding in Myanmar takes place among a variety of landscapes including the temple-strewn plains of Bagan, the multiple ecological zones of Mount Victoria, along the wide and winding Irrawaddy River, among the pine forests around the hill station of Kalaw and the wetlands of the famous Inle Lake. With a high level of endemism Myanmar has an ever-growing number of unique species as research results in endemic subspecies being given full species status, with the lovely White-browed Nuthatch as the jewel in Myanmar's avifaunal crown. You may have previously dismissed Myanmar as a birding destination but this country offers some of the richest birding in the region in areas well away from the crowds.
Myanmar was formerly known as Burma and it is the country where Southeast Asia meets the Indian subcontinent which is reflected not only in the avifauna of the country but in the varied and delicious cuisine, the architecture as well as the diversity of ethnicities and culture. This is one of Asia's most traditional and undeveloped countries, visited only by small numbers of foreign tourists, few of whom venture far away from a few main tourist areas despite the fact that people are friendly and travel is safe. Although infrastructure is not well-developed a network of airports allows us to cover a large part of central Myanmar giving us access to a large number of species including all of the endemics. 
If you want to see a high number and variety of tropical Asian species in a short period this trip will satisfy. However, this is also the place to visit if you want to connect with Burmese endemics including Hooded Treepie, Jerdon's Minivet, Burmese Bushlark, Mount Victoria Babax, White-browed Nuthatch, Davison's Bulbul and Burmese Bushtit. This birdwatching trip is not only about endemics though with a good number of range-restricted species that are hard to see elsewhere including Chin Hills Wren Babbler, Black-headed Shrike Babbler, Black-bibbed Tit and Collared Myna. This Myanmar birding tour is high on variety, quality and numbers and is also allows us to experience a great deal of the people, food and landscapes of Myanmar at the same time.
The city of Yangon contains Shwedagon Pagoda, one of Buddhism's most holy sites and an incredible place to visit. Any participants wishing to visit Shwedagon can add a day to the trip when we can provide a morning of birding at a site that we will not visit on the main trip and a late afternoon visit to Shwedagon, when the soft light makes the pagoda and its surrounding architecture look at its most photogenic. Please let us know if you would like to add this day to the beginning of the trip.
Day 1, Arrival in Yangon – 10th January 2025
On arrival at Yangon International Airport you will be met and taken to our hotel in Yangon. In the evening we will have dinner together and a pre-tour briefing.
Day 2, Hlawga National Park – Bagan – 11th January 2025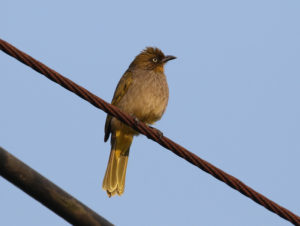 After a good night's rest we will all be keen to get birding so an early start will get us to Hlawga National Park within an hour. This is an area of dry woodland, scrubland, grassy areas and secondary forest with a few scattered pools and lakes among them. As the sun begins to cast its rays on the vegetation we expect to see several species of Bulbuls come out to feed. Red-vented Bulbul is rather common as is Ayeyarwady Bulbul, a species only found in Myanmar and small parts of neighbouring Thailand. Red-whiskered and Black-crested Bulbuls usually put in an apearance but the bird we are really looking for is Davison's/Pale-eyed Bulbul regarded as a split from Stripe-throated Bulbul by some taxonomies but a striking bird whatever authority you follow for your lists.
Moving along we will take a walk along a track through some groves of mature trees with a thick understorey of grass where Thick-billed Warbler, Radde's Warbler and Yellow-streaked Warblers lurk. If the trees are seeding then large numbers of Bulbuls will be feeding and we will hope that Racket-tailed Treepie joins them. Other species we might see here include Yellow-footed Green Pigeon, Alexandrine Parakeet, Black-winged Cuckooshrike, Grey-headed Canary Flycatcher or even Tickell's Leaf Warbler. From the grasses we hope to tease out Chestnut-capped Babbler, a very smart bird indeed, as well as Puff-throated Babbler while overhead good numbers of Asian Openbills will appear. Here we will see our first wetland species at a small lake with Bronze-winged Jacana, Purple Heron and Lesser Whistling Duck all being likely.
After lunch we plan to head back to Yangon International Airport and take a short flight to Bagan where we will check into our comfortable hotel and enjoy a very pleasant dinner that includes a surprisingly interesting cultural show.
Days 3-4, Bagan – 12-13th January 2025
An early breakfast will allow us to spend the first hours of the day birding around this spectacular World Heritage Site which is littered with ancient temples and it is here that we expect to encounter some of the key Burmese endemics. We can rely on seeing Burmese Bushlark, Burmese Collared Dove and White-throated Babbler all of which will be seen well over the course of the two days. Throughout the plains of Bagan there are approximately four thousand temples dating from 11th, 12th and 13th centuries, creating the backdrop for our birding, and rivalling the site of Angkor in Cambodia as an historic attraction. During our visit the visibility should be very good allowing us to enjoy the views of these ruins as well as the birds. By visiting the temples we will be within scattered dry woodland, farmland and scrub, a variety of similar habitats that host some of central Myanmar's target species including the beautiful Jerdon's Minivet and the shy Hooded Treepie. These two highlight species can be difficult to find and are the reason for spending a couple of days on-site is so to make sure that we can pin them down. Of course we will be targeting the endemic species here but there are plenty of other interesting birds to look for including Laggar Falcon, Tickell's Leaf Warbler, Burmese Shrike, Yellow-streaked Warbler, Brown Prinia, Freckle-breasted Woodpecker, Rain Quail and Spotted Owlet.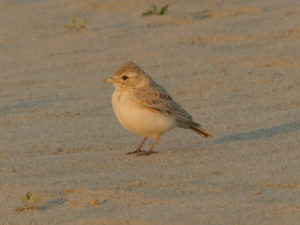 An afternoon boat trip along the Ayeyarwady river is a pleasant feature of one of our afternoons at Bagan, something which is always a nice change of pace on a birding tour. Along the river we can bird from the boat, enjoying the colourful Ruddy Shelduck, Indian Spotbilled Duck, elegant Pied Kingfisher, large numbers of Plain Martins as well as River Lapwing and a few other waders such as Little Ringed Plover, Kentish Plover and Common Greenshank. We will alight from the boat at some beaches and riverine vegetation where we should be able to find Sand Lark and some beautiful White-tailed Stonechats. Finding Striated Babbler will be a little trickier but taking a walk around areas of long grasses should result in success. There are lots of other open-country birds here too including Oriental Skylark, Red Avadavat, Zitting Cisticola and perhaps an Eastern Marsh Harrier or Pied Harrier cruising over the farmland. The return journey along the river at sunset is a greatway to relax before dinner in Bagan.
By allocating two days of birding at Bagan we will have the time to ensure we find all the endemics and difficult to see species as well as enjoying the outstanding temples and not having to struggle through the heat of the day. We will have time to look for Long-billed Pipit, the stunning Siberian Rubythroat, the endemic subspecies of Vinous-breasted Myna, Yellow-eyed Babbler, Indian Nightjar, Brown Shrike and the striking Plain-backed Sparrow.
Day 5, Bagan – Mount Victoria – 14th January 2025
We will have another early breakfast and leave Bagan, beginning our journey to Mount Victoria. There will be several birding stops along the way for species typical of dry woodland including Grey-headed Parakeet, Common Woodshrike, Grey-capped Pygmy Woodpecker, Small Minivet, Red-billed Blue Magpie as well as White-eyed Buzzard. In this habitat we will also look for White-rumped Falcon, a scarce bird but a species that is often found here. The journey will take us through lots of dry country and forest and provide an insight into Myanmar's rural life; these days the improved road has made the journey far faster than in the past.
When the day is hot we will make the bulk of the journey, aiming to reach our accommodation on the lower slopes of Mount Victoria in time for late afternoon birding. The plan shortly after arrival is to try and find the wonderful Chin Hills Wren Babbler in the low vegetation close to our accommodation. The landscape and climate at Mount Victoria will be very different to anything we have been birding in up until now, with cool temperatures in the mornings and afternoons; positively cold at night. Our first birding on the mountain will be done around forest patches and rough farmland where we hope to find some birds that we might not see so easily elsewhere on the mountain. We should be able to locate the skulking Rusty-fronted Fulvetta, maybe Streak-breasted Scimitar Babbler but certainly there are plenty of commoner birds to enjoy on our first afternoon. These should include Green-backed Tit, Olive-backed Pipit, Stripe-breasted Woodpecker, Long-tailed Shrike, Grey Bushchat, Russet Sparrow, Silver-eared Mesia and possibly the skulking Brownish-flanked Bush Warbler.
We will finish in time to realx with a drink or two and enjoy the first of several excellent dinners consisting of a variety of local dishes. If we feel up to it we can make an attempt at Hodgson's Frogmouth which inhabits the area but is hard to locate.
Days 6-9, Mount Victoria – 15-18th January 2025
We have planned four full days on Mount Victoria so that we can enjoy the wide range of habitats and birds here without being forced into rushing around. Mile upon mile of forest extends from out guesthouse, with areas of farmland here and there, all of which we can access along an extensive dirt road that receives little traffic. We will spend our time at various points on the mountain, timing thing so that we are in the right place at the right time for key birds such as Mount Victoria Babax, Striped Laughingthrush, Black-bibbed Tit and the superb Red-faced Liocichla all in their various regular spots.
The forest at the highest points of the mountain that we visit are lush and mossy with a lot of potential for good birds. Bird abundance is often good in this forest with Rufous-bellied Woodpecker creeping on mossy trunks, Rufous-gorgetted Flycatcher flitting around in the mid-storey and feeding flocks that include Grey Sibia, Red-tailed Minla, bar-throated (Chestnut-tailed) Minla and Black-headed Shrike Babbler. Of course the star attraction is the endemic White-browed Nuthatch, only found on Mount Victoria and actually fairly abundant in these highest altitude forests. We should have plenty of opportunity to see this and other key birds like Burmese Bushtit, Assam Laughingthrush, Rusty-fronted Barwing and a wide variety of other species. Skulking Scaly-breasted Cupwing usually takes more work to find and we will have to scan flocks for Green Shrike Babbler, Grey-hooded Warbler and colourful Black-eared Shrike Babbler.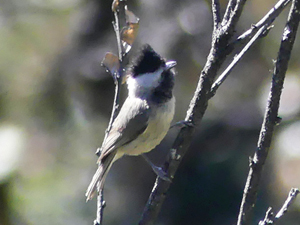 A little lower down the mountain the moist forest gives way to woodland dominated by pine. This gives us a good view into the forest in order to spot species that include Darjeerling Woodpecker, both Bar-tailed Treecreeper and Manipur (Hume's) Treecreeper, Streak-throated Barwing and Black-bibbed Tit. There are so many good birds up here that we will revisit several spots and also try to cover ground to give ourselves the best chance of getting good views of as many birds as possible. This is a great location for getting to grips with Chestnut-headed Tesia, a lovely little bird, and Brown-capped Laughingthrush as well as a number of Phylloscopus warblers to test our identification skills. As we walk along the road we should encounter flocks of small birds such as Green-backed Tit, White-browed Fulvetta, Grey-chinned Minivet and a whole host of others while overhead we should alway be vigilant for raptors such as Black Eagle, Crested Goshawk and Mountain Hawk Eagle.
Mount Victoria really has a wealth of habitats and birds and our four days here will be full of exciting sightings at a pace that means we have time to enjoy them, see many of them several times and the opportunity to search for those species that are hard to find or are just simply playing hard-to-get. We will find some time on some evenings to look for the curious Hodgson's Frogmouth.
Day 10, Mount Victoria – Bagan – 19th January 2025
If we are still searching for any of the key target birds that occur in close proximity to our accommodation we can try again but we hope to leave fairly early to make a number of stops along the road back to Bagan in search of species that live in dry forest areas such as White-rumped Falcon, White-browed Fantail, Small Minivet, Blossom-headed Parakeet and a number of others. Exactly what we do on this day will depend very much on what we have already seen over the last week and what we want to target, be it more birds on Mount Victoria, species along the road or even revisiting Bagan for anything that we may not have seen as well as we had liked.
We will be back in Bagan in plenty of time to check into our comfortable hotel and catch up on emails etc. before a relaxing dinner.
Day 11-12, Kalaw – 20th-21st January 2025
On the morning of 20th January we will have breakfast at our accommodation before transferring to Bagan Airport and take a short flight to the town of Heho. As we leave the airport we pass through fields with scattered trees, many of which produce flowers. These flowers can attract a variety of Mynas and Starlings to feed on them and it is here that we are hoping to be able to find Collared Myna. This handsome bird is very restricted in its world range and this part of Myanmar is one of the best places to see it. The trees should harbour good numbers of Great (White-vented) Myna, Common Myna and (Burmese) Vinous-breasted Starling feeding on the flowers and as well as a few Collared Mynas we are likely to see some handsome Black-collared Starling and perhaps even a few Chestnut-tailed Starlings too.
Having enjoyed these birds we will continue our journey into the hills near small town of Kalaw, stopping along the way for a lunch of some delicious traditional local cuisine in a well-known restaurant. Checking into our pleasant accommodation we spend the next day and a half birding around the wooded hills of the Kalaw area. There are a variety of locations we can visit, much of it pine woodland alongside traditional agriculture, where we will search for species that have more affinity to the east of Myanmar than the west. Attractive Black-headed Greenfinches can be seen in the tops of the pine trees while Rusty-cheeked Scimitar Babbler and White-browed Laughingthrush should emerge from bushy undergrowth. Pine trees should also hold Red-billed Blue Magpie, smart White-faced (Eurasian) Jay, Great Spotted Woodpecker and perhaps even Streak-throated Woodpecker too.
There is a fair bit of walking to do at Kalaw to get us into an area of more most forest which contains a different set of avifauna. Birds such as Silver-eared Mesia, Blyth's Shrike Babbler, Dark-backed Sibia and the lovely Silver-breasted Broadbill inhabit this area and the highly range-restricted Burmese Yuhina can sometimes be seen here. Another highlight is a boggy patch in some rice fields that we can look down into and often spot Black-tailed Crake as it struts around foraging. We can expect a lot of new birds in this area such as Crested Finchbill, White-throated Bulbul, Silver-eared Laughingthrush, Brown Prinia and Striated Grassbird to mention a few.
Day 13, Kalaw – Inle Lake – 22nd January 2025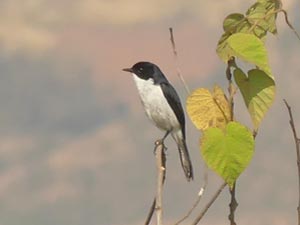 The staff at our hotel will serve breakfast early for us so that we can get away quickly and make the drive towards the shores of Inle Lake. We will embark our boats and swiftly head down the channels to a large reedy area where a number of interesting birds lurk. Species such as Asian Openbill, Purple Heron and a variety of Egrets will be obvious but it may take a little more searching for the main target bird here: Jerdon's Bushchat. This smart little bird is a habitat specialist, preferring areas of talls reeds and emergent vegetation beside lakes and rivers. Drainage of these habitats and conversion to farmland is the main threat to this bird throughout its range and it gets rarer every year. However, in certain areas they are fairly abundant at Inle Lake and hopefully we will find somewhere dry enough to disembark so that we can study this species in detail. In the same habitat we are likely to see Eastern Yellow Wagtail feeding in damp patches, Bluethroat hopping along raised banks, Black-browed Reed Warbler skulking in the vegetation and Yellow-bellied Prinia flitting from reed to reed.
Our accommodation on the lake is an attractive building with a colony of waterbirds right behind it so that after checking into our rooms we will have time to enjoy watching Asian Openbills with their nests full of chicks alongside shining Glossy Ibises and Little Egrets in breeding condition. We have lunch on a floating restaurant on the lake.
Later in the afternoon we reboard our boats and tour the shallows of the lake. Visiting a number of reedy and waterlogged channels we can search for Collared Myna if we did not see it before, often they can be found feeding in the areas of aquaculture on the lake edges. Other species can include Clamorous Reed Warbler, Citrine Wagtail and Black-winged Stilt while Pheasant-tailed Jacana, Cotton Pygmy Goose and Bronze-winged Jacana can be found in quiet areas with floating vegetation. We can also look for flocks of ducks which will certainly include Lesser Whistling Duck and Garganey but we will be looking out for small groups of diving ducks. Hopefully we will find parties of Ferruginous Pochard and in some years they can be accompanied by the critically endangered Baer's Pochard. We will need to be vigilant and a little lucky to locate this extremely rare bird but it does winter in very small numbers on Inle Lake in most years. Finally we will return to our beautifully-situated accommodation to unwind for the evening.
Day 14, Inle Lake – Yangon – 23rd January 2025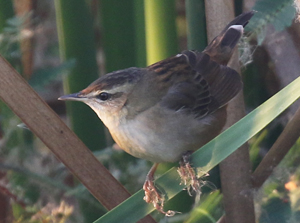 We have an early breakfast at our accommodation before getting back into our boats and heading back out onto the lake to look for any species that we have not already connected with. The two key birds here are Collared Myna and Baer's Pochard. We expect to see the first but luck will be needed for the Pochard but we are likely to see other species such as Northern Pintail, Indian Spotbilled Duck and Ruddy Shelduck along the way. We might also be able to catch up with species such as Wire-tailed Swallow, Streaked Weaver and Striated Grassbird close to our accommodation and try to tease out some skulkers such as Pallas's Grasshopper Warbler, Lanceolated Warbler, Baikal Bush Warbler or even Chinese Bush Warbler; these are all very skulking so we will need some patience and luck to get views of them.
After lunch at our accommodation we will check out and travel back to Heho airport, first by boat and then by minivan, from where will take the short flight back to Yangon. From the airport we will be transferred to our hotel for the night where we will have our final dinner together. This will give us an opportunity to think about the many highlights of the trip.
Day 15, Departure – 24th January 2025
A taxi will transfer you from the hotel to Yangon International Airport at a time convenient to your flight departure. This will conclude this Myanmar birding tour.
Below is a list of key species that we have a very good chance of finding based on the experience of previous visits. It is not meant as a complete list of birds that we will search for but they are some of the regional highlights that we will put effort into locating because they are memorable and/or have restricted ranges. While we expect to find a very high proportion of these birds we obviously cannot guarantee that we will see all of them; please remember these are wild birds.
(Burmese) Collared Dove – Streptopelia decaocto (xanthocycla)
Black-tailed Crake – Porzana bicolor
White-eyed Buzzard – Butastur teesa
Pied Harrier – Circus melanoleucos
Rufous-bellied Woodpecker – Dendrocopos hyperythrus
Darjeeling Woodpecker – Dendrocopos darjellensis
White-rumped Falcon – Polihierax insignis
Laggar Falcon – Falco jugger
Alexandrine Parakeet – Psittacula eupatria
Jerdon's Minivet – Pericrocotus albifrons
Burmese Shrike – Lanius cullorioides
Hooded Treepie – Crypsirina cucullata
Black-bibbed Tit – Poecile hypermelaenus
Sand Lark – Alaudala raytal
Burmese Bushlark – Mirafra microptera
Black-throated Prinia – Prinia atrogularis
Scaly-breasted Cupwing – Pnoepyga albiventer
Brown-flanked Bush Warbler – Horornis fortipes
Davison's/Pale-eyed Bulbul – Pycnonotus finlaysoni davisoni
Ayeyawady Bulbul – Pycnonotus blanfordi
Tickell's Leaf Warbler – Phylloscopus affinis
Grey-hooded Warbler – Phylloscopus xanthoschistos
Chestnut-headed Tesia – Cettia castaneocoronata
Black-throated Bushtit – Aegithalos concinnus
Burmese Bushtit – Aegithalos sharpei
White-browed Fulvetta – Fulvetta vinipectus
Spot-breasted Parrotbill – Paradoxornis guttaticollis
Stripe-throated Yuhina – Yuhina gularis
Burmese Yuhina – Yuhina humilis
Chin Hills Wren Babbler – Spelaeornis oatesi
Streak-breasted Scimitar Babbler – Pomatorhinus ruficollis
Rusty-cheeked Scimitar Babbler – Megapomatorhinus erythrogenys
Rusty-capped Fulvetta – Alcippe dubia
Striated Babbler – Argya earlei
White-throated Babbler – Argya gularis
Mount Victoria Babax – Pterorhinus woodi
Striped Laughingthrush – Trochalopteron virgatum
Brown-capped Laughingthrush – Trochalopteron austeni
Assam Laughingthrush – Trochalopteron chrysopterum
Grey Sibia – Heterophasia gracilis
Silver-eared Mesia – Leiothrix argentauris
Red-tailed Minla – Minla ignotincta
Red-faced Liocichla – Liocichla phoenicea
Streak-throated Barwing – Actinodura waldeni
Rusty-fronted Barwing – Actinodura egertoni
Bar-throated (Chestnut-tailed) Minla – Actinodura strigula
White-browed Nuthatch – Sitta victoriae
Bar-tailed Treecreeper – Certhia himalayana
(Burmese) Vinous-breasted Starling – Acridotheres burmannicus (burmannicus)
Collared Myna – Acridotheres albocinctus
Grey-sided Thrush – Turdus feae
Siberian Rubythroat – Calliope calliope
Rufous-gorgetted Flycatcher – Ficedula strophiata
White-tailed Stonechat – Saxicola leucurus
Jerdon's Bushchat – Saxicola jerdoni
Fire-tailed Sunbird – Aethopyga ignicauda
Green-tailed Sunbird – Aethopyga nipalensis victoriae
Russet Sparrow – Passer cinnamomeus
Long-billed Pipit – Anthus similis
Spot-winged Grosbeak – Mycerobas melanozanthos
Yellow-breasted Greenfinch – Chloris spinoides
Black-headed Greenfinch – Chloris ambigua
The map of Myanmar below shows the main locations visited on this birding tour. There will be a number of other birding stops between these sites which are our focus.
1. Yangon International Airport
5. Kalaw
2. Hlawga National Park
6. Inle Lake
The following is a selection of the birds of Myanmar seen on previous visits.
Alexandrine Parakeet

Spot-breasted Parrotbill

Ayeyarwady Bulbul

House Crow

Grey-headed Canary Flycatcher

Glossy Ibis

Rufous-gorgetted Flycatcher

Spot-winged Grosbeak

Red-tailed Minla

Bar-throated Minla

White-tailed Stonechat

Red-vented Bulbul
All above photographs copyright Nick Upton/Calidris Birding Tours.
---
Tour Details
Tour Cost: £TBA per person
Single supplement: £TBA
Included in the tour cost: All transport including airport transfers, all meals, accommodation (based on two people sharing a room) including a hotel on the day of arrival and on the final night of the tour, bottled drinking water, national park entry fees, boat trips, services of all drivers, English-speaking birding guide and Calidris Birding Tours guide. Domestic flights are supplied by our local agent and included in the price.
Not included in the tour cost: International flights, travel insurance, visa (30 day visas can be obtained easily and quickly online), alcoholic and soft drinks, tips, excess baggage fees, laundry and any other items of a personal nature.
Accommodation: All accommodation on this tour is of a good standard. All rooms have en-suite toilet and showers. Air-conditioning is available at all locations where the climate requires it. Hotels and guest houses are all the best balance of proximity to the birding sites with quality and convenience. Wifi is available at some but not all locations.
Physical effort: Most of the birding in Thailand does not require much physical effort. Birding along roads and tracks that run through forests and wetlands is the normal plan on much of this trip. However, accessing the raptor watch point requires hiking for around 30 minutes along a forest trail. At points this trail has an uneven surface but there will be plenty of time for negotiating it. For anyone who did not bring a trekking pole we can easily cut a walking stick from nearby bamboo. Participants need to be mobile enough to be able to get on and off of a small boat from a jetty.
Weather: At most times expect the weather to be quite hot. At some locations it will be hot and humid while most locations will experience dry heat. However, early mornings and evenings are likely to be cold on Mount Victoria but a few appropriate layers of clothing are sufficient as the temperature is unlikely to be anything extreme.
Food: The food in Myanmar is an interesting variety of Southeast Asian, Indian and Chinese cuisines. On this tour we visit a variety of restaurants from hotel restaurants in Yangon to a local homestay on one of our journeys. The food is very good and although a number of dishes are spicy it is easy to cater for those who prefer their food not to be spicy. Vegetarian food is easily provided. We can also cater for people with food allergies but please advise us in advance of any eating requirements you have so that we can check that we can indeed provide for you.
---
Tour Leaders

Nick Upton
Nick Upton has been birding since the age of seven and leading birding tours full-time since 2007. After travelling extensively in Asia he settled in Thailand in 1997, teaching English and science while establishing thaibirding.com. With a BSc (Hons) Wildlife & Countryside Conservation he is well placed to understand the ecology of birds as well as the conservation issues that affect them.
Nick is co-founder/director of Calidris Birding Tours.
---
While we make every effort to adhere to the advertised itinerary for this Myanmar birding tour, we reserve the right to make changes in the case of unforeseen circumstances. These can include problems with accessibility, national park closures, unseasonal weather events or any other reason that may demand a change of itinerary.
---
Recommended Field Guide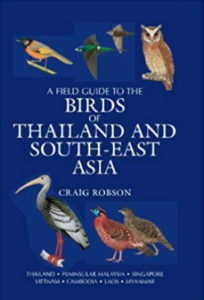 Birds of Southeast Asia
There is currently no quality field guide dedicated to Myanmar alone so the next best thing is this version of the Birds of Southeast Asia by Craig Robson. All birds we are likely to see receive their own illustrations within this book as well as species that could possibly be seen as vagrants. The version of the book shown here is the most up to date while other versions are reprints of the original (non-updated) publication.
We recommend that all participants on this Myanmar birding tour purchase a copy of this field guide. The checklist Calidris Birding Tours will issue for this trip will use IOC taxonomy with reference to the taxonomy used within this publication.
Read our full review of the book here – Birds of Southeast Asia.
---
Related Birding Links
---
Terms and conditions: Please read full Calidris Birding Tours terms and conditions which apply to the Myanmar Birding Tour.