Cambodia Birding Tour

13th-27th March 2023: Cambodia birding tour highlights include Giant Ibis, Greater Adjutant, Black-headed Woodpecker, Milky Stork, Rufous-bellied Woodpecker, White-shouldered Ibis, Mekong Wagtail, Cambodian Tailorbird, Spot-billed Pelican, White-backed Vulture, Bengal Florican, White-winged Duck, Sarus Crane, White-rumped Falcon, Great Slaty Woodpecker – £3750 Per Person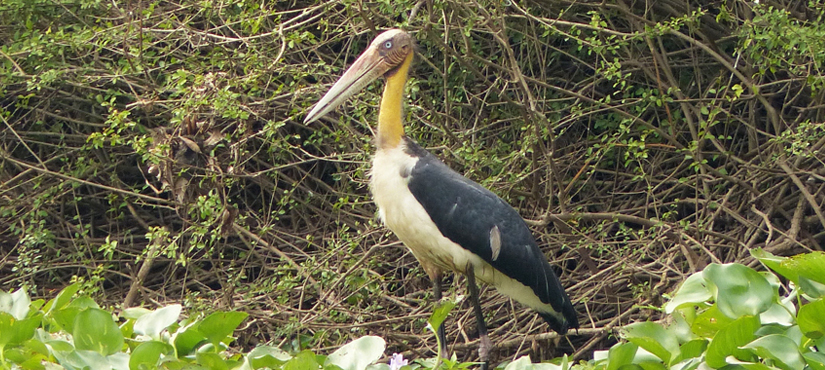 Trip Details
Dates: 13th-27th Mar 2023
Cost: £3750
Single Supplement: £250
Deposit: £560
Tour length: 15 Days (13 days birding)
Min/Max group size: 5 / 10
Start/Finish: Siem Reap/Phnom Penh
Tour Type: Birding
Photo Opps: Fair
Physical Classification: Easy
Leaders: Nick Upton & Local Guides
If you have any questions about this trip please feel free to ask by contacting us at info@calidrisbirdingtours.com
Cambodia Birding
By visiting some of Southeast Asia's richest wetlands, the most extensive remaining tracts of lowland dry dipterocarp woodlands, the region's only remaining seasonally flooded grasslands, enjoying two boat trips as well as the ancient temples of Angkor and it is clear that this is birding trip set among unique landscapes, habitats and cultural landmarks as well as some the region's rarest birds. While enjoying some of Southeast Asia's avian relics this trip has the added benefit of contributing to some of the most important eco-tourism projects in Cambodia.
Positioned in the heart of mainland Southeast Asia Cambodia is the modern incarnation of the ancient Khmer Empire, bordered by Vietnam, Thailand and Laos. This is a country which was off-limits for many years but now attracts the attention of birders as the last refuge in Southeast Asia of a number of exciting birds. Although these species are under threat a network of community eco-tourism projects delivers birders right into the critical habitat at the right time. The wetlands will provide a wide array of species, including some real giants while woodlands, often surrounding Khmer ruins, contain one of the world's most endangered species and an impressive array of woodpeckers.
For birders that are keen to add some rare and regional specialities like Mekong Wagtail, Giant Ibis, Cambodian Tailorbird, Sarus Crane and Greater Adjutant to their list Cambodia is an excellent country to do so. However, equally for those who want to see a large number of exciting Southeast Asian birdsas diverse as Bar-bellied Pitta, Black-headed Woodpecker, Asian Golden Weaver, Collared Falconet, Indochinese Cuckooshrike and Spot-billed Pelican this is also a trip. While our main focus will be the key species of any Cambodia birding tour we will also have the opportunity to enjoy a very wide selection of Cambodia's birds.
Day 1, Arrival in Siem Reap – 13th March 2023
On arrival at Siem Reap we will meet our local guide and take a short drive to our comfortable hotel. We can check in and take a rest in preparation for an early start the following day. In the late afternoon we can make a short excursion to a park to see Lyle's Flying Foxes resting in tall trees. After this we will have dinner and a pre trip briefing.
Day 2, Angkor Wat – 14th March 2023
Of course, any trip to Cambodia would be incomplete without visiting the world famous Angkor Wat. While it is certainly one of the most impressive historic monuments in the world, it is also true that the fringing woodland holds plenty of interesting birds too. This will be a stunning setting for the morning's birding. Arriving as the sun rises we can take advantage of the coolest hours of the morning to enjoy birding in the forest around the temple complex. One of the key species here is White-throated Rockthrush. This stunning bird has the most intricate plumage and they regularly winter in the tangled woodland around Angkor along with Pale-legged Leaf Warbler, Hainan Blue Flycatcher and Forest Wagtail.
To the rear of Angkor Wat there are some massive trees in the canopy of which a number of arboreal birds perch, in the early morning, to catch the morning sun. These usually include small groups of Oriental Pied Hornbill, Common Hill Myna, Lineated Barbet, Black-winged Cuckooshrike, flocks of colourful Thick-billed Green Pigeons and Red-breasted Parakeet. As the day warms up several species of raptor become active, soaring on the first thermals of the day; these usually include Shikra and the very smart Black Baza.
When the early morning peak of bird activity subsides we will move into Angkor Wat itself and enjoy the atmosphere of this majestic temple complex. The cloisters of the temple are endowed with amazing bas-reliefs, the most famous of which is the "Churning of the sea of milk" which is impressive in its scale and level of detail. If you have any questions then just ask as our birding guide is also a qualified temple guide, or if you prefer to just take in scale of things then a climb to the highest parts of the temple is memorable. Before stopping for lunch we can search for for Alexandrine Parakeet at the magnificent Ta Proumh temple. This amazing location has been used in movies and on postcards; the massive roots of trees, climbing around ruined temples, create an amazing sight, make sure you bring your camera!
In the heat of the day we can take a rest for a few hours at our comfortable hotel. Later, as it cools down a little we will go out again to enjoy Bayon temple, a unique structure with huge faces in the place of the normal temple roofs. A number of the carvings at this temple have an avian theme to them and it is interesting to see how many species we can identified in them. Heading back to the vast moat of Angkor Wat we have a good chance to watch Brown-backed and, possibly, Silver-backed Needletails swooping down to drink and bathe in the waters. If the temple guards allow us to stay at dusk we may be able to look for Brown Boobook here too, often it shows itself before it is properly dark. To end the day we will take a shower and enjoy some great local cuisine. We spend the night in Siem Reap.
Day 3, Prek Toal – 15th March 2023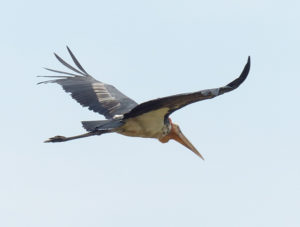 A short bus ride from our hotel will take us to the pier where we board our boat. From here we take a trip across the Tonle Sap, the enormous lake that so many Cambodians rely upon for an income, watching the sun rise as we go. At first we travel across open water but eventually we get to Prek Toal reserve where we transfer to smaller boats; this is where the birding begins. This area contains the largest breeding colony of large water birds in Southeast Asia and we will target specialities that include Spot-billed Pelican, Painted Stork, Lesser Adjutant, all of which are fairly abundant, as well as two endangered species; Greater Adjutant and Milky Stork. Large numbers of common species will be seen along the way; Great Cormorant, Purple Heron, Yellow Bittern, Asian Openbill, Intermediate Egret, Oriental Darter, Indian Cormorant and White-breasted Waterhen are a few examples. Grey-headed Fish Eagle is an impressive bird that we can often see perched by the water side and being in small baots allows us to see birds like Black-headed Ibis, Storks and Pelicans at eye level as well as flying overhead. As we go along the channels we can also spot birds like Eastern Yellow Wagtail, Stejneger's Stonechat and Rufous Woodpecker in the vegetation.
We have lunch on one of the floating restaurants in a village on the edge of the lake and then head back across the Tonle Sap to where we began the day. Traditional agricultural areas which consist of lotus ponds. fish ponds and rice fields will provide some really good late afternoon birding. This area is usually very good for the skulking Lanceolated Warbler and several similar species including Dusky Warbler, Siberian Rubythroat and Pallas's Grasshopper Warbler, although they usually take some work to see. We can expect a few Oriental Pratincoles in the driest areas and look for White-browed Crake in the lotus ponds while other nice birds can include Chestnut-capped Babbler and Striated Grassbird. Both Yellow and Cinnamon Bitterns often get flushed as we walk through the wetland farm areas and there might be a few Common and Pin-tailed Snipe too.
These types of habitats always turn up a lot of good birds and there is always the possibility of a surprise or two. We spend our second night in Siem Reap.
Day 4, Ang Trapaeng Tmor to Chong Kran Roy – 16th March 2023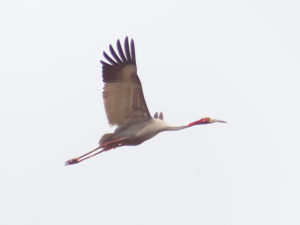 This wetland was created as a reservoir during the Angkorian period but Ang Trapaeng Thmor was rebuilt during the terrible Khmer Rouge regime in 1976. The Wildlife Conservation Society now runs this area as a reserve in order to protect, in particular, Sarus Cranes. Over three hundred of these fantastic cranes flock to this area but there is much more to see here besides. Visiting this site gives us another chance of many of the key birds from the previous day as well as provide excellent views of good numbers of Sarus Crane. The Southeast Asian sharpii subspecies of Sarus Crane is endangered with an estimated population of fewer than one thousand birds. Bird watchers visiting this site contribute greatly to conservation in Cambodia and the persistence of Sarus Cranes here.
If Greater Adjutant or Milky Stork did not perform for us at Prek Toal there is another opportunity to track them down here and by this time of year the water will be limited, meaning the birds will be concentrated. It may be possible to find the impressive Black-necked Stork in this area as well as many of the large water birds seen at Prek Toal, such as Black-headed Ibis, Painted Stork, Spot-billed Pelican, Oriental Darter, Asian Openbill and Lesser Adjutants. Being here at this time of the year gives us a chance of locating Oriental Plover, a scarce passage migrant that is seen here annually in March/April.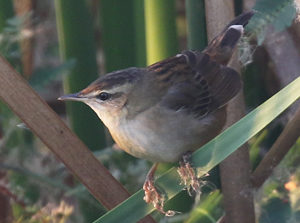 A few pairs of Bengal Floricans breed here but it is very shy and we have a better chance to see these critically endangered birds on the following day. Other birds we can see in the dry grassland here include Blue-breasted Quail, Oriental Skylark, Indochinese Bushlark and Horsfield's Bushlark. Richard's Pipit , Paddyfield Pipit and numerous Red-throated Pipits are easy to see here with Yellow-bellied Prinia, Oriental Reed Warbler, Pallas's Grasshopper Warbler and Red Avadavat all likely to perform for us.
The variety of habitats that include everything from wetlands to scattered woodland give us a chance to see a hatful of species in a single day. Other birds to look out for include Black-crowned Night Heron, Yellow Bittern, Cinnamon Bittern and Black Bittern, Watercock, Cotton Pygmy-goose, Knob-billed (Comb) Duck, Bronze-winged and Pheasant-tailed Jacanas, Black Kite, Eastern Marsh and Pied Harriers, Dark-necked Tailorbird, Yellow-vented Bulbul, Plain-backed Sparrow and Black-collared Starling. Lanceolated Warbler is unusually common here and we have a great chance of seeing this cryptic little bird well despite its secretive nature.
Visiting Ang Trapaeng Tmor as well as Prek Toal means that we can enjoy our first few days birding at a relaxed pace and see a large proportion of the species that occupy these habitats instead of rushing around. This location is also one of the few placesremaining where truly wild Eld's Deer still exis;, a critically endangered species which is important in maintaining this landscape. This is our final night in Siem Reap.
By mid afternoon we will start travelling towards our next birding site of Chong Kran Roy where we will stay in a tented camp. In the late afternoon we visit a hide set up at an area that attracts birds with Bar-bellied Pitta being the bird we most hope to see here. Along with this prize we also hope to see Scaly-breasted Partridge and Large Scimitar Babbler, all species that are very hard to see under normal circumstances. Commoner birds here include Black-naped Monarch, Green-eared Barbet, Puff-throated Barbet and Puff-throated Babbler.
Day 5, Chong Kran Roy to Siem Reap – 17th March 2023
In the early morning we revisit the hide to give us another chance at the key species that visit, incluuding Bar-bellied Pitta and Siberian Blue Robin; waiting for the birds to come is a nice way to start the morning with other species we might expect including Red Junglefowl and Emerald Dove. We plan to spend most of the day in the woodlands here with plenty of different species to look for. Spending the whole morning in the forest birds like Thick-billed Green Pigeon, Green-eared Barbet and Asian Fairy Bluebird can be expected on any fruiting trees. The list of possibilities is quite long and although we only have a short time at this location it is a good time to be here with many species vocal as the breeding season gets into full swing. With that in mind we should have a decent chance at finding Banded Broadbill, the funny little Heart-spotted Woodpecker or even Banded Kingfisher. Bring all your lucky charms, keep your fingers crossed and there could even be the possibility of Coral-billed Ground Cuckoo as this is its most vocal time of the year.
By mid afternoon we will begin the drive back to our hotel at Siem Reap, arriving in plenty of time to have a shower and relax a bit before dinner.
Day 6, Florican Grasslands to Tmatboey – 18th March 2023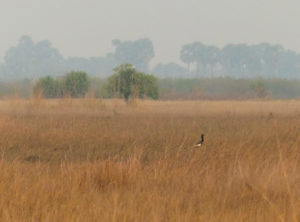 Today has the potential to be the most memorable of the trip considering the species we are targetting. Leaving Siem Reap in the early morning we drive to the Florican Grasslands for a nice breakfast in the field. Local guides will meet us and point us in the right direction for Bengal Florican so that we have a good chance of watching this remarkable, critically endangered species as we eat our breakfast. Strutting around in the grassland, the predominantly black males stand out and with a little luck we will have several encounters with it here. Colourful Blue-tailed Bee-eater is a common bird here that we will see catching insect as we have breakfast while hearing the song of Australasian (Horsfield's) Bushlark. Although not always easy to see well this species is fairly common and at least one should show itself. We we will also make an effort to find Manchurian Reed Warbler in the tall grasses, a species with a very restricted global range and poorly understood migratory habits. We have another opportunity here to enjoy flocks of magnificent Sarus Cranes as well as Oriental Pratincole and as we search for our target birds we are likely to encounter species such as Eastern Marsh Harrier, Asian Pied Starling, Spotted Redshank, Little Ringed Plover and Streaked Weaver. Both Barred Buttonquail and Small Buttonquail occur here and if we are lucky we may be able to spot one crossing the track.
Leaving the grasslands we begin our journey to Tmatboey, stopping for lunch along the way. As we travel we might spot Collared Falconet or even White-rumped Falcon perched atop a bare tree. By mid afternoon we expect to arrive at our simple accommodation at the village of Tmatboey, set within the dry dipterocarp forest. Tmatboey is a small and isolated Khmer village of a few hundred families situated within the Khulen Promtep Wildlife Sanctuary, the country's largest protected area. The Tmatboey Ibis Site is a conservation project established by the Wildlife Conservation Society as a partnership with the Cambodian Government and the villagers of Tmatboey. When all interested parties understood that the site had potential for birdwatching ecotourism the locally-elected committe built guest accommodation for visiting birders. The Sam Veasna Centre helped to train local guides and lodge staff who provide the services for the birdwatching groups that visit. In return for the income that from this, the villagers have signed non-hunting and land conversion agreements. The Eco-Lodge is a simple place with a central dining building with surrounding bungalows all of which have two double en-suite rooms with solar powered electricity. The accommodation is basic but comfortable and the food that the staff prepare is really good.
This wildlife sanctuary is one of only a few remaining nest sites in Asia for the incredible Giant Ibis. These critically endangered birds use large trees in the forest, away from the village, for roosting and nesting in, while White-shouldered Ibis occur nearer to the village. Both species rely on wetland pools within the grassland clearings amongst the dipteropcarp forest and after we have settled in to our accommodation we will go in search of them. Walking quietly through the open woodland we will head to a location where White-shouldered Ibis usually come to feed in the late afternoon and roost in nearby trees. There is also a good chance that a few Giant Ibis alongside them, but as these are shy birds we must be quiet and try to remain hidden. During the search for these key target birds we are also likely to find Woolly-necked Stork. Commoner woodland species along the way will probably include Small Minivet, Common Woodshrike, White-browed Fantail, Rufous Treepie and Indochinese Cuckooshrike. Our first night staying at Tmatboey.
Days 7-8, Tmat Boey – 19th-20th March 2023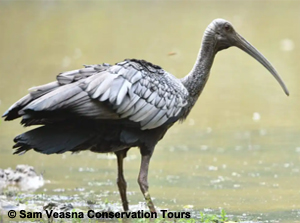 With two full days in the forests around Tmatboey we have the best of chances to get good views of both White-shouldered Ibis and Giant Ibis as they leave their roost sites to feed in small pools in the forest. It is likely that we will have to make some quite long walks in the heat in order to find our targets here but the there are no hills so the walking is not arduous and our local guides look somehow provide ice-cold water for us as if they have permanent access to a fridge! Our local guides will scour the forest to locate a number of species of owls on their roost sites. There is a good chance of Brown Fish Owl, Brown Wood Owl, Spotted Wood Owl and Spotted Owlet. While they attempt to find these birds for us we continue the birding, our attention turning to the many woodpeckers in this area. We will make every effort to locate the reptilian Great Slaty Woodpecker, stunning White-bellied Woodpecker, Greater & Common Flamebacks, Greater & Lesser Yellownapes as well as rarer Rufous-bellied and Yellow-crowned Woodpeckers. Black-headed Woodpecker is one of the real stars of dry diptercarp woodland and fortunately it is a fairly common bird that we are sure to be able to admire in full.
The forest here contains a lot of habitat specialists, two of the loveliest of which are the tiny Collared Falconet as well as the scarce White-rumped Falcon. Patches of more moist woodland alongside streams and rivers will provide us with more variety and birds here include superb little Van Hasselt's Sunbird and massive Stork-billed Kingfisher. In the very early morning there is also a chance for Pale-capped Pigeon on the treetops; a really tricky bird to see anywhere in its range.
Another range-restricted bird here is Chinese Francolin, which is quite common and usually seen on the tracks through the forest and both Blossom-headed and Red-breasted Parakeets can be found calling from the treetops. Other species we should see are Burmese Nuthatch, Burmese Shrike, Black-hooded and Black-naped Orioles, Golden-fronted Leafbird, Common and Large Woodshrikes, Indochinese and Large Cuckooshrikes, Chestnut-capped Babbler, Lesser Necklaced Laughingthrush, Brown Prinia, Radde's Warbler, Two-barred Warbler and Yellow-browed Warbler, Rufous Treepie, Hair-crested Drongo, Vinous-breasted Starling and Red-billed Blue Magpie. From this list it is obvious how rich the area is and how full our days will be. At dusk there are a some regular spots for us to check for crepuscular species that include Indian Nightjar and Savanna Nightjar. After dark we can also look for Oriental Scops Owl. This itinerary has been designed so that enough time is available at this wonderful birding site to ensure that we enjoy satisfying views of both species of Ibis. Both nights will be spent at the ecolodge at Tmatboey.
Day 9, Tmat Boey – Okoki (or Prey Veng) – 21st March 2023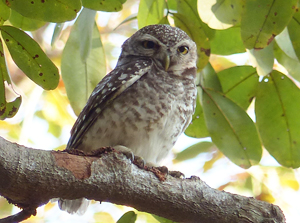 Before breakfast at Tmat Boey we will have time to experience the sight and sound of Giant Ibis as it wakes at its roost tree, if we have not already been amazed by this prehistoric scene. Soon after breakfast we plan to begin our journey towards our next destination: Okoki.
This is quite a long journey, broken up by a stop for lunch, but we will arrive at Okoki in time for our first try for one of our main targets here; White-winged Duck. Around dusk is one of the best chances to see this rare species so we aim to be in the best spot at the right time. We also have a chance of Blyth's Frogmouth too if we make the effort after dark or if a daytime roost is known by locals at the time.
Our plan is to visit Okoki which is usually the best site to find the rare White-winged Duck but depending on the most recent birding knowledge at the time we may change our plans to see this species at Prey Veng instead. White-winged Duck is one of those birds that can be hard to find and extremely sensitive to human disturbance.
Accommodation at either Okoki or Prey Veng is a tented camp.
Day 10, Okoki – 22nd March 2023
The habitat overlaps a lot with that of Tmatboey, so any species we did not see there we have another chance of finding here. Species such as White-bellied Woodpecker, Yellow-crowned Woodpecker and White-rumped Falcon are not easy to find so we have a back up site here. However, there are also some birds of slightly moister forest in patches of this habitat at Okoki giving us another chance of finding the superb Bar-bellied Pitta. There are moister habitat types here than on most of our tour giving us the opportunity to see some colourful birds. We will spend time trying to locate Orange-breasted Trogon, Banded Kingfisher, Black-and-red Broadbill and Banded Broadbill too and if we were to be very lucky maybe we will see Siamaese Fireback. Other species which we might see here and nowhere else on our trip include Grey-eyed Bulbul, Claudia's Leaf Warbler, Heart-spotted Woodpecker and Puff-throated Bulbul.
Taking a break in the heat of the day allows us to concentrate our energy for birding in the mornings and late afternoons. This afternoon we will target any species that we did not see previously, focussing our attention on checking out the pools for White-winged Duck and other key birds. We have another chance for some night birding when Great Eared Nightjar and Blyth's Frogmouth are our target birds. There is also a chance of the fantastic Oriental Bay Owl.
Day 11, Okoki – Boeng Toal – 23rd March 2023
We will spend the best of the morning birding hours searching for any of the key species that we have yet to see. Birds like Great Slaty Woodpecker, Bar-bellied Pitta, Greater Adjutant can sometimes be frustratingly elusive but we have another chance of many of the target birds of the trip so far on this morning.
By mid-morning we will transfer to the Vulture restaurant at Boeg Toal where food will have been pre-organized to be provided at the right time for our visit. After doing some birding around the camp we will make a visit to the large hide constructed for vulture-viewing where we hope to see several species feeding on a carcass.
Day 12, Boeng Toal – Kratei – 24th March 2023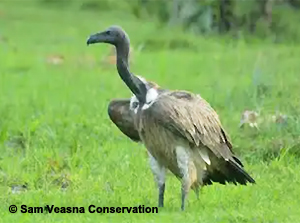 Asian vulture populations have suffered terribly, being reduced to tiny remnants, and wiped out completely where they were once common in much of their former ranges. Persecution and poisoning, notably by the drug diclofenac, has pushed most of these birds to the verge of extinction but they cling on in Cambodia.
An eco-tourism project, established by the Sam Veasna centre, ensures that local farmers raise their cattle without the use of these harmful medications. Visiting birders pay for a cow with which to feed the birds which results in close-up sightings of Red-headed, Long-billed and White-rumped Vultures viewed from within a hide/blind. Watching these endangered birds should be a very memorable experience and one which presents some great photo opportunities. It is possible that some other raptors or mammals will come to join the feeding frenzy but seeing some of Asia's most endangered raptors will make for some exciting birding.
After our morning at the Vulture Restaurant site we proceed to the small town of Kratei, nestled alongside the Mekong River. The hotel we stay in here is pleasant with good facilities which will be nice after some of the more rustic accommodation from the last few days. In the afternoon we can visit some nearby rice fields and lotus pools where we can find any of the species of these habitats that we might still be looking for. Maybe Pallas's Grasshopper Warbler, Grey-headed Swamphen, Asian Golden Weaver, Baya Weaver, Black-browed Reed Warbler or something else.
Day 13, Kratei – Pursat – 25th March 2023
We start with another of those relaxing boat trips, this time on the Mekong River in search of a regional endemic: Mekong Wagtail. We hope to get really good views at close range of this handsome bird from our small motor-powered boats. The entire global range of this species is restricted to the lower stretches of the Mekong river, mostly in Cambodia. We can usually find the birds being busy on small, rocky islets flitting back and forwards as they collect nest material or hunting for insects. Other target birds on the river include charming Small Pratincoles and Indian Spotbilled Duck while impressive numbers of Little Cormorant are also probable. We will also put some effort into finding Irrawady Dolphin, a species that continues to decline as the quality of the Mekong, upriver, continues to decline through human intervention.
After finishing our boat trip we reboard our vehicles for the longest journey of our trip to the small town of Pursat on the southern margins of the Tonle Sap. Although the journey is a long one we will make several rest stops and it will put us in the best place for the following morning's birding to search for a very scarce bird.
Day 14, Pursat to Phnom Penh – 26th March 2023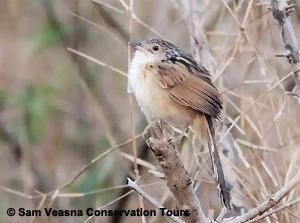 On our final morning of birding in Cambodia we will rise early to have breakfast in the field in the Pursat grasslands. Locals in this area are part of a new conservation project to protect the grasslands and their key species, most notably Chinese Grassbird. This poorly-known and cryptic species has a very patchy and thinly-spread distribution throughout Asia, having been wiped out because of habitat loss in many places. A population was discovered near Pursat a few years ago and by being out in the right habitat in the early morning we have an excellent chance of observing at least one Chinese Grassbird.
In addition we have a chance of finding small groups of yet another critically endangered species here: Yellow-breasted Bunting. These grasslands provide an important wintering habitat and as such they add another dimension to the importance of conservation here. We also have another chance to see Bengal Florican at this location as well as other key species such as Manchurian Reed Warbler, which should be performing a pre-migration song by now. Striated Grassbird, Oriental Pratincole, Red Avadavat and the stunning Pied Harrier are also likely here.
After lunch we will begin to drive back towards the capital city, Phnom Penh, with one final star species to look for along the way. Cambodian Tailorbird is not uncommon in the right habitat and there will be several places for us to stop to see it before we get to our hotel in the city. The tour concludes with a final dinner together where we can enjoy some excellent Cambodian food and remember some of the best birds of this Cambodian birding tour.
Day 15, Departure from Phnom Penh – 27th March 2023
You will be transferred to Phnom Penh International Airport, by taxi, at a time convenient for your flight.
The list below is of the key species that we have a very good chance of finding based on the experience of previous visits. This is not a complete list of birds that we will search for but they are some of the regional highlights that we will put effort into locating because they are memorable and/or have restricted ranges. While we expect to find a very high proportion of these birds we obviously cannot guarantee that we will see all of them; these are wild birds after all.
Scaly-breasted Partridge – Tropicoperdix chloropus
Chinese Francolin – Francolinus pintadeanus
White-winged Duck – Asarcornis scutulata
(Indochinese) Blyth's Frogmouth – Batrachostomus continentalis
Great Eared Nightjar – Lyncornis macrotis
Indian Nightjar – Caprimulgus asiaticus
Savanna Nightjar – Caprimulgus monticolus
Silver-backed Needletail – Hirundapus cochinchinensis
Brown-backed Needletail – Hirundapus giganteus
Sarus Crane – Antigone antigone sharpii
Bengal Florican – Houbaropsis bengalensis
Greater Adjutant – Leptoptilos dubius
Lesser Adjutant – Leptoptilos javanicus
Painted Stork – Mycteria leucocephala
Milky Stork – Mycteria cinerea
Woolly-necked Stork – Ciconia episcopus
White-shouldered Ibis – Pseudibis davisoni
Giant Ibis – Thaumatibis gigantea
Spot-billed Pelican – Pelecanus pjilippensis
Oriental Pratincole – Glareola maldivarum
Small Pratincole – Glareola lactea
Oriental Bay Owl – Phodilus badius
Oriental Scops Owl – Otus sunia
Spotted Wood Owl – Strix seloputo
Brown Wood Owl – Strix leptogrammica
Brown Fish Owl – Ketupa zeylonensis
Red-headed Vulture – Sarcogyps calvus
White-rumped Vulture – Gyps bengalensis
Slender-billed Vulture – Gyps tenuirostris
Grey-headed Fish Eagle – Icthyophaga ichthyaetus
Rufous-winged Buzzard – Butastur liventer
Oriental Pied Hornbill – Anthracoceros albirostris
Banded Kingfisher – Lacedo pulchella
Stork-billed Kingfisher – Pelargopsis capensis
(Himalayan) Lesser Yellownape – Picus chlorolophus (chlorolophus)
Black-headed Woodpecker – Picus erythropygius
White-bellied Woodpecker – Dryocopus javensis
Great Slaty Woodpecker – Mulleripicus pulverulentus
Yellow-crowned Woodpecker – Leiopicus mahrattensis
Rufous-bellied Woodpecker – Dendrocopos hyperythrus
Collared Falconet – Microhierax caerulescens
White-rumped Falcon – Polihierax insignis
Alexandrine Parakeet – Psittacula eupatria
Bar-bellied Pitta – Hydrornis elliotii
Black-and-red Broadbill – Cymbirhynchus macrorhynchos
Banded Broadbill – Eurylaimus harterti
Indochinese Cuckooshrike – Lalage polioptera
White-browed Fantail – Rhipidura aureola
Burmese Shrike – Lanius collurioides
Australasian (Horsfield's) Bushlark – Mirafra javanica
Indochinese Bushlark – Mirafra erythrocephala
Brown Prinia – Prinia polychroa
Cambodian Tailorbird – Orthotomus chaktomuk
Manchurian Reed Warbler – Acrocephalus tangorum
Chinese Grassbird – Graminicola striatus
Pallas's Grasshopper Warbler – Locustella certhiola
Lanceolated Warbler – Locustella lanceolata
Hainan Blue Flycatcher – Cyornis hainanus
White-throated Rockthrush – Monticola gularis
Asian Golden Weaver – Ploceus hypoxanthus
Yellow-breasted Bunting – Emberiza aureola
Forest Wagtail – Dendroanthus indicus
Mekong Wagtail – Motacilla samveasnae
The map of Cambodia below displays the main locations visited on this birding tour.
1. Angkor Wat
5. Thmat Boey
9. Pursat Grasslands
2. Ang Trapaeng Tmor
6. Vulture Restaurant
10. Tailorbird Sites
3. Chong Kran Roy
7. Okoki
4. Florican Grasslands
8. Kratie
The following is a selection of the birds of Cambodia seen on previous visits to the locations on this tour.
Black-hooded Oriole

Hainan Blue Flycatcher

Black-headed Ibis

Oriental Pratincole

Spot-billed Pelican

Woolly-necked Stork

Rufous-bellied Woodpecker

Small Pratincole

Pale-legged Leaf Warbler

Small Minivet

Indochinese Bushlark

Lesser Adjutant
All above photographs copyright Nick Upton/Calidris Birding Tours.
---
Tour Details
Tour Cost: £3750 per person
Single Supplement: £250 (Note: single accommodation is available at Siem Reap, Kratei, Pursat and Phnom Penh. However, it will probably not be available at Tmat Boey, Boeng Toal, Okoki, Prey Veng & Chong Kran Roy).
Included in the tour cost: All transport including airport transfers, road tolls, national park entry fees, all accommodation in Cambodia including on the final night of the tour, vulture restaurant fees, all meals, bottled drinking water, boat trips, services of English-speaking birding guide and Calidris Birding Tours guide.
Not included in the tour cost: International flights, travel insurance, entry visa, alcoholic and soft drinks, tips, laundry, hotel mini bar, phone calls and any other items of a personal nature.
Accommodation: In Siem Reap we stay in a very comfortable hotel with air-conditioning, private bathroom/shower and wifi. At several sites we stay in simple tented camps where there are shared toilet/shower facilities. Our stay at Thmat Boey will be in a local eco lodge that has simple private shower/toilet facilities with fans in the rooms. At Kratei and Pursat we stay in comfortable, air-conditioned local hotels where wifi is available. Finally we stay in a hotel in the city of Phnom Penh where all facilities are available.
Physical effort: This trip does not require any great physical effort. So long as participants have sufficient mobility to walk, sometimes moderate distances, on mostly flat tracks and trails this will be well within their capabilities. The mobility to get in and out of small boats is required on a couple of occasions and to see some of the owls on day roosts the ability to walk on uneven ground will be needed.
Weather: Hot and dry weather is expected throughout this tour. There is always the possibility of a shower or two given the world's changing climate but it is likely to be dry most, if not all, of the time. Midday temperatures are likely to be very hot but most of the woodland sites we visit have low humidity. Wetland sites, however, can be fairly humid by their very nature. The tour has been paced so that we have plenty of time and not forced to be birding throughout the heat of the day in order to see most of the birds.
Food: Khmer cuisine is similar to most Southeast Asian cooking but rather less spicy. The traditional cuisine of the country is recovering after much of the knowledge being lost through the years of war here but staff at the lodges we visit cook a wide variety of good local food. The former French influence manifests itself in the fact that good bread is available in many areas and for those who like beer there is a surprisingly wide range of local brews to try.
---
Tour Leaders

Nick Upton
Nick Upton has been birding since the age of seven and leading birding tours full-time since 2007. After travelling extensively in Asia he settled in Thailand in 1997, teaching English and science while establishing thaibirding.com. With a BSc (Hons) Wildlife & Countryside Conservation he is well placed to understand the ecology and conservation issues that affect birds as well as being adept at finding them.
Nick is co-founder/director of Calidris Birding Tours.
---
While every effort will be made to adhere to the advertised itinerary of this Cambodia birding tour, we reserve the right to make changes in the case of unforeseen circumstances that are beyond our control. These include problems with accessibility, national park closures, unseasonal weather events or any other reason that may demand an itinerary change.
---
Recommended Field Guide
Birds of Cambodia
This field guide was published in 2019, the first to be devoted to the birds of Cambodia. We strongly recommend that participants on this trip order a copy in advance of travelling in order to become familiar with the birds we hope to see. The checklist that Calidris Birding Tours will issue for this trip will be based on IOC taxonomy with reference to the taxonomy used within this field guide.
When booking this Cambodia Birding Tour customers will be given a 10% discount code for use when ordering the book directly from Lynx Edicions.
Read our full review of the book here – Birds of Cambodia.
---
Related Birding Blog Posts
Terms and conditions: Please read full Calidris Birding Tours terms and conditions which apply to this Cambodia Birding Tour.