Cambodia Birding Tour Trip Report March 2023
Tour Leaders: Nick Upton & Hat Huon
Dates: 13th – 27th March 2023
Cambodia Birding Highlights: This list represents species that were exciting or of interest to the group due to their rarity, visual impact, notable behaviour, quality of the view, difficulty in observing or were highly anticipated due to some personal reason.
Green-legged Partridge
Bengal Florican
Yellow-vented Green Pigeon
White-browed Crake
Sarus Crane
Small Pratincole
Milky Stork
Painted Stork
Asian Woolly-necked Stork
Lesser Adjutant
Greater Adjutant
White-shouldered Ibis
Giant Ibis
Spot-billed Pelican
Black Baza
White-rumped Vulture
Slender-billed Vulture
Pied Harrier
Barn Owl
Brown Boobook
Oriental Scops Owl
Brown Fish Owl
Spotted Wood Owl
Oriental Pied Hornbill
Stork-billed Kingfisher
Heart-spotted Woodpecker
Yellow-crowned Woodpecker
Rufous-bellied Woodpecker
White-bellied Woodpecker
Black-headed Woodpecker
Great Slaty Woodpecker
White-rumped Falcon
Collared Falconet
Bar-bellied Pitta
Horsfield's Bushlark
Grey-throated Martin
Manchurian Reed Warbler
Lanceolated Warbler
Baikal Bush Warbler
Cambodian Tailorbird
Chinese Grassbird
Burmese Nuthatch
Hainan Blue Flycatcher
White-throated Rockthrush
Van Hasselt's Sunbird
Forest Wagtail
Mekong Wagtail
Yellow-breasted Bunting
Summary:
Browsing the list of highlight species seen on this Cambodia birding tour reveals what an array of spectacular and rare birds there are to be seen in this interesting country. We found a very high proportion of our target species, many of which are some of Southeast Asia's rarest birds and global rarities as well as a wide variety of other birds of the habitats we visited. Starting in Siem Reap we visited the incredible ancient temples of Angkor where we had a nice introduction to Cambodia's birds with the standout species being a superb male White-throated Rockthrush. This was followed by a boat trip on Tonle Sap to the incredible water bird colonies where giant birds in fantastic numbers took us back to prehistoric times. From here we moved north to the reservoir of Ang Trapaeng Tmor to find multiple groups of Sarus Cranes, the world's tallest flying bird, spending the night in the forest at Chang Kran Roy after watching a stunning Bar-bellied Pitta from a hide followed by an equally amazing Coral-billed Ground Cuckoo the next morning. From here it was back to Siem Reap and onto a grassland reserve where Bengal Floricans put on a great show, followed by three locations in dry dipterocarp woodland habitats; Prey Veng with an array of woodpeckers; Tmat Boey where both Giant and White-shouldered Ibises were fantastic; Boeng Toal where two out of three expected vultures obliged us. Our route then took us to the small town of Kratei for some rice field birding and a regional endemic in Mekong Wagtail before our final stop at Pursat where the globally rare Chinese Grassbird provided a high quality conclusion to this successful Cambodia birding tour before travelling to the capital city: Phnom Penh.
Join us on our next birding tour to Cambodia. See the full itinerary and book here – Cambodia Birding Tour.
Field Guide
Birds of Cambodia by The Cambodian Bird Guide Association, published by Lynx.  This excellent field guide is the only one devoted solely to the birds of Cambodia abd more up-to-date than any of the regional field guides. It has the added bonus of being light weight and with a waterproof cover making it perfect for use while birding on tour. The checklist issued to clients was based on IOC taxonomy with reference to names used within this field guide.
Day 1; 13th March – Arrival
While this day was allocated for arrivals and transfer to our hotel everyone involved had already arrived in advance to spend an extended time visiting the temples of the Angkor complex. So, we met in the evening and took a short tuk-tuk ride to the Flock Cafe where we were served a variety of tasty traditional Khmer dishes and partook in some Cambodian beer. This gave us a chance to meet our local guide, Hat Huan, and discuss how the next few days would work as well as talk about some of the most anticipated birds.
Day 2; 14th March – Angkor
With a 5am start we drove to the rather grand ticket office for the Angkor temple complex where we had our photos taken which were quickly printed onto our pass. This was very efficiently done and we were quickly on our way to the forested East Gate of Angkor Wat just as the first traces of light were appearing. First light is a good time to look for Brown Boobook so with a little call playback it did not take long before one of these hawk-like owls was perched in a mature tree right beside us; a great way to start the trip.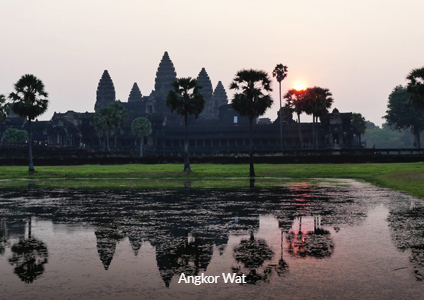 With things becoming brighter by the minute we walked through the forest at the eastern side of Angkor Wat to a point in front of the temple to see the sunrise behind this magnificent monument with swarms of Germain's Swiftlets overhead. On closer inspection we were able to pick out several Asian Palm Swifts and a couple of House Swifts, easily spotted by their bright white rumps.
The sight of the sunrise over Angkor Wat was then joined by the sound of a Coppersmith Barbet and it only took turning around to spot this colourful little bird in a nearby tree. Two Lineated Barbets joined it in the same tree and added their calls to the soundtrack while the flight call of Ashy Minivet was a constant feature although good views of this bird would have to wait until later.
A few other birds in flight were added including Great Egret, Eastern Jungle Crow and Common Myna before we took a seat nearby to eat our packed breakfast. Although a coffee and some food were welcome we were keen not to waste the early morning for birding so it was not long before we walked into the surrounding forest to look for several target species as well as anything else we could find. A couple of showy Greater Racket-tailed Drongos flew through with their spectacular tails trailing along behind them before the call of Oriental Pied Hornbill drew our attention. These birds made themselves scarce at first it did not take too long for us to be able to observe these charismatic birds foraging in the foliage and blasting through the lower canopy in a flock of up to twelve birds. Although these are the commonest and smallest of mainland Southeast Asia's hornbills they are still a very memorable sight and a fun bird to watch.
Less spectacular was a calling Thick-billed Warbler in some dense undergrowth nearby. However, birders typically have a fascination with this type of brown skulking bird so we put some effort into luring it out of its twiggy hiding place by mimicking the contact call and it eventually gave everyone a very good view. Meanwhile the hornbills continued to fly around us doing their best to make us look at them again; of course we obliged.
The next sound we located was the sub song of a Hainan Blue Flycatcher, one of our targets at Angkor, so we were keen to track it down. Well, sometimes it doesn't take very much effort to find birds as with this one that was sitting on a small branch right in front of us. In the busy undergrowth of the forest here this was one of the few birds that posed nicely for photographs.
Continuing our walk we got good views of Ashy Minivets feeding on caterpillars in some low foliage and over the course of the morning this proved to be one of the commoner birds. Yellow-browed Warbler and Two-barred Warblers were seen, although not particularly well, and a few Blue-tailed Bee-eaters flew overhead and eventually perched on an exposed branch. Black-naped Orioles were another obvious bird and while some people were in the toilet an Oriental Darter flew overhead. Birds such as Radde's Warbler and Dark-necked Tailorbird were nice but our main target remaining elusive for now; White-throated Rockthrush. With so much habitat for them to disappear into it was a little bit daunting as to know where to look but after some looking around I found a small opening in the forest that appeared to be the type of place to see one. Our luck was in as I walked a short way into the woodland here and located a superb male White-throated Rockthrush.
After enjoying this smart bird we walked to another of Angkor's gates where we were the only people and could obtain a nice view across the moat. While the temples at Angkor are extremely impressive one of the things that always amazes me when I visit is the moat. When this huge excavation was made there was no machinery, only hand tools and to imagine how many people it must have taken is mind-boggling. From our vantage point we were able to spot a Black-capped Kingfisher, Olive-backed Sunbird, a pair of Cotton Pygmy Geese and a Bronze-winged Jacana. As the temperature began to rise a small group of Red-breasted Parakeets landed nearby and we got a brief view of a couple of Brown-backed Needletails. All very good for a first morning of birding in Cambodia but we had one more target species in mind so continued walking through the quiet forest while the crowds thronged around the temple. Success did not look a high potential after spotting two wagtails which immediately flew into the undergrowth never to be seen again but a little further on a Forest Wagtail performed extremely well so that we could complete our set of targets for Angkor Wat.
As everyone had spent the previous two days visiting the temples we did not spend time in Angkor Wat itself, although we usually do, and instead walked back to the East Gate where we came across a flock of Ashy Minivets that contained three lovely Rosy Minivets, a species that is very uncommon here. With this excellent bird we got back into our vehicle and headed to our next destination; Ta Prohm Temple.
This location is a spectacular temple partly consumed by huge buttressed trees and famous for being in the movie "Tomb Raider". It is also full of Red-breasted Parakeets and Common Hill Mynas and as well as appreciating the ruins we visited to look for Alexandrine Parakeet. However, on this occasion we could not find any of this scarce parakeet which was unusual as it is normally a very reliable spot, but we waited around for quite some time, listening carefully for the distinctive call with no luck. Eventually it was time for lunch and a break from the heat for a while with a selection of sumptuous traditional Khmer dishes in a cool restaurant.
Our final stop of the day was at the awesome Bayon temple, famous for its array of prominent faces all over the temple. We did not see too many birds here, although there was a Blue Rockthrush on the temple itself and a few Common Hill Mynas in nearby trees. Instead we spent some time learning about the temple from our guide and spotting birds carved into the spectacular bas-reliefs around the temple. In this way we could see Sarus Cranes, Greater Adjutant, Green Peafowl, Baya Weaver, Greater Coucal, White-winged Duck and a variety of other waterbirds and passerines. I have written more at length on this in a previous blog post – Ancient Birds of Angkor. It was very interesting to see so many birds depicted in the carvings and the scenes of daily life really gave us a sense of what things would have been like back in the height of the Khmer Empire; certainly days of greater abundance of some of the bird species that have now become rare and remind us that tomorrow would be our best chance of the impressive Greater Adjutant.
As the day drew to a close we drove the short distance back into Siem Reap to conclude our first day of birding in Cambodia and enjoy a few hours of rest before our next gastronomical experience at dinner while conducting further experiments with Cambodian brewed beer.
Day 3; 15th March – Prek Toal
Tonle Sap is the huge lake in Central Cambodia that so much of the population rely upon for fishing and water to irrigate rice crops and as such it attracts a lot of human activity, with a number of floating villages on the lake itself. There are still large areas of natural and semi-natural habitat around the lake with many of these protected and one of these, Prek Toal Bird Sanctuary, our destination for the day. Of course an early start was order of the day with a drive of around an hour to the boarding point of our first boat. Once on our way the birds began to appear with Oriental Magpie Robin, Chinese Pond Heron in breeding plumage, both Greater and Lesser Coucals perched in waterside vegetation, Blue-tailed Bee-eater, Eastern Yellow Wagtail feeding on the muddy margins and a variety of egrets and herons including Purple Heron, Intermediate Egret, Yellow Bittern and the ubiquitous Eastern Cattle Egret.
However, it was the large waterbirds of Tonle Sap that we were anticipating the most. Some of the rarest waterbird species of Southeast Asia are found here so it was with some excitement that we noticed our first group of Painted Storks cruising in just above the top of the emergent vegetation. Painted Stork in itself is an impressive bird but one that we expected to see in good numbers, however, we eagerly checked the flock for the much rare Milky Stork. Alas, that much sought-after species would have to wait and instead we could admire these handsome birds in flight as well as Asian Openbill, flocks of Glossy Ibis and small numbers of Indian Spotbilled Duck.
As we headed towards our destination we were able to continually spot many of the lake's commoner species until we arrived in the floating village where we saw the only Peregrine Falcon of the tour perched atop a tall communications mast. Seeing village life on the water was interesting but the reason to be here was to transfer to two smaller boats in which we would access Prek Toal Reserve.
Our new boat drivers took us down a floating village back alley and then into a very narrow creek along which we had to pause a few times to squeeze past other small boats but eventually we emerged into a wider area of water surrounded by low swamp forest. This is where the real birding began.
On much of the surrounding vegetation crowds of Little, Indian and Great Cormorants were perched and it seemed like everywhere we looked there was an Oriental Darter. In fact the numbers of Darters were notable in that I have not seen so many in one place anywhere else before and the numbers were obviously greater than on my previous visit in 2016. A Brahminy Kite was a nice addition to our quickly-growing list, gliding ever closer to our boats until it was right overhead at very low altitude. As we proceeded into the reserve area several Black-headed Ibis gave us close flypast views and in the distance I spotted vast numbers of large waterbirds beginning to soar on the warming air; a mix of Spot-billed Pelicans and Painted Storks with some Oriental Darters and Black-headed Ibis joining the circling throng.
While this was an amazing sight we had three main targets within the waterbird colony; Lesser Adjutant, Greater Adjutant and Milky Stork. Of these Lesser Adjutant is the most common here and we did not have to wait long for our first one, lurking at the water's edge but taking flight before we got very close. We had great views of this monster in flight though and another one passed by soon after for a nice photo opportunity. In fact such were the number of birds and their proximity the whole boat trip was excellent for anyone with a camera, particularly when the subjects are as big as Lesser Adjutant.
I never tire of seeing prehistoric-like birds such as this and once we had stopped at the viewing platform and climbed to the top we were treated to a view from a forgotten age. With hoards of storks and pelicans nesting on the treetops and clouds of them in flight with barely any man-made construction in site we felt like this is how much of the world must have been before human populations grew to their current size; birds everywhere. More Lesser Adjutants could be seen on top of trees here and there as well as several more soaring close by. However, after some lengthy 'scope work Hat thought he had a Milky Stork and asked me to look at it. Indeed, there was a Milky Stork feeding chicks in a nest but before anyone else could view this it took off but fortunately it had the decency to fly right towards us and circle at eye level within one hundred metres of us. While most of the other waterbirds at Prek Toal are on the increase Milky Stork remains a bird under severe threat so this was an exciting moment.
Buoyed by this success we got back into our boats to continue our search for Greater Adjutant. Reaching the end of the area we were allowed access to we decided to cut the engines and just float around for a while with Watercock and Striated Heron both showing themselves briefly. Scanning the soaring birds several Lesser Adjutants were easy to pick out from the other species but suddenly something even bigger cruised into view; a Greater Adjutant. This incredible beast dwarfed all the other birds in the skies and it was weird to see even Spot-billed Pelican look small in comparison. Shortly after a second bird came into view, rather closer and lower than the first one and as it circled we could see the distinctive pale grey panels in the upper wings. A fantastic bird to complete the set of targets we had in mind when starting the day.
Day 4; 16th March – Ang Trapaeng Tmor & Chang Kran Roy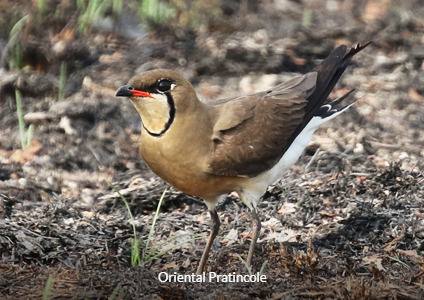 Leaving Siem Reap before dark we journeyed towards the reservoir of Ang Trapaeng Tmor, making a brief stop in nearby rice fields at first light to watch several Eastern Marsh Harriers hunting over the fields and witness impressive numbers of Painted Storks, egrets and Glossy Ibises heading towards the reservoir. This was a memorable scene but our main objective was more likely to be found on the far side of the reservoir in the shallows and still a fair drive away given the extremely rutted terrain.
Eventually we got to our destination where we were able to watch Oriental Pratincoles at extremely close range while eating our packed breakfast and enjoying a coffee to the sound of Horsfield's Bushlark. This latter species is a rather unassuming bird to look at, a typical lark really but it has an incredible song flight full of mimicry and we could pick out snippets of Zitting Cisticola, Red-throated Pipit, Blue-tailed Bee-eater and Plain Prinia call in its repertoire to mention just a few.
Raptors were notable in this area and along with numerous Eastern Marsh Harriers we saw a couple of superb adult male Pied Harriers, always a bird that lights up a day of birding, as well as several Greater Spotted Eagles, some distant but a few passing very close to us. Paddyfield Pipits on the ground nearby and a couple of flyover Red-throated Pipits provided more entertainment but the main event was to be another of Cambodia's rare and threatened large waterbirds: Sarus Crane. Local rangers had already tracked them down and we were able to watch them feeding and calling to each other as we ate our breakfast and enjoy all the aforementioned birds. Small groups of these magnificent Sarus Cranes flew in at the same time other small groups flew out with their magical calls filling the air.
Within Southeast Asia Sarus Crane's last refuge is in Cambodia with around 600 birds remaining according to our local guides. These large birds are quite adaptable in their feeding habits but need undisturbed areas for nesting which is a problem where there is increasing human disturbance. However, there has been a successful reintroduction of Sarus Crane just over the border in Buriram province of Thailand and there is some evidence to suggest that there is already interaction between the two populations so hopefully these wonderful birds have a bright future in both countries.
Having used a large part of the morning enjoying the birding from this spot we then moved towards an area of woodland copses and rice stubble. As soon as we got out of the vehicle we could see large numbers of Black-crowned Night Herons but our attention was quickly drawn towards a Barn Owl in flight, followed by another and then another….. In total at least ten Barn Owls were seen flying around together, a phenomenon that none of us had every witnessed before. Although things were getting fairly hot birds were still active with a pair of Racket-tailed Treepies, a flyby Greater Racket-tailed Drongo and a Green-billed Malkoha all in quick succession but better still was a Spotted Wood Owl hiding in the high foliage of a tall tree. In this habitat I knew that Freckle-breasted Woodpecker would exist and it probably represented the best chance to see this small species of woodpecker on our trip. Just as I was thinking about this we heard its call and a short walk away from our shady spot gave us nice 'scope views of our first woodpecker of the tour.
With this success we jumped back into the vehicles for a cold drink and endured a rather bumpy drive back to the dam so that we could check out the open water for a different set of birds. Along the way we checked off Black-winged Kite and Red-wattled Lapwing but at the dam we selected a spot that gave us a view over the shallows as well as a lotus pond on the other side of the dam. From this sunny spot we could see large numbers of Cotton Pygmy Geese, Eurasian Coot and Pheasant-tailed Jacanas feeding among floating vegetation in the shallowest areas of the water. A few Indian Spotbilled Ducks were also present as were small numbers of Bronze-winged Jacana while in the lotus pond we were treated to a handsome little Chestnut Munia, some noisy Plain Prinias, Plaintive Cuckoo and a couple of very showy Grey-headed Swamphens. Although they were rather too far away to appreciate properly a flock of over two thousand Garganey was a very impressive spectacle and even further away vast numbers of Indian and Little Cormorants had formed rafts on the open water. Too much heat haze made it possible to scan the distant areas but the sheer number of birds was very impressive indeed. However, lunch beckoned and once again we were treated to a variety of tasty local dishes.
The afternoon promised something very special so we were keen to begin our drive which took a little over two hours to the eco camp at Chang Kran Roy. A local community has set up a small camp here so that visitors can stay and enjoy watching birds from a hide/blind that they maintain, feeding birds regularly in order to draw them in to be observed at close range on the forest floor.
On arrival a small fruiting tree in the camp attracted Thick-billed Flowerpecker, Black-crested Bulbul, Grey-eyed Bulbul and Black-headed Bulbul before we put our luggage in our rooms. The rooms in the camp were very simple indeed but there were mattresses and mosquito nets in them all, although none of us particularly looked forward to the shared toilet/shower. However, sometimes good birds require some level of hardship to see so we headed a short distance to the hide where food was supplied and bathing pools filled up with water while we sat and waited in expectation.
We didn't have to wait long before the first customers to this bird cafe arrived; a pair of White-rumped Shamas that tucked straight into some of the food that had been scattered on the ground. A colourful Emerald Dove joined the party and there was at least one of these attractive birds present throughout our afternoon at the hide, with a total of probably eight birds over several hours. Bulbuls were next to show up with a pair of Puff-throated Bulbuls coming to bathe before being joined by Black-crested and Stripe-throated Bulbuls all of which looked smart on arrival but a total mess after taking a cooling bath. Much smarter, however, was a male Siberian Blue Robin. The contrast between this bird's snowy white underparts and intense blue upperparts, separated by a black border, makes this a really stunning little bird and another one that we saw several individuals of over the course of a the hours we sat in the hide.
Pin-striped Tit Babblers, Abbott's Babbler and Puff-throated Babbler all paid a visit to the bathing pools but the star attraction, Bar-bellied Pitta, was frustratingly absent. As time went on many of the birds we saw made repeated visits but were rather more nervous than at similar hides I have visited in other countries. A group of White-crested Laughingthrushes were a constant in the background but were not easily seen for most of the time, only coming out into the open briefly. Red Junglefowl followed a similar pattern but after some suspense a pair of Green-legged (Scaly-breasted) Partridges emerged from the forest to feed on the grain provided for them.
As the light began to fade our expectations did the same and Hat told us that our chances of seeing the pitta in the morning were very good. Having spent nearly three hours in the hide we were ready to leave and clean up but just as we were getting up out of our seats Hilary spotted something in the background that made her alert the rest of us; Bar-bellied Pitta! We all quickly sat back down and within a few moments this stunning bird was out in the open feeding. What a fantastic ending to an excellent day of birding which also presented us with an exciting option for the next day.
Day 5; 17th March – Chang Kran Roy to Siem Reap
With our success of the previous afternoon Hat told us that we had an exciting opportunity to visit another hide maintained by the local community. With a predicted probability of success given as 80% it was impossible to resist the chance of waiting for a morning visit from Coral-billed Ground Cuckoo. So, with an early breakfast behind us we were driven into the forest and then walked down a small trail to the hide.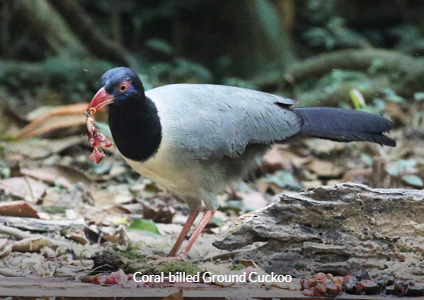 Something very unexpected then happened with our local guide lighting a camp fire and chopping up a dead frog and placing it on a plank of wood rather like serving breakfast on a table. He made sure the fire was small but producing plenty of smoke and later we were told that the whole set up happened by accident with a Coral-billed Ground Cuckoo visiting campsites in the forest. A White-rumped Shama and Emerald Dove showed up quickly and it did not take long before we heard a Ground Cuckoo calling off to the right in the distance. The call did not fill us with confidence as it was quite distant but only a few minutes later we spotted another individual in the undergrowth at the back of where we were viewing. Shortly after, it emerged to help itself to a bit of freshly prepared frog for breakfast. Over the course of the next half an hour or so it made repeated visits to feed, giving us incredible views of this seldom-seen bird.
Coral-billed Ground Cuckoo at the hide was an unplanned surprise, although I had always fancied my chances of calling one in at this time of the year. We were, apparently, the first group to be able to take advantage of this hide but with a retainer being paid to the locals to maintain feeding to encourage ecotourism hopefully this was an experience that will be repeated in coming years. The visual impact of this bird is impressive and the rarity was not lost on anyone in the group, making it an instant contender for bird of the trip, and several people commented that they had not expected it to be the size of a pheasant.
For the remainder of the morning it was hard to match this but still it was fun to see what we could add to our list. Green Imperial Pigeon feeding on some fruit in the sun was a nice bird as was a Rufous-winged Buzzard. Several flyover Vernal Hanging Parrots were frustrating, giving the type of quick view that is all so common with this little parrot. Radde's Warbler, Grey-headed Canary-flycatcher, Asian Fairy Bluebird and Ashy Minivet were all more easily viewed but eclipsed by a couple of splendid Black Bazas in flight. Back at the camp the day had warmed up and bird activity was low but we found a shady spot to stand in and chat, waiting for something to happen, and happen it did with a superb male Van Hasselt's Sunbird showing itself off to us. This was followed by some Common Hill Mynas, a Blue-eared Barbet, Green-eared Barbet and, best of all, a Brown Fish Owl which we watched until it was lunch time. After a lazy lunch we started our journey back to Siem Reap, stopping in town to take in the Lyle's Flying Fox colony before enjoying a few hours of rest until dinner.
Day 6; 18th March – Florican Gressland Reserve & Prey Veng
Leaving Siem Reap early, for the last time, anticipation was high with some more exciting birds potentially in store for us, particularly at our first stop; one of the Florican Grassland Reserves around Tonle Sap. We arrived at the grasslands very shortly after sun rise and before meeting local Florican Rangers we stopped along the dirt track to enjoy close up views of several Oriental Skylarks at close range as well as small groups of Red-throated Pipits. From here to our stopping point, in the midst of Bengal Florican habitat, the song of both Oriental Skylark and the mimicry-filled song of Horsfield's Bushlark surrounded us before enjoying a breakfast in the field. However, we were not allowed much time to get into breakfast before the local rangers alerted us to a striking-looking male Bengal Florican walking around in the long grasses around one hundred metres away from us. Good views through binoculars and great views through the telescope were obtained before it took flight and gave us a nice display; a really striking bird in its black and white flight colours.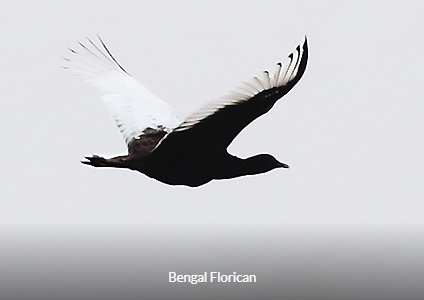 The, temporary, disappearance of the florican gave us the time to finish our much-needed breakfast as well as a female Eastern Marsh Harrier cruising over the grasslands in front of us later followed by a juvenile Pied Harrier. We were also really able to get to grips with Horsfield's Bushlark which was incredibly numerous here and it was fun to listen to their song and pick out snippets of other bird's calls being mimicked.
With breakfast successfully concluded we moved on a short distance to a slightly raised mound of soil that gave us a good view across a large area of the flat grassy plain. Our Florican rangers had informed us that a male had been holding a territory in the area and we had barely arrived when we were treated to one leaping up into the air, performing its territorial display. Despite being a big bird this Bengal Florican was surprisingly difficult to spot in the long grasses but we were able to spot it as it moved across the plain to intercept another male! over the course of the next half an hour or so we were treated to prolonged views of this pair of antagonists showing off to each other, strutting around in the manner of Mick Jagger performing "Honky Tonk Woman" comparing their attributes before one of them flew away in retreat.
Being able to watch our main target bird of the day for such a long time and while engaging in territorial behaviour was exactly the sort of thing we like to be able to do on our tours, rather than just "tick and run" and it was not until the show was over that Hat, and our local rangers, drove us a few kilometres to an area of shallow pools, surrounded by more grassy areas as well as scrubby bushes and low trees. The call of a Striated Grassbird caught our attention and we saw it as it flew from one area of thick bushes to another, calling as it went but the reason to visit this spot was for another rare bird in the form of Manchurian Reed Warbler.
This Acrocepahlus warbler is not exactly a stunning looking bird but it is rare and has a restricted and somewhat poorly understood wintering range with areas such as these in Cambodia being perhaps the most reliable place to see it at this time of the year. Resorting to a bit of call playback it really did not take long to get a response and at first we could glimpse it moving furtively through the thick vegetation before it came out more into the open where we could see its very pale supercilium and throat, contrasting with a buffy breast and belly.
Hot on the heels of this skulker came the sound of Lanceolated Warbler spluttering from the base of the vegetation. I managed to get a brief view of this Locustella warbler but for the others it was a "Little Brown Job" too far and it would have to wait until later in the trip for another chance. While waiting for this no-show we spotted an in-flight Common Greenshank, located by its call, as well as several Indian Spotbilled Ducks, a noisy Pied Kingfisher, another Bengal Florican flying past and a couple of Eastern Marsh Harriers. Less aerial was the sound of Golden-headed Cisticola which was easily located. This one is nice for a little brown thing when it is in breeding plumage and has an interesting call, so it was a nice little interlude before moving on again to another pool where an impressive seventy nine Knob-billed Ducks were loafing around in the margins. This is an easily disturbed bird so we observed them from an appropriate distance using the telescope but they are really big ducks and were not difficult to watch even from a distance.
Although much of the morning had been pleasantly cool due to a breeze created by an approaching storm things were beginning to get hot and with plenty to search for in the forest at our next destination we decided that it had been a successful morning and lunch would break our journey at a suitable time so decided to leave. Once this journey had been completed we found ourselves at Prey Veng Eco Camp, surrounded by dry dipterocarp woodland and on the edge of an ancient Khmer baray where some interesting birds were hopefully awaiting us.
After putting our things in the rooms that we would occupy for the next few nights we had a cold drink and a look across the grassy baray. The far end of this ancient reservoir is full of water at this time year but the open water was hidden by reedy growth so we scanned the damp grassy areas instead and were pleased to spot an Asian Woolly-necked Stork, lurking in long grasses. As Hat had told me that he had not seen this species for some time it was really good to find this one but also not to be dismissed was a pair of Sarus Cranes. We were able to enjoy this magnificent bird again as they fed and made their trumpeting call. Both of these sightings were nice as I had seen both of these species at exactly the same location when leading my last birding tour to Cambodia so it felt like meeting up with old friends. Another bird that was obvious here was Crested Treeswift with good numbers of them cruising around overhead, feeding on swarms of insects and occasionally perching on exposed branches. We also found our first Green Imperial Pigeons and colourful Blossom-headed Parakeets of the trip but Hat had some plans for us in the midst of the dry forest so we followed him for a short late afternoon walk from our eco lodge.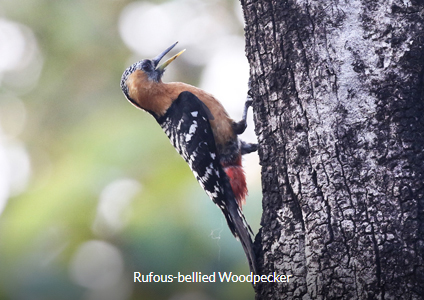 Species such as the delightful and colourful Small Minivet as well as the more sombre Common Woodshrike, Sooty-headed Bulbul and Large Woodshrike along with Rufous Treepie are common in these types of woodland and we saw all of these rather quickly before luring in some superb Black-headed Woodpeckers, probably the most stunning of this group of birds in Cambodia. However, while waiting for some Scarlet Minivets to show themselves properly I heard the call of one of the more scarce woodpeckers: Rufous-bellied Woodpecker. A little searching through the sparse foliage gave us some obscured views of this smart bird but by just hanging around and waiting in the same spot we eventually had great views of this attractive woodpecker probing for food in the trees quite close to us and frequently at eye-level.
With the sun beginning to emit its late afternoon glow we headed back out onto the baray in order to go back to our accommodation but not before finding an Asian Barred Owlet calling from some tangles and getting more views of the Asian Woolly-necked Stork searching for a late meal in boggy pools. Finally, back at the camp, a welcome shower was followed by a few beers and an excellent meal consisting of a variety of local dishes.
Day 7: 19th March – Prey Veng
Woken by the Cambodian morning chorus we found ourselves having breakfast as the sun was rising. In the half-light a few small birds were flitting around in the stands of bamboo behind the camp restaurant one of which was a scolding White-rumped Shama but the others were obviously flycatchers of some sort which deserved a closer look.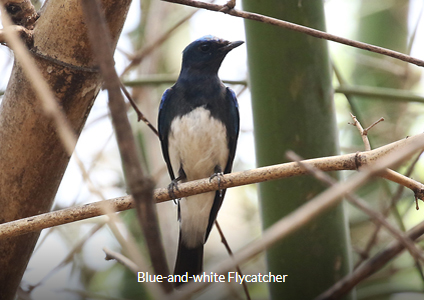 As the light became a little better we were able to spot and identify these birds. Firstly an Asian Brown Flycatcher, a common migrant, followed by a Hainan Blue Flycatcher, also fairly common in Cambodia. However, one bird was obviously slightly larger than the others and, despite its colouration being similar to the Hainan Blue Flycatcher it eventually showed itself well to give us a great view of a handsome male Blue-and-white Flycatcher, a rather more scarce passage migrant.
With this pleasant start to the day we gathered our equipment for a morning walk and headed off into the forest. Emerging on some rice stubble fields the trumpeting calls of Sarus Cranes alerted us to the fact that the pair we had seen yesterday on the baray had relocated for the morning and that a territorial Red-wattled Lapwing was attacking them. This created a comical sight as the cranes ducked down from the aerial attack and eventually moved away from the zone of intrusion. A calling Stork-billed Kingfisher was another great bird, giving us a flypast display before we were able to watch it perched in a tree through the 'scopes and this was followed quickly by a showy Asian Barred Owlet calling at us from an atypical perch in some old bamboo; usually owlets never bother with the old bamboo.
After this musical interlude Hat had booked us in for an appointment with one of the most impressive arboreal birds that most participants had hoped to see in Cambodia; Great Slaty Woodpecker. This, the largest living member of the woodpeckers, often moves around in family groups and is at its most active and vocal in the very early mornings, in the hour after first light. With this in mind we waited in the appointed spot and were not disappointed as a group of four of these reptilian birds flew in to investigate our burst of call playback. With the glow of the rising sun behind them this group of Great Slaty Woodpeckers gave us plenty of time to watch them calling to each other and shuffling around in the trees; always an amazing sight. With this prehistoric bird it already felt like a successful morning but there would be plenty more to enjoy on our walk.
A couple of Small Minivets were worth another look but a soft call coming from the same tree alerted us to a small group of Brown-rumped (Swinhoe's) Minivets too. A noisy Large Cuckooshrike showed up while a regional endemic, in the form of Indochinese Cuckooshrike, was rather quieter as it methodically moved through the trees looking for caterpillars. A pair of White-crested Laughingthrushes put in a brief appearance and we had our first struggle with Red-billed Blue Magpie too, a species that would take many brief glimpses throughout the trip before we would get a decent view. A smart Green Imperial Pigeon was much easier to see while in a bare tree out in the baray a pair of Green Pigeons required a closer look through a telescope. There are quite a number of species of Treron Green Pigeons that can be seen in Cambodia and a number of them are rather similar in plumage so a detailed look at this pair was required. The deep red/maroon colour on the back narrowed it down to one of two species while the lack of blue bare skin around the eye and red flesh around the base of the bill meant that we were looking at a pair of Ashy-headed Green Pigeons, probably the scarcest species that is found in this area; a nice sighting!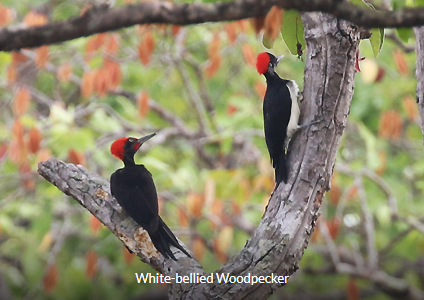 This type of dry woodland is great for woodpeckers and over the remaining course of the morning we added the tiny Grey-capped Pygmy Woodpecker, another stunning Black-headed Woodpecker, Greater Yellownape and a pair of colourful Greater Flamebacks to our list but perhaps best of all was a pair of White-bellied Woodpeckers. We first heard the yelping call of this large woodpecker as the temperature was beginning to signal an end to the morning's birding, and luckily we were in one of the most open areas of the forest so that by listening we were able to locate where the call came from and eventually get great views of this amazing species. While watching this bird feeding low down on the trunk of a tree its mate flew in and joined it so that we were treated to a pair of White-bellied Woodpeckers probing away at grubs in the wood of dry dipterocarp trees. Oh, and a male Common Flameback joining the party was another wonderful distraction. These wonderful sightings sort of drew our walk to a successful conclusion but there was a fair distance to cover to get back to our eco camp for a break and along the way we found Banded Bay Cuckoo, Changeable Hawk Eagle perched on a tree, Amur Stonechat and a couple of Vinous-breasted Starlings close to the camp. Just when we were about to sit down for a cool drink a Violet Cuckoo turned up in the stands of bamboo and a further draw was Ruby-cheeked Sunbird. Eventually we found time to take a breather, have lunch and take a middle of the day break while the weather was at its hottest.
Later in the day we took a drive for around ten kilometres or so to a different area of dry forest with some open country patches within it via a boggy pool where we found two Asian Woolly-necked Storks and a large number of Eastern Cattle Egrets. Even though it was late in the day the temperature was still hot so searching for a calling Chinese Francolin in one of the few trees within a nearby field was a sweaty job. Despite there being only a few trees to search, locating the origin of the laughing call was really difficult but eventually Hat spotted it. We were able to watch this colourful character calling from a large branch, hiding just behind a sprig of leaves and slowly we were able to get much closer to really appreciate this under-rated bird. As always, it was nice to be able to walk away leaving the bird undisturbed before getting on to a Lesser Yellownape on the woodland edge to add to out long list of woodpeckers.
For the remainder of the afternoon we saw many of the species that were starting to become familiar again. Species such as Blossom-headed Parakeet as well as Red-breasted Parakeet, colourful Eurasian Hoopoe, Burmese Shrike, Scarlet Minivet, Black-hooded Oriole, Black-crested Bulbul and Pied Bushchat to mention just some of them but we also added a Grey-eyed Bulbul to the list while taking a shady break as well as a lovely pair of Chestnut-capped Babblers when we were almost back at the vehicles. We played around for a while with Siberian Rubythroat and Lanceolated Warbler in the long grasses, neither with much success due to how dense the undergrowth was. With the sun setting on a long day we refilled our water bottles from the cool supplies in the cars and jumped in for the drive back to our camp where, after a shower, we dressed in our finery for another enjoyable dinner cooked by our local hosts.
Day 8; 20th March – Prey Veng & Boeng Toal Vulture Restaurant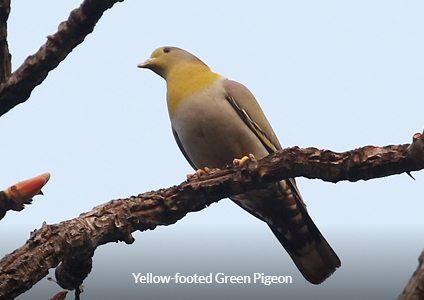 So far our time at Prey Veng had provided us with some really great birds so with another short morning here it was going to be a challenge to top what we had already found, or even to add many species to our list. Walking across some stubble fields, through patches of forest we made our way towards an old Khmer temple. At first although there was plenty of activity there were no new species for a while although yet another Red-billed Blue Magpie flirted with showing itself to us and we laid eyes on our first Asian Koels of the trip. While birding around the temple was very atmospheric it did not turn up much in the way of birds until we walked back out onto some stubble fields from where we spotted a tree containing pigeons. On closer inspection they turned out to be a group of Yellow-footed Green Pigeons, a bird very much associated with dry, lowland woodland. As we watched this small group of colourful birds bask in the early morning sunlight a few more flew in to join them but one bird was obviously different and this turned out to be a lovely male Orange-breasted Green Pigeon. These Treron pigeons are extremely colourful birds and a group that does not get the attention they deserve in my opinion.
As we walked across the fields to check out a marshy area we came across a nice Indochinese Bushlark singing from a small post but a pair of Silver-backed Needletails feeding on insects emerging from the marshy patch were a very welcome surprise. Hornbills are always wonderful birds so it was lovely to come across a pair of Oriental Pied Hornbills before a Plaintive Cuckoo turned up, strangely, for a bird that is fairly common and widespread, only the second one of the tour. With the sun starting to beat down we began strolling back towards camp but in one of the most unlikely of spots we came across a pair of wonderful White-rumped Falcons holding a territory right next to a dirt track. For the next twenty minutes we were able to get ever-increasingly clear views of these highly sought-after birds as they flew back and forth chasing each other between trees. With this we walked a little further and less than five minutes later bumped into a pair of Collared Falconets, perched in the shade right above our heads. While this species is more common and widespread than White-rumped Falcon it has to be in the running for the cutest bird of the tour. All that was left was to walk back to the eco camp and say goodbye to our excellent hosts before starting the journey to Boeng Toal Vulture Restaurant.
We had our lunch elsewhere though, vulture was not actually on the menu, instead this is an area of excellent dry forest where, in a clearing, there is a project to feed Southeast Asia's last remaining vulture populations. After being allocated our tents we made time for a cup of tea and a snack before taking a walk to the hide which overlooks the vulture feeding area. Birding along the way was quite productive with an Indian Cuckoo, a couple of White-browed Fantails, Common Iora and a Hodgson's Hawk Cuckoo for those quick enough to get onto it before it disappeared. However, at the hide we were told to enter quietly and only peer out of tiny cracks in the covers over the viewing holes to check if any vultures were present. Well, they were; good numbers of both Long-billed and White-rumped Vultures perched in distant trees, but none of the hoped-for Red-headed Vultures. We waited for a long time to see if they would come down to feed on the fresh cow carcass but the heat and humidity in the hide was not exactly conducive to long waits with little happening. Eventually, with absolutely no movement from the waiting vultures we decided it was time to call it a day but a couple of Black Kites and a male Pied Harrier were consolation prizes for us.
Back at the camp with the light beginning to fade it was woodpecker time! First of all a group of colourful Black-headed Woodpeckers put in an appearance followed by a pair of Great Slaty Woodpeckers, calling and shuffling around on the largest tree available. The "pip pip" call of a smaller woodpecker interested us and after a long search we finally tracked down a Rufous-bellied Woodpecker in the half light. The locals had made a great dinner for us which was helped down with a few cans of beer but Hat still had one more bird for us; a superb Oriental Scops Owl, calling persistently from a tree close to our dinner table, how very thoughtful of it.
Day 9; 21st March – Boeng Toal Vulture Restaurant & Tmat Boey
With great expectation we ventured back to the vulture-watching hide in the early hours to get front seat views of these ravenous creatures feeding on the fresh cow carcass provided for them and, hopefully, the Red-headed Vultures that we had not seen on the previous day. Well, sometimes the birds do not read the script do they? As we arrived, once again we could see vultures perched on various trees across from the hide, but none on the carcass at this point. So, we settled down to eat our breakfast and wait, and wait, and wait. We were hungry but apparently the vultures were not. A number of vultures, both White-rumped and Long-billed Vultures flew across to settle in low trees close to the hide and eventually one bird came down to the carcass very briefly but as the morning progressed and it became uncomfortably hot in the hide it started to become apparent that the birds were not going to descend into the feeding frenzy that we had been hoping to see.
A backup plan was formed by which we would leave the hide and leave a local ranger nearby to observe if the vultures came down to feed. On the way out of the hide we were treated to point-blank views of some of the vultures perched nearby and we had not got much further before finding a noisy Burmese Nuthatch; a nice, colourful little bird.
A little further along the trail back to camp we spotted a Long-billed Vulture cruising overhead, coming from the direction of the hide and this was followed by pretty much all of the vultures that had been present. The message came, over the radio from our local ranger that the flock had all taken off and were heading somewhere else, so for some reason they had decided that our cow carcass did not look very tasty!
Back at the camp we came across a nice little flock of birds that included Common Woodshrike, Indochinese Cuckooshrike, Small Minivet, Large Cuckooshrike, a pair of White-browed Fantails and, best of all, two Yellow-crowned Woodpeckers. This is one of the more scarce woodpecker species in Cambodia and it was very satisfying to catch up with this bird and we took the time to watch them foraging until they eventually disappeared along with the rest of the flock. Making the decision that it was great to be able to end this session with this success we packed up our things and started our journey towards Tmat Boey where there would, hopefully, be some more very special birds for us.
The journey only took a few hours, stopping for lunch in a restaurant with a very jovial host, and on arrival we were allocated our rooms for the next few nights. Things were really hot so there was little point in trekking off into the forest, particularly as we were planning to stay out late in anticipation of a very memorable observation, so we took a break of a few hours.
Birding resumed in the late afternoon with a drive to an area of dry dipterocarp forest. Quite frankly things were still very hot indeed but this did not stop us from finding a Rufous Woodpecker, a new bird for the trip, as well as plenty more Small Minivets, Grey-capped Pygmy Woodpecker, Blossom-headed Parakeet, Indochinese Cuckooshrike and many of the other species that we were becoming familiar with but a roosting Spotted Wood Owl was a highlight, particularly as the previous one we had seen had not been seen well by everyone in the group. Our local guides wanted to get us to the appointed spot in plenty of time to hide and wait for a critically endangered species to come in to a roosting tree, so we made our way towards the right area. In actuality we arrived way too early and had a lengthy wait, fighting off flies while species such as Rufous-winged Buzzard, Indochinese Roller and masses of Red Collared Doves provided some distraction until finally we moved into a copse of trees and found a hiding place behind some undergrowth to wait for White-shouldered Ibis to come in. After about fifteen minutes, and still with plenty of light a small group of White-shouldered Ibis seemingly suddenly appeared from nowhere and perched on the tree that they use for roosting. We were thrilled with a group of three White-shouldered Ibises but that was not the end of it as more birds flew in to join them, culminating in a total of thirteen of these critically endangered birds. What a way to end the day!
Day 10; 22nd March – Tmat Boey
Our first full day at Tmat Boey carried the expectation of an even rarer bird that the White-shouldered Ibises we had finished the previous day with: Giant Ibis. Our local helpers had a location in their mind where this critically endangered bird had been seen recently so, of course, we headed out there just before first light to have our breakfast in the field close to where we were hoping to find them. While enjoying a coffee and something to eat as the sun was rising the incredible haunting call of Giant Ibis filled the air from somewhere in the forest in the direction in which we were looking. It sounded reasonably close and wanting to make hay while the sun shines (well, rises) we immediately started off purposely towards them. Walking across the bumpy stubble fields was a little uncomfortable but as we neared a bank of trees we slowed down, our local guides explaining that there were some pools that were often favoured by Giant Ibis in the vicinity. Waiting expectantly these pools were checked out while we scanned every potential Giant Ibis roost tree that we could find; but all to no avail. During the wait we did get some nice views of Golden-fronted Leafbird and a trio of Orange-breasted Green Pigeons taking in the morning sun as well as a flypast Himalayan Cuckoo and many of the commoner birds of the habitat.
Although we had allowed ourselves to dream that we could just walk right up to a Giant Ibis the reality, of course, was different. It was strange, however, that the call sounded like it had come right from this area and there was no sign of the birds. However, we continued our walk for a distance that seemed very unlikely considering how loud the original Giant Ibis calls had been. It seemed like our ear radars had been miscalibrated though as through a line of trees, towards the back of another open area we noticed a movement. Getting the 'scopes ready as quickly as possible we trained them on a large, leafless tree and there was a Giant Ibis, perched and then briefly calling; what a superb sight. As we watched a further two Giant Ibises flew out of a wet, grassy ditch to give us fine views of three of the rarest birds of the region. Unfortunately a farmer arrived near enough to disturb the birds which meant that we were treated to some nice views of these magnificent birds in flight. The local guides indicated that they thought they knew where to relocate the ibises so were trekked off again, this time on a a post Giant Ibis high to a patch of forest with a couple of grassy damp "pools". Somehow there was no sign of the birds until Phil moved a little and alerted us all to the fact that there was a Giant Ibis sitting in a nearby tree. Amazing! In fact, once we looked more carefully, all three birds were perched in trees not too far away; it was incredible how difficult there were to see. They fluttered off to trees a little further back so we decided to leave so that they could feed in this little damp area.
On our way back to the vehicles we paused to take in Common Flameback and brief views of a pair of Red-billed Blue Magpies – this was a bird that was really making us work hard for a decent view. A pair of Chestnut-capped Babblers in a grassy patch and a male Purple Sunbird were also nice but with time now stretching into the mid-morning and the heat already becoming quite intense we had the luxury of having had a great encounter with our main target so that we could call a break until later in the afternoon when we could visit a different area for some different target birds.
Having had plenty of time to rest we took a short drive to a different area of forest for the late afternoon where Savanna Nightjar was our main focus. We had to walk a couple of kilometres through nice woodland where we all got good views of Chinese Francolin trying to hide is the dry ground layer of grasses and a Burmese Nuthatch was another nice sighting. The real focus, though, was at an open area in the forest where dry rocky patches and grasses dominated, with small trees punctuating it here and there. We found what seemed like a good spot to stand and wait expecting the nightjars as dusk came as they reliably do here. While we watched birds such as Grey-capped Pygmy Woodpecker, Indochinese Cuckooshrike, Common Flameback, Pied Bushchat and Black-hooded Oriole our local helpers tried to find a Savanna Nightjar on a roost for us. They failed but we appreciated their efforts and as the light started to fade large numbers of Blossom-headed Parakeets began to assemble before flying off to their roost site and a nice Yellow-crowned Woodpecker turned up in a small tree quite close to us. The appointed nightjar time seemed to be upon us but instead an Indian Cuckoo flew in and treated us to a performance of calling from an exposed tree that went on far longer than expected given the light conditions. But, where were those reliable nightjars?
With darkness almost upon us we gave up and, of course, as soon as we started our walk back the scratching sound of a Savanna Nightjar was heard from above us and we looked up to see one flying overhead and off over the forest. Not exactly the views we had been hoping for but, as always, better than not seeing it at all. In its own way it was a memorable sighting. All that remained was for us to make our way back to the vehicles by torchlight and reconvene in the lodge restaurant for cocktails, canapes and an amuse bouche of apricot, goat's cheese, almonds and rosemary. Actually I made that bit up but dinner was a pleasant combination of local dishes cooked by our hosts.
Day 11; 23rd March – Tmat Boey
Having had great views of our main targets at Tmat Boey we were able to do something a bit different this morning and visit an area of moister woodland alongside a river. This area was a fair distance from the lodge so we started before first light in order to arrive as the sun was rising and maximise birding time before things got too hot. Once again we had a pleasant breakfast in the field as it began to get light and a Heart-spotted Woodpecker was a nice treat, landing in a nearby tree, uttering its manic call.
As we started our walk towards the river viewpoint it became a good time for raptors, firstly with the now familiar Rufous-winged Buzzard but a pair of Black Bazas were exciting, as this stunning bird always is. Shikra and Oriental Honey-buzzard followed before we got into the shade of the moister forest. Here we tracked down an Indochinese Blue Flycatcher by its song before getting to a couple of benches that overlook a small river. This proved to be a really good spot where we stayed for around two hours watching a variety of species with perhaps the colourful Van Hasselt's Sunbird being the pick up the bunch. Blue-bearded Bee-eater, Great Iora, Green-billed Malkoha, Blue-winged Leafbird, Chestnut-headed Bee-eater and Verditer Flycatcher were all additions to our trip list but the most exciting moment was when three Asian Woolly-necked Storks flew close by.
Eventually it was time to leave this peaceful and bird-filled spot but once back at the vehicles we went off to another area of dry forest where we found White-bellied Woodpecker shortly after arriving. With the morning drawing towards an end we jumped back in the vehicles and headed back to the lodge in time for lunch, followed by an afternoon break until later in the afternoon.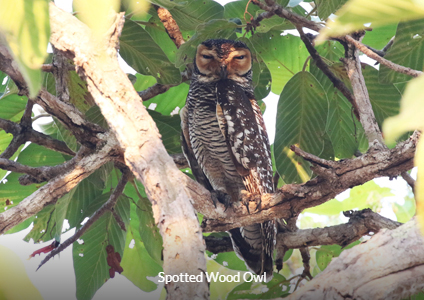 For our afternoon excursion we decided to visit an area where both Giant Ibis and White-shouldered Ibis have been known to occupy to see if we could get more views of these fantastic birds. As it turned out the pools our local helpers thought might attract the birds had completely dried out however, over the course of the afternoon we did see a total of seven Asian Woolly-necked Storks in flight so there must have been some foraging areas somewhere not too far away. This afternoon did, however, finally provide us with good views of a pair of Red-billed Blue Magpies; considering that these are fairly abundant birds in this habitat it was amazing that they had given us such a hard time over the previous week. of course, there were plenty of the birds that we had become familiar with such as Small Minivet, Common Flameback and Large Cuckooshrike.
As things were cooling down we heard the scolding call of a Spotted Owlet so we slowly walked towards the origin of the sound and eventually tracked it down for great "scope views of this cute little owl. Walking back towards the vehicle we doubled our owl tally for the afternoon with a fantastic Spotted Wood Owl sitting right over our heads. Most of us had walked right underneath this dozing bird before our local ranger pointed it out! The only thing to add were a couple of Chinese Francolins scampering along as we drove slowly along the forest tracks back to the eco lodge for our last dinner at Tmat Boey.
Day 12; 24th March – Tmat Boey & Kratei
Our final morning at Tmat Boey was always intended to be a short one and it was spent going to locate White-rumped Falcon for Hilary and Phil who had been unwell when we had seen this wonderful bird earlier in the trip. On our way to the appointed spot we noticed something fly out of a roadside ditch and amazingly it turned out to be a White-shouldered Ibis. It flew up into a nearby tree where we saw that it was in the company of a second bird; a great sighting. However, a little further along the road this was to be eclipsed with another three birds perched in trees so that we were able to view them in the telescopes. Incredibly, just a little further still and we had our best view of this extremely rare bird with one feeding right next to the road, allowing those of us with cameras to get some pleasing photographs.
Once we arrived at the location for White-rumped Falcon we quickly saw several Red-breasted Parakeets as well as a few colourful Chestnut-headed Bee-eaters. However, White-rumped Falcon was the focus and in one of those sweet moments of birding one turned up exactly where and when we wanted it. Once again we were able to enjoy great views of this scarce bird until it flew off into the forest, leaving us very satisfied. This was our prompt to continue our journey, although close to the lodge we were distracted by some Ashy Woodswallows, somehow the first ones of the tour. After packing we thanked the local guides and staff of the eco lodge for all their help and began the journey to the town of Kratei, the drive taking us through a few hours of rural Cambodia before arriving at our comfortable hotel for the night.
Lunch at the hotel was followed by a welcome shower and rest in our air-conditioned rooms before heading out again in the late afternoon. A short drive took us to a set of rice fields with a lily-covered lake alongside; a location with a lot of potential. Things were a bit hot at first so a short walk into the fields to see some handsome Asian Golden Weavers was perhaps a little over keen although it did also give us great views of several Small Pratincoles loafing around on the rice fields along with Red-throated Pipits. Retreating to the shade and walking along a farm track we were able to look out over the lake where a few Indian Spotbilled Ducks could be seen as well as bigger numbers of Cotton Pygmy Geese and Lesser Whistling Ducks. Scanning the floating vegetation we spotted Pheasant-tailed Jacanas, some of which were coming into their spectacular breeding plumage. As always, a wetland location like this always provides a lot of bird sightings for those who carefully scan and using this method, while standing in the only patch of shade from which we could see the lake, we also spotted Grey-headed Swamphen, Little Grebe, several Yellow Bitterns, Purple Heron and Black-winged Kite to mention just a few.
Looking out across a wet area of rice paddies we noticed a few shorebirds including a scattering of Kentish Plovers, a few Oriental Pratincoles, a pair of Little Ringed Plovers and two handsome Grey-headed Lapwings with at least four Pin-tailed Snipe flying overhead. This added a nice bit of variety to the afternoon's birding but as the day started to cool down it gave us a chance to find some of those birds that only come out when everything else is winding down. A muddy margin of the lake was a good spot to look and here we found both White-browed Crake and a Bluethroat but in some nearby tangles the call of Lanceolated Warbler attracted us. These little creepers are often hard to see and so it proved this time. Some call playback stimulated this one into showing itself for most of the group, although if you were standing in slightly the wrong place, you missed it! This tricky little bird lead us inot a nice sunset which was our notice to head back for dinner.
A short walk to a restaurant on the river bank gave us one of the tastiest dishes of the trip and the chance to try some Cambodian stout!
Day 13; 25th March – Kratei to Pursat
Some days of birding consist of going out and seeing what can be found while other days there is a very particular plan for a very particular species; this day was one of the latter. After breakfast we jumped into the vehicles and were taken up river a few kilometres to a landing area for the small boat that would take us out onto the Mekong to look for the regional endemic, Mekong Wagtail as well as a mammalian distraction in Irrawaddy Dolphin. The boat was a narrow, wooden creation, with a shade above the seating area and a long drive shaft to propel it along. This is what is known as a "long-tail" boat in this part of the world. After being greeted by a pair of handsome Wire-tailed Swallows sitting on the boat, our boatman swiftly got us out into the river and took us towards a series of rocky islets, most of which had some permanent vegetation on them which is the habitat in which the wagtails nest. With our visit coinciding with the beginning of the breeding season we had high expectations of getting good views of this wagtail which has a range completely confined to the Mekong river and one or two of its tributaries.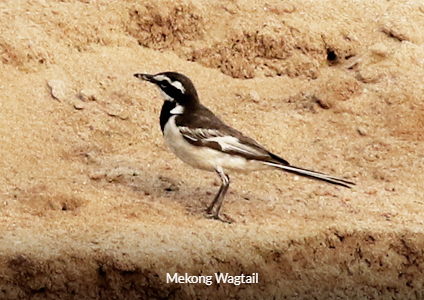 As we neared the first set of scrubby islets there was no sign of our target but as we approached the next cluster a darting black and white shape got us excited. Just a little bit closer and there it was, a Mekong Wagtail sitting on a piece of debris singing his song, just about audible over the drone of the boat's engine. Unfortunately he darted off into some tangles but over the course of the next twenty minutes or so we were treated to repeated views of three different Mekong Wagtails as they went about their business, feeding and chasing each other around in the manner of most other wagtails. Pied Kingfishers are always entertaining so a couple of these hovering over the water in search of prey were also nice. We added an Osprey and a couple of flypast Indian Spotbilled Ducks to the day list before enjoying a few Small Pratincoles loafing around on sandy patches. Having had our fill of Mekong Wagtail the anticipation, in our group, of Irrawaddy Dolphins was high so our boatman took us off to some deeper channels where sightings were likely. Local knowledge paid off, as it usually does, and within a few minutes we were marvelling at small pods of this endangered species repeatedly surfacing as they went about their business. On my last visit here there was the potential of an environmentally damaging project in this very area but thankfully Hat informed us that this had been stopped in order to protect the dolphin population.
While floating around, watching the dolphins I noticed some distant martins swooping around near a tall sand bar so after we had finished getting some photos of the dolphins we asked our boatman if we could investigate. He did a great job in navigating us close to the area and steadying the boat by partly grounding it on some sand so that we could get good views of a nesting colony of Grey-throated Martins as they went back and forwards to their nest holes. This was a nice way to end our excursion onto the Mekong River after which we made our way back to the vehicles to prepare ourselves for a long journey to the town of Pursat, beyond the capital, Phnom Penh.
One way of describing the journey would be "a unique opportunity to experience the diversity of Cambodian life" although another would be "a long, tedious drive". In truth it was somewhere in between that but a stop in scrubby wetland habitat on the outskirts of Phnom Penh produced great views of the endemic Cambodian Tailorbird before we proceeded to our comfortable hotel in Pursat where we enjoyed a good dinner and some Angkor beer.
Day 14; 26th March – Pursat Grasslands to Phnom Penh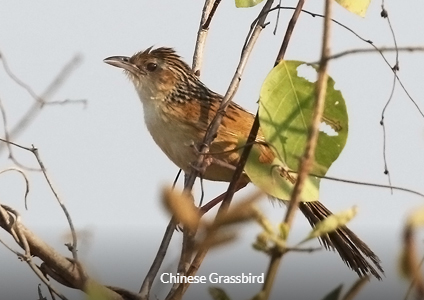 Chinese Grassbird, also known as Chinese Grass Babbler, is a bird that was presumably once much more widespread through Asia but is now classified as "Near Threatened" (surely that needs reassessing?) and only found in a few scattered sites across the continent. Several years ago a population was rediscovered on the grasslands and emergent scrub on the southern side of Tonle Sap and this morning was almost totally designated to find this little-known species. Leaving our hotel before first light we drove through farmland tracks for over an hour before reaching the allocated spot, surrounded by a mixture of shallow pools, rice stubble and dense vegetation. Impressive numbers of birds were on the move overhead as we had our breakfast in the field; squadrons of Painted Storks, a variety of egrets, Black-crowned Night Herons and Glossy Ibis among the large waterbirds while chattering Oriental Pratincoles were also very obvious but our appreciation of these, and our breakfast, was broken by Hat alerting us to a pair of calling Chinese Grassbirds. With a globally rare bird such as this we were expecting a more lengthy search bit within a few minutes we were enjoying great views of this large, streaky babbler.
Having enjoyed great views of our main target so quickly meant that we could use the rest of our time here to poke around and see what we could uncover. The call of a Striated Grassbird allowed us to get our best views of this bird on this trip while nearby an Eastern Yellow Wagtail was on a muddy pool with Blue-tailed Bee-eaters hawking overhead. By searching around in the thick undergrowth we found a good numbers of skulking birds with Oriental Reed Warbler, the only Black-browed Reed Warbler of the trip, a few Dusky Warblers, calling Golden-headed Cisticolas, good views (for some) of Lanceolated Warbler and a surprise sighting in Baikal Bush Warbler creeping along the ground. Things grew hot very quickly here though and with no shade available we decided that the aim of the visit had been reached and back at the vehicles we were able to get even better views of Chinese Grassbird before we drove back to our hotel to pack our things and begin the journey to Phnom Penh. Several hours later we arrived in town and made a short stop at Wat Phnom in the heart of the city. Here we saw several Wreathed Hornbills that were living here as wild birds having been released by humans. However, one genuinely wild bird that we added to our list at this very latest of stages of the birding tour was Golden-bellied Gerygone.
Checking in to our very nice hotel all that remained was for us to take a cooling shower and gather for dinner on the rooftop restaurant where we enjoyed a delicious meal, several beers and reflected on a very enjoyable and productive trip. The final task was to vote for "Bird of the Trip". The results are below.
Bird of the Trip
Giant Ibis
Coral-billed Ground Cuckoo
Greater Adjutant
Bar-bellied Pitta
Bengal Florican
In this selection rarity, quality of views and overall impressiveness of the birds were the key factors.
Cambodia
Angkor: Areas of mature semi-evergreen woodland with patches of open country surrounding the ancient Khmer temples of the Angkor complex. Woodland here is concentrated around the ancient moat surrounding the temple which has some overgrown patches of emergent and floating vegetation. This provides a good introduction to the region's birds with key species being White-throated Rockthrush, Forest Wagtail and Hainan Blue Flycatcher.
Prek Toal: A large area of swampy forest and wetlands at the end of Tonle Sap, the great lake of Cambodia, where waterbirds abound, particularly in the breeding season in which time they set up a massive breeding colony of mixed species. This site is a great location for Spot-billed Pelican, Greater Adjutant, Milky Stork, Lesser Adjutant, Grey-headed Fish Eagle and Painted Stork along with many other more widespread wetland birds.
Ang Trapaeng Tmor: A large but very shallow reservoir fringed with lotus, reedy areas and grasslands with surrounding rice fields and patches of dry woodland. This is an excellent place to see good numbers of Sarus Crane as well as impressive numbers of Barn Owl. general birding iin this area is good with Pied Harrier, Horsfield's Bushlark, Greater Spotted Eagle all in good numbers and a variety of waterfowl in "winter".
Chang Kran Roy: Regenerating mixed evergreen forest with more mature patches here and there on a low elevation plateau. This is a different type of habitat to much of this part of Cambodia offering a chance to see a variety of species not seen on most classic Cambodia birding tours. Key birds here are Bar-bellied Pitta and Coral-billed Ground Cuckoo.
Florican Grasslands Reserve: An extensive area of grassland, pools, scrubby areas and some rice agriculture on the fringes of Tone Sap. This is the key area to look for the critically endangered Bengal Florican as well as Manchurian Reed Warbler. Good numbers of Horsfield's Bushlark, Pied Harrier and Knob-billed Duck can also be found here as can Sarus Crane.
Prey Veng: Large areas of dry dipterocarp woodland with ancient Khmer ruins including several barays Khmer empire water storage ponds) that attract interesting birds. The list of interesting birds here is high being particularly good for woodpeckers, green pigeons and a wide range of habitat specialists. Asian Woolly-necked Stork, Sarus Crane, Collared Falconet and White-rumped Falcon are all features here.
Boeng Toal Vulture Restaurant: With a grassy opening in dry dipterocarp woodland a Vulture feeding project has been set up to protect the last remaining vulture populations in Southeast Asia. White-rumped Vulture, Long-billed Vulture and Red-headed Vulture are the species that are resident in Cambodia but this is also an excellent location to see Yellow-crowned Woodpecker.
Tmat Boey: Extensive areas of dry dipterocarp woodland interspersed with tradtional rice fields. The villagers of Tmat Boey are actively engaged in monitoring and protecting both Giant Ibis and White-shouldered Ibis, two critically endangered species that are the key birds to see here. Additionally a wide range of birds of the habitat can be seen here including White-rumped Falcon, Black-headed Woodpecker, White-bellied Woodpecker and many others.
Kratei Rice Fields: Rice fields and a lotus swamp set alongside the Mekong river just outside the town of Kratei. A good location for a wide range of rice field birds including Asian Golden Weaver.
Mekong River at Kratei: A wide river with many rocky islets, many of which have patches of permenent vegetation and some of which are just bare rocks. There are also areas of sand bars and sand banks. The main reason for visiting this site is for Mekong Wagtail but Small Pratincole, Pied Kingfisher and Brown-throated Martin are also present.
Pursat Grasslands: An area of emergent scrubland, rice farming and wetland pools on the fringes of Tonle Sap. Large numbers of wetland birds use this area for feeding during the day and it is the prime site in Southeast Asia for Chinese Grassbird as well as being a good location for Yellow-breasted Bunting.
Phnom Penh Tailorbird Sites: A few fairly random stops just outside of Phnom Penh. Any area of scrubby wetlands usually turns up this endemic.
Wat Phnom: A city temple set in a small park in a busy part of Phnom Penh. Mature trees dominate with very little ground layer. Golden-bellied Gerygone is resident here.
The sites at which each species were seen are coded as below;
Angkor: A
Prek Toal: PT
Ang Trapaeng Tmor: ATT
Chang Kran Roy: CKR
Florican Grassland Reserve: FGR
Prey Veng: PV
Boeng Toal: BT
Tmat Boey: TB
Kratei Rice Fields: KRF
Mekong River at Kratei: MRK
Tailorbird Site: TS
Pursat Grasslands: PG
Wat Phnom: WP
During this Cambodia Birding Tour we recorded 265 species.
SPECIES
ANSERIFORMES: Anatidae
Lesser Whistling Duck
Knob-billed Duck
Cotton Pygmy Goose
Garganey
Indian Spotbilled Duck
GALLIFORMES: Phasianidae
Green-legged (Scaly-breasted) Partridge
Chinese Francolin
Red Junglefowl
CAPRIMULGIFORMES: Caprimulgidae
Savanna Nightjar
APODIFORMES: Hemiprocnidae
Crested Treeswift
Silver-backed Needletail
Brown-backed Needletail
Germain's Swiftlet
Asian Palm Swift
House Swift
OTIDIFORMES: Otitidae
Bengal Florican
CUCULIFORMES: Cuculidae
Greater Coucal
Lesser Coucal
Coral-billed Ground Cuckoo
Green-billed Malkoha
Asian Koel
Violet Cuckoo
Banded Bay Cuckoo
Plaintive Cuckoo
Large Hawk Cuckoo
Hodgson's Hawk Cuckoo
Indian Cuckoo
Himalayan Cuckoo
COLUMBIFORMES: Columbidae
Feral Pigeon
Red Collared Dove
Spotted Dove
Zebra Dove
Common Emerald Dove
Orange-breasted Green Pigeon
Ashy-headed Green Pigeon
Yellow-footed Green Pigeon
Green Imperial Pigeon
GRUIFORMES: Rallidae
Common Moorhen
Grey-headed Swamphen
White-browed Crake
Watercock
GRUIFORMES: Gruidae
Sarus Crane
PODICIPEDIFORMES: Podicipedidae
Little Grebe
CHARADRIFORMES: Turnicidae
Barred Buttonquail
CHARADRIFORMES: Charadridae
Red-wattled Lapwing
Pacific Golden Plover
Little Ringed Plover
Kentish Plover
CHARADRIFORMES: Jacanidae
Pheasant-tailed Jacana
Bronze-winged Jacana
CHARADRIFORMES: Scolopacidae
Pin-tailed Snipe
Common Snipe
Wood Sandpiper
Common Greenshank
CHARADRIFORMES: Glareolidae
Oriental Pratincole
Small Pratincole
CHARADRIFORMES: Laridae
Whiskered Tern
CICONIFORMES: Ciconidae
Milky Stork
Painted Stork
Asian Openbill
Asian Woolly-necked Stork
Lesser Adjutant
Greater Adjutant
SULIFORMES: Anhingidae
Oriental Darter
SULIFORMES: Phalacrocoracidae
Little Cormorant
Indian Cormorant
Great Cormorant
PELECANIFORMES: Threskiornithidae
Black-headed Ibis
White-shouldered Ibis
Giant Ibis
Glossy Ibis
PELECANIFORMES: Ardeidae
Yellow Bittern
Cinnamon Bittern
Black-crowned Night Heron
Striated Heron
Chinese Pond Heron
Javan Pond Heron
Eastern Cattle Egret
Grey Heron
Purple Heron
(Eastern) Great Egret
Intermediate Egret
Little Egret
PELECANIFORMES: Pelecanidae
Spot-billed Pelican
ACCIPITRIFORMES: Pandionidae
Osprey
ACCIPITRIFORMES: Accipitridae
Black-winged Kite
Crested Honey Buzzard
Black Baza
White-rumped Vulture
Slender-billed Vulture
Crested Serpent Eagle
Changeable Hawk Eagle
Greater Spotted Eagle
Shikra
Eastern Marsh Harrier
Pied Harrier
Black Kite
Brahminy Kite
Grey-headed Fish Eagle
Rufous-winged Buzzard
STRIGIFORMES: Tytonidae
(Eastern) Barn Owl
STRIGIFORMES: Strigidae
Brown Boobook
Spotted Owlet
Asian Barred Owlet
Oriental Scops Owl
Brown Fish Owl
Spotted Wood Owl
BUCEROTIFORMES: Upupidae
Eurasian Hoopoe
BUCEROTIFORMES: Bucerotidae
Oriental Pied Hornbill
Wreathed Hornbill
CORACIIFORMES: Coraciidae
Indochinese Roller
CORACIIFORMES: Alcedinidae
Stork-billed Kingfisher
Black-capped Kingfisher
Common Kingfisher
Pied Kingfisher
CORACIIFORMES: Meropidae
Blue-bearded Bee-eater
Asian Green Bee-eater
Chestnut-headed Bee-eater
Blue-tailed Bee-eater
PICIFORMES: Megalaimidae
Lineated Barbet
Green-eared Barbet
Blue-eared Barbet
Coppersmith Barbet
PICIFORMES: Picidae
Heart-spotted Woodpecker
Grey-capped Pygmy Woodpecker
Yellow-crowned Woodpecker
Rufous-bellied Woodpecker
Freckle-breasted Woodpecker
White-bellied Woodpecker
Greater Yellownape
Lesser Yellownape
Black-headed Woodpecker
Common Flameback
Greater Flameback
Rufous Woodpecker
Great Slaty Woodpecker
FALCONIIFORMES: Falconidae
White-rumped Falcon
Collared Falconet
Peregrine Falcon
PSITTACIFORMES: Psittaculidae
Blossom-headed Parakeet
Red-breasted Parakeet
Vernal Hanging Parrot
PASSERIFORMES: Pittidae
Bar-bellied Pitta
PASSERIFORMERS: Vangidae
Large Woodshrike
Common Woodshrike
PASSERIFORMES: Acanthizidae
Golden-bellied Gerygone
PASSERIFORMES: Artamidae
Ashy Woodswallow
PASSERIFORMES: Aegithinidae
Common Iora
PASSERIFORMES: Campephagidae
Small Minivet
Scarlet Minivet
Ashy Minivet
Swinhoe's (Brown-rumped) Minivet
Rosy Minivet
Large Cuckooshrike
Indochinese Cuckooshrike
PASSERIFORMES: Laniidae
Brown Shrike
Burmese Shrike
PASSERIFORMES: Oriolidae
Black-hooded Oriole
Black-naped Oriole
PASSERIFORMES: Dicruridae
Greater Racket-tailed Drongo
Hair-crested Drongo
Ashy Drongo
Black Drongo
PASSERIFORMES: Rhipiduridae
White-browed Fantail
Malaysian Pied Fantail
PASSERIFORMES: Monarchidae
Black-naped Monarch
PASSERIFORMES: Corvidae
Red-billed Blue Magpie
Rufous Treepie
Racket-tailed Treepie
Eastern Jungle Crow
PASSERIFORMES: Stenostiridae
Grey-headed Canary-flycatcher
PASSERIFORMES: Alaudidae
Horsfield's Bushlark
Indochinese Bushlark
Oriental Skylark
PASSERIFORMES: Pycnonotidae
Puff-throated Bulbul
Grey-eyed Bulbul
Black-headed Bulbul
Black-crested Bulbul
Streak-eared Bulbul
Stripe-throated Bulbul
Yellow-vented Bulbul
Sooty-headed Bulbul
PASSERIFORMES: Hirundinidae
Sand Martin
Grey-throated Martin
Wire-tailed Swallow
Barn Swallow
Red-rumped Swallow
PASSERIFORMES: Phylloscopidae
Yellow-browed Warbler
Radde's Warbler
Dusky Warbler
Two-barred Warbler
PASSERIFORMES: Acrocephalidae
Oriental Reed Warbler
Black-browed Reed Warbler
Mabchurian Reed Warbler
Thick-billed Warbler
PASSERIFORMES: Locustellidae
Lanceolated Warbler
Baikal Bush Warbler
Striated Grassbird
PASSERIFORMES: Cisticolidae
Zitting Cisticola
Golden-headed Cisticola
Brown Prinia
Rufescent Prinia
Grey-breasted Prinia
Yellow-bellied Prinia
Plain Prinia
Common Tailorbird
Dark-necked Tailorbird
Cambodian Tailorbird
PASSERIFORMES: Timaliidae
Chestnut-capped Babbler
Pin-striped Tit Babbler
PASSERIFORMES: Pellorneidae
Chinese Grassbird
Scaly-crowned Babbler
Puff-throated Babbler
Abbott's Babbler
PASSERIFORMES: Leiothrichidae
White-crested Laughingthrush
PASSERIFORMES: Irenidae
Asian Fairy Bluebird
PASSERIFORMES: Sittidae
Velvet-fronted Nuthatch
Burmese Nuthatch
PASSERIFORMES: Sturnidae
Common Hill Myna
Great Myna
Common Myna
Vinous-breasted Myna
Black-collared Myna
Siamese Pied Myna
Chestnut-tailed Starling
PASSERIFORMES: Muscicapidae
Oriental Magpie Robin
White-rumped Shama
Asian Brown Flycatcher
Hainan Blue Flycatcher
Blue-and-white Flycatcher
Indochinese Blue Flycatcher
Verditer Flycatcher
Siberian Blue Robin
Bluethroat
Siberian Rubythroat
Taiga Flycatcher
Blue Rockthrush
White-throated Rockthrush
Amur Stonechat
Pied Bushchat
PASSERIFORMES: Chloropseidae
Blue-winged Leafbird
Golden-fronted Leafbird
PASSERIFORMES: Dicaeidae
Thick-billed Flowerpecker
Scarlet-backed Flowerpecker
PASSERIFORMES: Nectariniidae
Ruby-cheeked Sunbird
Brown-throated Sunbird
Van Hasselt's Sunbird
Purple Sunbird
Olive-backed Sunbird
Crimson Sunbird
PASSERIFORMES: Passeridae
Eurasian Tree Sparrow
Plain-backed Sparrow
House Sparrow
PASSERIFORMES: Ploceidae
Asian Golden Weaver
Streaked Weaver
PASSERIFORMES: Estrildidae
Scaly-breasted Munia
Chestnut Munia
Red Avadavat
PASSERIFORMES: Motacillidae
Forest Wagtail
Eastern Yellow Wagtail
Mekong Wagtail
Paddyfield Pipit
Olive-backed Pipit
Red-throated Pipit
PASSERIFORMES: Emberizidae
Yellow-breasted Bunting
SCIENTIFIC NAME
Anatidae
Dendrocygna javanica
Sarkidiornis melanotos
Nettapus coromandelianus
Spatula querquedula
Anas poecilorhyncha
Phasianidae
Tropicoperdix chloropus
Francolinus pintadaenus
Gallus gallus
Caprimulgidae
Caprimulgus affinis
Hemiprocnidae
Hemiprocne coronata
Hirundapus cochinchinensis
Hirundapus giganteus
Collocalia germani
Cypsiurus balasiensis
Apus affinis
Otitidae
Houbaropsis bengalensis
Cuculidae
Centropus sinensis
Centropus bengalensis
Carpococcyx renauldi
Phaenicophaeus tristis
Eudynamys scolopaceus
Chrysococcyx xanthorhynchus
Cacomantis sonneratii
Cacomantis merulinus
Hierococcyx sparveriodes
Hierococcyx nisicolor
Cuculus micropterus
Cuculus saturatus
Columbidae
Columba livia
Streptopelia tranquebarica
Spilopelia chinensis
Geopelia striata
Chalcophaps indica
Treron bicincta
Treron phayrei
Treron phoenicoptera
Ducula aenea
Rallidae
Gallinula chloropus
Porphyrio porphyrio viridis
Poliolimnas cinerea
Gallicrex cinerea
Gruidae
Antigone antigone sharpi
Podicipedidae
Tachybaptus ruficollis
Turnicidae
Turnix suscitator
Charadridae
Vanellus indicus
Pluvialis fulva
Charadrius dubius
Charadrius alexandrinus
Jacanidae
Hydrophasianus chirurgus
Metopidius indicus
Scolopacidae
Gallinago stenura
Gallinago gallinago
Tringa glareola
Tringa nebularia
Glareolidae
Glareola maldivarum
Glareola lactea
Laridae
Chlidonias hybrida
Ciconidae
Mycteria cinerea
Mycteria leucocephala
Anastomus oscitans
Ciconia episcopus
Leptoptilos javanicus
Leptoptilos dubius
Anhingidae
Anhinga melanogaster
Phalacrocoracidae
Microcarbo niger
Phalacrocorax fuscicollis
Phalacrocorax carbo
Threskiornithidae
Threskiornis melanocephalus
Pseudibis davisoni
Pseudibis gigantea
Plegadis falcinellus
Ardeidae
Ixobrychus sinensis
Ixobrychus cinnamomeus
Nycticorax nycticorax
Butorides striata
Ardeola bacchus
Ardeola speciosa
Bubulcus coromandus
Ardea cinerea
Ardea purpurea
Ardea alba modesta
Ardea intermedia
Egretta garzetta
Pelecanidae
Pelecanus philippensis
Pandionidae
Pandion haliaetus
Accipitridae
Elanus caeruleus
Pernis ptilorhynchus
Aviceda leuphotes
Gyps bengalensis
Gyps tenuirostris
Spilornis cheela
Nisaetus cirrhatus
Clanga clanga
Accipiter badius
Circus spilonotus
Circus melanoleucos
Milvus migrans govinda
Haliastur indus
Haliaeetus ichthyaetus
Butastur liventer
Tytonidae
Tyto alba javanica
Strigidae
Ninox scutulata
Athene brama
Glaucidium cuculoides
Otus sunia
Ketupa zeylonensis
Strix seloputo
Upupidae
Upupa epops
Bucerotidae
Anthracoceros albirostris
Rhyticeros undulatus
Coraciidae
Coracias affinis
Alcedinidae
Halcyon capensis
Halcyon pileata
Alcedo atthis
Ceryle rudis
Meropidae
Nyctyornis athertoni
Merops orientalis
Merops leschenaulti
Merops philippinus
Megalaimidae
Psilopogon lineatus
Psilopogon faiostricus
Psilopogon duvaucelii
Psilopogon haemacephalus
Picidae
Hemicircus canente
Yungipicus canicapillus
Leiopicus mahrattensis
Dendrocopos hyperythrus
Dendrocopos analis
Dryocopus javansis
Chrysophlegma flavinucha
Picus chlorolophus
Picus erythropygius
Dinopium javanense
Chrysocolaptes lucidus
Micropternus brachyurus
Mulleripicus puverulentus
Falconidae
Polihierax insignis
Microhierax caerulescens
Falco peregrinus
Psittaculidae
Psittacula roseata
Psittacula alexandri
Loriculus vernalis
Pittidae
Hydrornis elliotti
Vangidae
Tephrodornis virgatus
Tephrodornis pondicerianus
Acanthizidae
Gerygone sulphurea
Artamidae
Artamus fuscus
Aegithinidae
Aegithinia tiphia
Campephagidae
Pericrocotus cinnamomeus
Pericrocotus speciosus
Pericrocotus divaricatus
Pericrocotus cantonensis
Pericrocotus roseus
Coracina macei
Lalage polioptera
Laniidae
Lanius cristatus
Lanius colluriodes
Oriolidae
Oriolus xanthornus
Oriolus chinensis
Dicruridae
Dicrurus paradiseus
Dicrurus hottentottus
Dicrurus leucophaeus
Dicrurus macrocercus
Rhipiduridae
Rhipidura aureola
Rhipidura javanica
Monarchidae
Hypothymis azurea
Corvidae
Urocissa erythroryncha
Dendrocitta vagabunda
Crypsirina temia
Corvus levaillantii
Stenostiridae
Culicicapa ceylonensis
Alaudidae
Mirafra javanica
Mirafra erythrocephala
Alauda gulgula
Pycnonotidae
Alophoixus pallidus
Iole propinqua
Brachypodius melanocephalos
Rubigula flaviventris
Pycnonotus conradi
Pycnonotus finlaysoni
Pycnonotus goiavier
Pycnonotus aurigaster
Hirundinidae
Riparia riparia
Riparia chinensis
Hirundo rustica
Hirundo smithii
Cecropis daurica
Phylloscopidae
Phylloscopus inornatus
Phylloscopus schwarzi
Phylloscopus fuscatus
Phylloscopus plumbeitarsus
Acrocephalidae
Acrocephalus orientalis
Acrocephalus bistrigiceps
Acrocephalus tangorum
Arundinax aedon
Locustellidae
Locustella lanceolata
Locustella davidi
Megalurus palustris
Cisticolidae
Cisticola juncidis
Cisticola exilis
Prinia polychroa
Prinia rufescens
Prinia hodgsonii
Prinia flaviventris
Prinia inornata
Orthotomus sutorius
Orthotomus atrogularis
Orthotomus chaktomuk
Timaliidae
Timalia pileata
Mixornis gularis
Pellorneidae
Gramminicola striatus
Malacopteron cinereum
Pellorneum ruficeps
Malacocincla abbotti
Leiothrichidae
Garrulax leucolophus
Irenidae
Irena puella
Sittidae
Sitta frontalis
Sitta neglecta
Sturnidae
Gracula religiosa
Acridotheres grandis
Acridotheres tristis
Acridotheres leucocephalus
Gracupica nigricollis
Gracupica floweri
Sturnia malabaricus
Muscicapidae
Copsychus saularis
Copsychus malabaricus
Muscicapa dauurica
Cyornis hainanus
Cyornis sumatrensis
Cyanoptila cyanomelana
Eumyias thalassinus
Larvivora cyane
Luscinia svecica
Calliope calliope
Ficedula albicilla
Monticola solitarius
Monticola gularis
Saxicola stejnegeri
Saxicola caprata
Chloropseidae
Chloropsis moluccensis
Chloropsis aurifrons
Dicaeidae
Dicaeum agile
Dicaeum cruentatum
Nectariniidae
Chalcoparia singalensis
Anthreptes malacensis
Leptocoma brasiliana
Cinnyris asiaticus
Cinnyris jugularis
Aethopyga siparaja
Passeridae
Passer montanus
Passer flaveolus
Passer domesticus
Ploceidae
Ploceus hypoxanthus
Ploceus manyar
Estrildidae
Lonchura punctulata
Lonchura atricapilla
Amandava amandava
Motacillidae
Dendroanthus indicus
Motacilla tschutschensis
Motacilla samvaesnae
Anthus rufulus
Anthus hodgsoni
Anthus cervinus
Emberizidae
Emberiza aureola
SITES SEEN
Anatidae
PT, ATT, FGR, PV, KRF
FGR
A, ATT, KRF
ATT
PT, ATT, FGR, KRF, MRK, PG
Phasianidae
CR
PV, TB
CR
Caprimulgidae
TB
Hemiprocnidae
PV, BT, TB
PV
A
All sites
A, PT, BT, KRF, MRK, PG
A
Otitidae
FGR
Cuculidae
PT, ATT, CR, FGR, PV, TB, KRF, PG
PT
CR
A, PT, ATT, PV, TB
PV, TB, KRF
PV
PV, TB
ATT, PV, KRF
BT
BT
TB
TB
Columbidae
All sites
All sites
All sites
All sites
CR
PV
PV
PV
PV, TB, BT
Rallidae
KRF
PT, ATT, KRF
KRF
PT, ATT, PG
Gruidae
ATT, PV
Podicipedidae
A, ATT, KRF
Tunicidae
TB
Charadridae
ATT, PV, KRF
PT
KRF
KRF
Jacanidae
ATT. KRF
A, ATT, FGR
Scolopacidae
PT
KRF
PT
FGR, PG
Glareolidae
PT, ATT, FGR, KRF, PG
KRF, MRK
Laridae
PT, FGR, PG
Ciconidae
PT
PT, ATT, FGR, PG
PT, ATT
PV, TB
PT, PV
PT
Anhingidae
PT, ATT
Phalacrocoracidae
A, PT, ATT, PV, KRF, MRK
PT, ATT, MRK
PT
Threskiornithidae
PT
TB
TB
PT, ATT, FGR, PG
Ardeidae
PT, KRF
PG
ATT
PT
All sites
PT
All sites
PT, ATT, FGR, PV, KRF
PT, ATT, FGR, PV, KRF
A, PT, ATT, FGR, KRF, PG
PT, ATT, CR, PV, FGR, KRF, PG
A, PT, ATT, CR, FGR, PV, KRF, PG
Pelecanidae
PT, FGR
Pandionidae
MRK
Accipitridae
ATT, PV, KRF
TB
A, ATT, PV, TB
BT
BT
PT, TB
PV
ATT, FGR
A, CR, PV, BT, TB
PT, ATT, FGR, MRK, PG
ATT, FGR, BT
BT
PT
PT
ATT, PV, TB, BT
Tytonidae
ATT
Strigidae
A
TB
A, PV, TB
BT
CR
ATT, TB
Upupidae
PV, BT, TB
Bucerotidae
A, PV
WP
Coraciidae
All sites
Alcedinidae
PV
A, PT, ATT
PT, ATT, FGR, KRF
ATT, MRK
Meropidae
TB
PT, FGR, PV, BT, TB, KRF
TB
All sites
Megalaimidae
A, ATT, PV, BT, TB
CR
CR
A, ATT, WP
Picidae
TB
PV, BT, TB
BT, TB
PV, BT
ATT
PV, TB
PV, TB
PV
PV, BT, TB
PV, BT, TB
PV
PT, TB
PV, BT
Falconidae
PV, TB
PV
PT
Psittaculidae
PV, BT, TB
A, PV, BT, TB
CR
Pittidae
CR
Vangidae
PV, BT
PV, BT, TB
Acanthizidae
WP
Artamidae
TB
Aegithinidae
PV, BT, TB, KRF
Campephagidae
PV, BT, TB
PV, BT, TB
A, CR
PV, TB
A
PV, TB
PV, BT, TB
Laniidae
A, FGR, PV, KRF
PV, BT
Oriolidae
PV, BT, TB
A, PV, TB, WP
Dicruridae
A, ATT, PV, BT, TB
A, PV, CR, TB
CR, PV, BT, TB
PT, ATT, FGR, BT, KRF, MRK, PG
Rhipiduridae
BT, TB
PT, ATT. KRF, MRK, PG
Monarchidae
ATT, CR, PV, TB
Corvidae
PV, TB
PV, TB
PT, ATT, CR, TB
All sites
Stenostiridae
CR
Alaudidae
ATT, FGR, PG
PV, BT
ATT
Pycnonotidae
CR
CR, PV
CR
ATT, CR, PV, BT, TB
A, ATT, CR, FGR, PV, BT, TB
CR
All sites
PV, BT, TB
Hirundinidae
PT, PG
MRK
All sites
MRK
ATT, PV, PG
Phylloscopidae
A, PV, TB
A, CR, PV
PT, ATT, TB, KRF, PG
A, TB
Acrocephalidae
KRF, PG
PG
FGR
A
Locustellidae
FGR, KRF
PG
FGR, PG
Cisticolidae
FGR, PV, KRF
FGR, KRF, PG
PV, BT
PV, BT, TB
TB
FGR, KRF, PG
ATT, PV, KRF
A, TB, WP
CR, PV, TB
TS
Timaliidae
PV
CR, PV
Pellorneidae
PG
CR
CR
CR
Leiothrichidae
ATT, PV
Irenidae
CR
Sittidae
BT
BT, TB
Sturnidae
A, CR, PV, BT
PT, ATT, CR, KRF, MRK, PG
A, PT, ATT, CR, KRF, MRK, PG
PV
PTY, ATT, PV, BT, TB
FGR
ATT, CR, PV, BT
Muscicapidae
PT, KRF, MRK, PG
CR, PV, TB
A, CR, PV, TB
A, CR, PV
PV
TB
TB
CR
KRF
KRF, PG
A, TB
A
A
ATT, FGR, PV, KRF, PG
PV, BT, TB, KRF, MRK
Chloropseidae
TB
BT, TB
Dicaeidae
CR, BT
PT, PV, BT
Nectariniidae
PV, TB
ATT
CR, TB
PV, BT, TB
A, CR, BT, TB
CR
Passeridae
A, PT, ATT, KRF, MRK, PG
PT, ATT
PT, FGR, KRF, MRK, PG
Ploceidae
KRF
FGR
Estrildidae
A, PT, ATT, PG
ATT, FGR
PG
Motacilla
A
PT, PG
MRK
ATT, PV, KRF
PV, TB
ATT, FGR, KRF
Emberizidae
PG
Pied Harrier

Cambodian Tailorbird

Oriental Darter

Pied Kingfisher
Join us on our next birding tour to Cambodia. See the full itinerary and follow the links to book – Cambodia Birding Tour.