Java, Sumatra & Bali Birding Tour

3rd – 27th August 2024: Java, Sumatra and Bali birding highlights include Christmas Island Frigatebird, Bali Myna, Javan Trogon, Schneider's Pitta, Large Frogmouth, White-winged Duck, Javan Banded Pitta, Javan Flameback, Salvadori's Pheasant, Graceful Pitta, Reddish Scops Owl, Javan Cochoa, Sumatran Trogon, Grey-breasted Partridge, Bonaparte's Nightjar, Red-billed Partridge, Sunda Frogmouth, Sumatran Ground Cuckoo – £TBA per person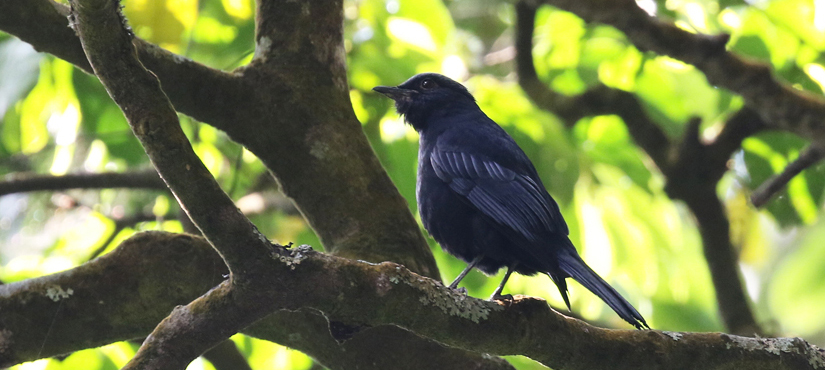 Trip Details
Dates: 3rd – 27th Aug 2024
Cost: £TBA
Single Supplement: £TBA
Deposit: £650
Tour length: 25 Days (23 days birding)
Min/Max group size: 5 / 8
Start/Finish: Jakarta/Bali
Tour Type: Birding
Photo Opps: Fairly Good
Physicality: Moderate, some hiking
Leaders: Nick Upton & Local Guides
If you have any questions about this trip please feel free to ask by contacting us at info@calidrisbirdingtours.com
Java, Sumatra and Bali Birding
Combine birding on the forested volcanic slopes of two famous mountains with some of the best lowland tropical birding in Southeast Asia interspersed with relaxing bird watching in two botanical gardens plus two boat trips and you not only get a birding tour full of avian diversity but also of landscape and culture. Visiting the three islands of Java, Sumatra and Bali this will be a memorable trip with a high number of endemic species and some excellent night birds as well as experiencing a culture that most of us are unfamiliar with. Selamat datang di Indonesia – Welcome to Indonesia!
The location of Java and Sumatra is to the west of the Wallace line, with the avifauna having a strong affinity to that of mainland Southeast Asia but also with high levels of endemism within each island. These levels of endemism are a reflection of the volatile physical geographic history of the area, dominated as it is by tectonic activity which has produced isolated bird populations that have taken their own evolutionary paths. The happy, welcoming population of Java and Sumatra make this an excellent place for birders to make their first foray into birding in Indonesia as well as interesting places to visit within their own right. The coastal areas close to Jakarta provide us with a number of water birds and open country species while the forests of the volcanic mountains of Gunung Gede and Gunung Kerinci will provide cooler temperatures and high altitude endemics. The lowlands promise a warmer climate along with some of the most endangered bird communities of the region.
The range and speciality of habitats gives a hint to the variety and quality of birds we expect to see on this West Java and Sumatra birding tour. On both islands we will give priority to the endemic species of the sites we visit along with those species that are rare throughout much of Southeast Asia but easier to find on Java and Sumatra. Colourful gems such as Sumatran Trogon, Black-banded Barbet, Rufous-collared Kingfisher and White-flanked Sunbird are a feature of this tour along with top quality species such as Schneider's Pitta, Javan Cochoa, Javan Tesia and Red-billed Partridge. Added to this will be some of the best night-birding in the region with a good chance of five species of Frogmouth as well Oriental Bay Owl and five species of Nightjar.
Day 1, Arrival in Jakarta – 3rd August 2024
The planned arrival time is around mid-afternoon at Soekarno-Hatta International Airport. You will meet your guides here and travel to a nearby airport hotel, Here there will be dinner and a pre-trip briefing on West Java and Sumatra birding before a comfortable night's sleep, in an airport hotel, in preparation for the first day's birds.
Day 2, Muara Angke/Jakarta Bay – Cibodas – 4th August 2024
After a good, early breakfast at our hotel we commence our Java, Sumatra and Bali birding tour by driving a short distance to a boatyard in the mangrove remnants on the northern fringes of Jakarta. This is where we will start our boat trip which will last for most of the morning. This is real urban birding, not exactly beautiful but this degraded scrap of habitat, that includes mangrove, marsh and scrub, still hosts good numbers of birds including a few regional specialities with the possibility of seeing Sunda Coucal, although sightings have become rare in recent years.
Birding by boat, along a river channel, is an easy way to start the trip and a good way to rack up a good number of species to begin with. We expect to see Sunda Teal, Bar-winged Prinia, Javan Myna, Javan Munia as well as Sunda Pygmy Woodpecker and the numbers will be made up by more widespread species including Oriental Darter, Small Minivet, Purple Heron, Javan Pond Heron and Pink-necked Green Pigeon. One thing is for sure there are plenty of species to enjoy with our first sightings of a number of species that we will see again along the way. If we are really lucky we might come across one of the few Black-winged Mynas that persist here.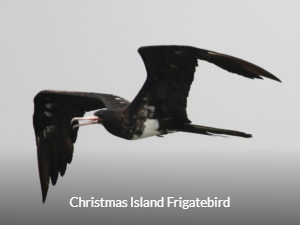 After a few hours along the channels we will head out a little to sea in Jakarta Bay. Heading out through fish traps we make a convenience break at a small island where a number of old Dutch colonial buildings persist before rebaording and continuing towards what we hope will be a special experience with some monster birds in the form of Christmas Island Frigatebirds. Groups of this rare and declining species loaf around on the poles and frequently steal fish from nearby Little Black Cormorants. We will be able to observe these beasts at very close range from the boat as they squabble among each other; there could be small numbers of Lesser Frigatebirds to pick out too. Having enjoyed these incredible birds to the full we will turn around and head back to the boatyard. By the time we get close to the creek entrance the tide should be at a level at which we can find a few Milky Storks feeding on the mudflats or loafing on nearby trees. Other species that are possible on the mud include Javan Plover, Pied Stilt and Lesser Whistling Duck. Finally we get back to the boatyard where our drivers will be waiting with refreshing cold drinks and snacks.
From here we start our journey through the hectic roads of West Java towards one of the islands best remaining forest reserves at Gunung Gede-Pangrango National Park. We will stop for lunch along the way having timed our journey to reduce the traffic problems to a minimum and we expect to arrive in time to settle into our accommodation at the Cibodas Botanical Garden Guesthoude and look for a skulking Sunda Thrush before targeting Salvadori's Nightjar at dusk.
Day 3, Gunung Gede – 5th August 2024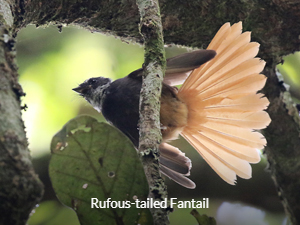 Today we will make our first foray into forest birding in Indonesia in the lower areas of Gunung Gede-Pangrango National Park.  After a short period of birding from our guesthouse, to see if we can connect with the shy (Javan) White-crowned Forktail, we make a five-minute drive to the start of the trail heading up Gunung Gede. The trail is a fairly wide one, good for forest birding, never particularly steep but paved with uneven cobbles which will mean we know we have had a hike by the end of the day but will have surely been rewarded with a lot of excellent sightings.
In the undergrowth alongside the trail we hope to find Sunda (Javan) Blue Robin and the secretive Chestnut-bellied Partridge; if we find both of these secretive birds we will know we are in for a good day. The cute Pygmy Cupwing is rather common here and should be easier to find while Eyebrowed Wren Babbler is possible too. As the forest warms up we will anticipate feeding flocks of birds to include the very smart Sunda Warbler, Pied Shrike-babbler, Javan Heleia, Crescent-chested Babbler, White-flanked Sunbird, Sunda Minivet and Javan Fulvetta.
Often forest birding can be very quiet but Gunung Gede usually presents birders with fairly good levels of bird abundance. Here we should see many of the afore-mentioned species on multiple occasions over the course of the day on these forested slopes. White-bibbed Babbler is becoming harder to find but hopefully they will show themselves to us.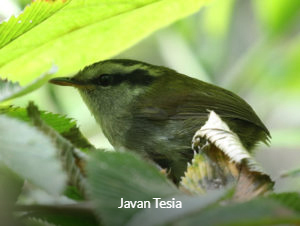 Reaching the mid-levels of the mountain we reach the domain of the curious Javan Tesia. This tiny skulker will play a cat-and-mouse game with us from the undergrowth but we usually obtain good views of it. Javan Whistlingthrush should present less of a problem as it hangs out at a couple of spots where people drop items of food and it emerges to steal an easy meal. We will also keep an eye out for Rufous-tailed Fantail dancing around on the mossy branches as well as the striking Blue Nuthatch. Open areas give us a chance of spotting raptors such as Black Eagle and Javan Hawk Eagle as well as perched Orange-spotted Bulbuls.
Depending on how we feel we may hike a little higher up the mountain after lunch to get us into the realm of Brown-throated Barbet or, more likely, we will try and locate the shy Sunda Forktail along one of the streams here and give ourselves time to look for any birds we may have missed along the way as we head back down, reaching our accommodation in the later afternoon for a well-earned rest before dinner.
Day 4, Cibodas Botanical Gardens – Ciwidey, Kawah Putih – 6th August 2024
Given the proximity of our accommodation to the birds in Cibodas Botanical Gardens we will be perfectly placed to enjoy the birds of this attractive site. We have the best hours of the morning to visit several spots around the sprawling botanical gardens with birds such as Pygmy Cupwing, Lesser Shortwing, Flame-fronted Barbet and Crescent-chested Babbler likely to be seen within a stone's throw of our front door. The open nature of this bird watching site means that we can make sure we get good views of a lot of West Java's commoner endemic species such as Blood-breasted (Javan) Flowerpecker, Flame-fronted Barbet, Javan Fulvetta and White-flanked Sunbird. This is also the best place to find Yellow-throated Hanging Parrot as it visits flowering trees in the morning as well as finding roving flocks of Pygmy Bushtit, the smallest member of its family in the world.
This location gives us our first chance of finding the impressive Javan Kingfisher, although it may prove to be more easily seen in Eastern Java. The forest edge holds feeding flocks of small groups including groups of stunning Blue Nuthatches, Javan Fulvettas and Sunda Minivets. Rusty-breasted Cuckoo is obvious by its voice while common species include Cave Swiftlet, Black-winged Flycatcher-shrike and Javan Munia.
After a few hours birding here we will begin a journey of around 3.5 hours to our next birding destination; Kawah Putih. The journey will take us through some very hectic traffic, but we will arrive at our accommodation with plenty of time to check in and take a tea break before heading around thrity minutes uphill for some night birding, this being the location that gives us an excellent chance of finding Javan Frogmouth and our only opportunity to locate the tricky Javan Scops Owl before enjoying a dinner of traditional Sundanese dishes.
Day 5, Kawah Putih – 7th August 2024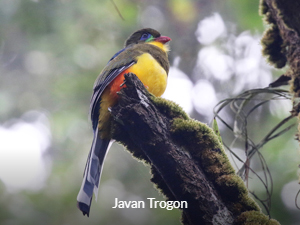 Discovery of this exciting new high elevation birding site has meant that we can dispense with the weary trek and camping at Gunung Gede and instead it gives us easy access to forest in which we can see some more of West Java's signature birds. Species such as Eyebrowed Wren Babbler, Crescent-chested Babbler and White-flanked Sunbird can usually be seen in the forest here while Sunda Bush Warbler is surprisingly abundant for a bird from a usually skulking group. While these birds are enjoyable in their own right there is one target bird here that can eclipse them all; Javan Trogon.
Sitting in the mid-storey of the forest, often quiet and motionless, this gem is not an easy one to find but we have an excellent chance at this location. Javan Trogon is a spectacular bird but is certainly not the only exciting species awaiting us with Javan Cochoa also to be found lurking amongst the mossy branches. Tea plantations close to the highest point of the mountain hold Striated Grassbird and Long-tailed Shrike while the dwarf forest around the crater lake is an excellent place to look for Tawny-breasted Parrotfinch feeding quietly on the fruits of shrubs. Other small birds often abound in this area including Little Pied Flycatcher, Indigo Flycatcher, Warbling White-eye and flocks of Pygmy Tits. However, there is one other speciality here, the extraordinarily range-restircted Volcano Swiftlet. This endemic species is restricted to a handful of volcano craters in Java and this is perhaps the most accessible location to see them.
If we need it, there is another opportunity to look for nocturnal birds.
Day 6, Kawah Putih-Jakarta – 8th August 2024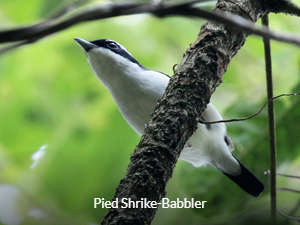 After breakfast we have another opportunity to visit the upland forests of Kawah Putih to look for key species not already seen as well as enjoy some that we should have seen before. Species such as Pied Shrike-Babbler, Sunda Minivet, Blue Nuthatch and Trilling Shrike-Babbler often form flocks that allow them to be enjoyed over and over again. However, the shy Scaly (Horsfield's) Thrush is a rather trickier bird to track down but there is a good rate of success in the highest areas of forest here. We are likely to need more time to locate one or other of Javan Cochoa or Javan Trogon and if we are very lucky Mountain Serin is a possibility too.
Birding close to the accommodation often turns up Freckle-breasted Woodpecker, Javan Kingfisher and Black-naped Oriole with Sunda Scops Owl often roosting in trees in gardens. By lunchtime we will pack ur things and depart for our hotel in Jakarta to get a good rest before beginning the Sumatra section of our birding tour.
Days 7-10, Jakarta – Way Kambas National Park – Jakarta – 9-12th August 2024
Conveniently we can get a good early breakfast at our hotel, on day 7, before taking an early flight from Jakarta airport which is very close by. The flight is just under an hour and on arrival at Bandar Lampung we will be met by our drivers and taken to our accommodation near Way Kambas, a drive of 2 hours, in time for lunch.
Beginning on the afternoon of 9th August we have an afternoon, two full days and a morning for birding at the superb lowland forests of Way Kambas National Park which contains a complete avifauna for the region, something that is very rare within Southeast Asia now. Lowland tropical rainforest is the most endangered habitats in Southeast Asia with only fragments remaining across the continent. However, Way Kambas is one of the biggest and best of those fragments hosting many of the region's most endangered birds as well as mammals threatened with global extinction including Sumatran Tiger and Sumatran Rhino. Although these mammals are present it would require nothing short of a miracle to actually see them and a sighting of either would probably eclipse anything else we were likely to encounter.
The forest at Way Kambas is dense in places although there are a lot of enormous strangler fig trees with spreading canopies, complete with large epiphytic plants. Our birding here is all done on a flat, forested plain no more than a few metres above sea level. This landscape is intersected by narrow creeks and oxbow pools in which we might find some really rare birds feeding such as Lesser Adjutant and Storm's Stork. Way Kambas gives us a great chance of seeing the rare White-winged Duck which we hope to find on one of its regular spots.
Colourful rainforest species are high on our agenda here with the incredible Malayan Banded Pitta being top of the target list. We will put in the effort to make sure we get a good view of this key bird, but stunning birds such as Diard's Trogon, Rufous-collared Kingfisher, Red-bearded Bee-eater, Red-naped Trogon, Banded Broadbill, Scarlet-rumped Trogon and Red-naped Trogon will not be far behind on the wish-list. Birding at Way Kambas usually results in a lot of good woodpecker sightings with Olive-backed Woodpecker perhaps being the pick of the bunch in terms of rarity; Buff-necked Woodpecker, Grey-and-buff Woodpecker, Crimson-winged Woodpecker, Banded Woodpecker and White-bellied Woodpecker are all expected to name just a few of the possibilities.
Night birding is perhaps the highlight of a visit to Way Kambas and for those who like owls, frogmouths and nightjars this birding tour is a must. Our expert local guide is very proficient in finding species that include the incredible Large Frogmouth, a bird that is always on the shortlist for bird of the trip, as well as Reddish Scops Owl, Bonaparte's Nightjar, Sunda Frogmouth, Brown Boobook, Gould's Frogmouth, Malaysian Eared Nightjar, Large-tailed Nightjar and the spectacular Oriental Bay Owl. While this West Java and Sumatra birding trip gives an excellent chance to see many night birds we remember that observing these species always requires a lot of patience. However, time frame we have ensures that we have the best chance of finding most, if not all, of them.
Throw in birds such as Green Broadbill, Blue-crowned Hanging Parrot, Dark-throated Oriole, Black Magpie and a whole host of babblers including Sumatran Babbler, Ferruginous Babbler, Chestnut-rumped Babbler, Black-capped Babbler and the amazing Fluffy-backed Tit-Babbler then you have an enormous number of great birds to anticipate. Way Kambas really is one of the best birding sites in the whole of Southeast Asia and it always delivers.
On our last day birding in south eastern Sumatra we spend a full morning at way Kambas before traveling to Bandar Lampung airport for our afternoon flight back to Jakarta. We will spend the night in our comfortable airport hotel.
Day 11, Jakarta – Padang – Kerinci – 13th August 2024
This will be a travel day, getting ourselves to the remote Gunung Kerinci. After breakfast at our hotel we will catch a mid-morning flight to Padang from Jakarta. On arrival we meet our drivers and local guide for central Sumatra and then make the journey of around seven hours, by minivan, to the village of Kersik Tuo. In this village we will stay at Subandi's Homestay, where they have been catering to bird watchers for over 25 years. We will have dinner along the way and arrive in time for a beer and discuss the next day's plan. It is a long day of travel but the birds over the next few days should make the trek worth it.
Days 12-13, Gunung Kerinci – 14-15th August 2024
Two full days on Indonesia's second highest mountain will be divided between the lower slopes and the upper levels both of which contain some really exciting birds. Usually first light allows us to see the peak of Gunung Kerinci and often there is a plume of smoke from the top which serves to remind us of the fact that this is a volcano. Although we will not be venturing to the top we will spend our time on the summit trail making daily excursions through the dense, moist forest from our nearby accommodation.
Walking at a slow, birding speed we will expect to see dueting Rusty-bellied Wren Babblers in the undergrowth of the lower levels as well as Lesser Shortwing and Snowy-browed Flycatcher. Schneider's Pitta is the key target here and although it is hard to locate, over the last few years they have been appearing regularly at a stakeout so we are hoping for top-quality views of this endemic pitta. Other birds that often appear at stakeouts include Salvadori's Pheasant, Shiny Whistlingthrush and even Bronze-tailed Peacock Pheasant but patience is always required when hoping to see shy birds of the forest floor and a little luck is always helpful too.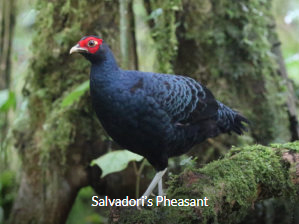 Other birds we hope to find in the lower levels of the mountain include the stunning Sumatran Trogon, which can actually be fairly common on some trips, Large Niltava, Grey-throated Babbler, White-throated Fantail and with a little luck we will encounter a party of Red-billed Partridges. Hopefully we can see Sumatran Frogmouth on a day roost.
Hiking higher up the mountain involves some steep stretches but the distances involved are not great and it is worth making the effort for a good chance to see the amazing Sumatran Wren Babbler with its remarkable long bill. As we go uphill our chances of finding Sumatran Whistlingthrush, White-browed (Sumatran) Shortwing, Sunda (Sumatran) Robin and Sunda Bush Warbler increase but it is not until we get quite high up that we find ourselves in the habitat of the very elusive Sumatran Cochoa. Flocks of birds on the mountain should provide more chances to see birds seen previously on the trip including Indigo Flycatcher, Blue Nuthatch, Sunda Warbler, Sunda Minivet plus new birds in the form of Blyth's Shrike-babbler and Rufous-vented Niltava.
At Kerinci we will have the opportunity to do some night birding with Rajah Scops Owl being the prime target. This is a difficult bird to find and will involve staying out some time after dark in order to find it and then hiking down the mountain using torches/flashlights. Barred Eagle Owl is another nocturnal species we have a chance to see here.
Day 14, Tapan Road – 16th August 2024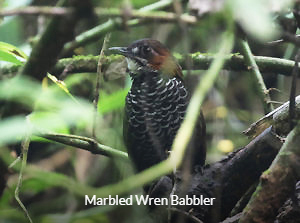 After an early breakfast we leave our accommodation and drive a couple of hours to Tapan Road. Miles of high-quality forest should provide many new birds for our trip including a few really superb species. One of the biggest prizes at this site is the wonderful Graceful Pitta which we will be hoping to make our fourth pitta species of the trip, although the intricate plumage of Marbled Wren Babbler can challenge even this jewel for supremacy among the birds found in the moist gullies here.
Along the meandering road through the forest one of the main attractions among the arboreal species is the lovely Blue-masked Leafbird which often forages on flowering bushes and trees. Sumatran Treepie is another wonderful key species to be found here while Cream-striped Bulbul, Sunda Cuckooshrike, Spot-necked Bulbul, Sumatran Drongo, Sumatran Leafbird and Black-capped White-eye make up the set of endemic birds along here.
Birding along the road here is a lot easier than along the trail at Kerinci and we can expect to encounter flocks of birds which will include more widespread species including Black-and-crimson Oriole, Bar-winged Flycatcher-shrike, Chestnut-crowned Warbler, Golden Babbler, Blue-winged Leafbird, Mountain Leaf Warbler, Long-tailed Broadbill and Temminck's Sunbird. In the mornings we will have a chance of spotting Sumatran Green Pigeon and Little Cuckoo Dove perched out in the open trying to catch the morning sunshine. There is a lot to keep us busy at Tapan Road for sure.
Day 15, Lempur Forest Trail – 17th August 2024
An early breakfast will allow us to arrive on site early enough to make a hike that gets us into the territory of a very special bird: Sumatran Ground Cuckoo. It will be important to get to the right place early enough to have the best chance of seeing this difficult-to-see bird which is unpredictable, being quite obliging at times but completely absent at others. Hiking a rough but gently-sloping trail we pass through some good forest where we are likely to see Sunda (Sumatran) Bulbul along the way as well as flyover views of Wreathed Hornbill and, probably, more views of Sumatran Trogon.
After spending the morning in our quest for the Ground Cuckoo we will hike out of the forest and in the late afternoon, we will make a stop at some lakeside rice fields to find the cute White-headed Munia alongside White-rumped Munia, Eastern Cattle Egret and Intermediate Egret. These munias are a nice way to end the day's birding.
Day 16, Tapan Road – 18th August 2024
A final day of easy birding along Tapan Road will allow us a second chance at any key species we did not get satisfying views of previously. We will also have time to explore further along the road where Bushy-crested Hornbill and Rhinoceros Hornbill dwell. Both Sumatran and Blue-masked Leafbirds are getting more scarce so we may need to visit more flowering trees to find them or just to get more views of these beautiful birds. Species such as Grey-bellied Bulbul, Spectacled Spiderhunter, Cinereous Bulbul, Red-headed Trogon, Rufous-chested Flycatcher, Rufous-bellied Eagle and Temminck's Sunbird all occupy the forest along here so there is always plenty to search for.
This day also gives us the opportunity to try again for Sumatran Ground Cuckoo should we have failed to connect with it on the previous day.
We return to spend the night at Subandi's Homestay, reducing the length of our journey for the next day.
Day 17, Kerinci-Padang-Jakarta – 19th August 2024
Having enjoyed some superb birds in Central Sumatra we have another travel day ahead of us, retracing our steps back to Jakarta, where we should arrive at around 5pm. On arrival we will transfer to our, by now familiar, hotel before heading to East Java on the following morning.
Day 18, Jakarta – Banyuwangi – Alas Purwo National Park – 20th August 2024
After breakfast at the hotel we take a morning flight to the small town of Banyuwangi, in East Java, a flight of around one hour. On arrival we meet our local team for the remainder of the birding tour and head towards Alas Purwo National Park, a protected area on a peninsula on the extreme south east of the island of Java. We will spend the afternoon birding close to a viewpoint over an area of savanna-like grassland which should make enjoying good numbers of spectacular Green Peafowl rather easy. This open area, surrounded by forest, is very close to our accommodation and presents a great opportunity to spot a wide range of species including Wreathed Hornbill, soaring Lesser Adjutant, Blue-tailed Bee-eaters hawing for insects, Javan Kingfisher on exposed perches as well as mammals in the form of Banteng, Long-tailed Macaques and (Sunda) Sambar.
Fruiting trees close by often entice some exciting and colourful Barbets with Yellow-eared (Little) Barbet often being common although a little more effort will probably be required to see the splendid Black-banded Barbet; both Java/Bali endemics. However, the potential highlight here can be seen from a hide, secluded in the forest, from which we hope to see (Javan) Black-capped Babbler come to feed although even this is likely to be eclipsed by Javan Banded Pitta. Other potential sightings here include Horsfield's Babbler and another endemic – Javan Tit Babbler. Hides like this provide extremely memorable views and are exceptional for the photographers
As the day draws to a close it can be a good time to spot Orange-breasted Green Pigeons perched on the treetops and enjoy some woodpecker activity with Sunda Pygmy Woodpecker easily seen as well as a good chance to find the impressive White-bellied Woodpecker. Perhaps there could be a few surprises before it gets dark and we enjoy dinner at our accommodation.
Day 19, Alas Purwo National Park – Gunung Ijen – 21st August 2024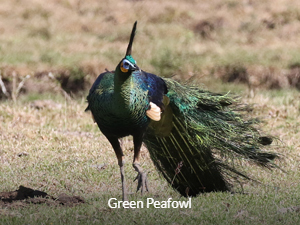 Situated right next to the sea we will awaken to the sound of waves crashing upon the beach where Long-tailed Macaques can usually be seen hunting for crabs. In terms of birds we may well see White-bellied Sea Eagle cruising along the beach while Chestnut-headed Bee-eaters can often be seen perched on coastal trees. However, the early morning is an excellent time to track down one of East Java's most exciting endemics; Javan Flameback. The male of this species looks very similar to the more widespread Greater Flameback but the female is unique with a yellow crown rather than the black one that is more usual in this group of woodpeckers. We should be able to see this key species here while morning birding may also turn up (Javan) Banded Broadbill, Violet Cuckoo, Javan Spiderhunter, Red-billed Malkoha and Cream-vented Bulbul although perhaps the next most anticipated species will be Javan Blue Flycatcher which can usually be located by its high-pitched song eminating from the mid storey of the forest.
We can take another look over the savanna area for more views of Green Peafowl and perhaps a first Green Junglefowl but by mid-morning we will be moving on towards our accommodation in the foothills of Gunung Ijen, a spectacular volcano. We plan to have lunch at the accommodation before we can check in and make our first foray up the mountain.
The birding on Gunung Ijen is mostly along the road through the forest and although birding can be tricky there are plenty of new species awaiting us as well as some that we will have already seen along the way such as Sunda Minivet, Sunda Warbler and Flame-fronted Barbet. The late afternoon is a good time to look for Dark-backed Imperial Pigeon which can be fairly numerous at times but Pink-headed Fruit Dove is less common although this is an excellent site for this incredible bird and we have a high chance of success. If we can find flocks of small birds feeding together then White-bellied Fantail is a bird we should be looking for and sometimes Checker-throated Woodpecker will join these flocks at this location.
Day 20, Gunung Ijen – 22nd August 2024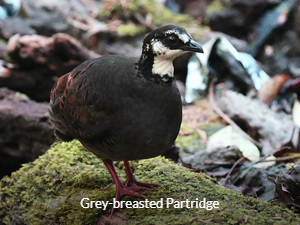 Mornings are by far the best time for birding on this mountain so we will make the most of the two that we have on Gunung Ijen. Breakfast in the field is followed by a session in a hide which should hopefully provide one of the most memorable sightings of the trip in the superb Grey-breasted (White-faced) Partridge, yet another species endemic to the island of Java. Emerging to feed on bait provided on a mossy log a small group of these beautiful partridges should enchant us at close range. Pale-blue Flycatcher, Horsfield's Babbler and lovely Snowy-browed Flycatchers should also entertain us but another Javan speciality is also expected here; White-bibbed Babbler. These garrulous little birds often charge aorund the forest in a group and we have high expectations of them providing us with a good show here.
Other exciting birds to look for here include Orange-breasted Trogon, Pink-headed Fruit Dove and perhaps even Javan Scimitar Babbler while at higher altitude we can try to see the highly skulking Javan Bush Warbler. By mid-morning things usually get extremely quiet so we head back to our accommodation for lunch and a well-earned rest. In the late afternoon we can make another excursion to the forest to take advantange of any revival of bird activity.
Day 21, Gunung Ijen- Baluran National Park – 22nd August 2024
A final morning on Gunung Ijen so that we have time to find key species such as Dark-backed Imperial Pigeon, Pink-headed Fruit Dove, Javan Bush Warbler, White-bellied Fantail and Rusty-breasted Whistler. We will use our time to target species not seen up until this point before we go back to the hotel to pack and move on to our next location; Baluran National Park.
A late afternoon visit here will give us a chance to watch over an area of savanna grassland where birds should come to water holes as the temperature falls. We can enjoy a leisurely session looking for rare Black-winged Starlings coming to bathe alongside flocks of Island Collared Doves. Green peafowl are sure to put in an appearance too and we should be able to get good views of Green Junglefowl if we have not seen them before. In the scattered trees species such as Small Minivet and Freckle-breasted Woodpecker are frequent and we also hope to see at least some Java Sparrows come to join the party.
Accommodation in a simple local hotel.
Day 22, Baluran National Park – Bali Barat National Park – 23rd August 2024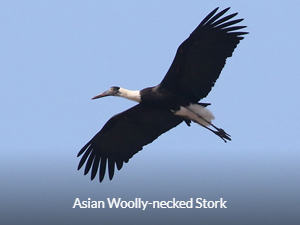 Situated close to the national park we do not have far to go to have a field breakfast, once again looking across the dry, grassy plain towards several volcanoes. As well as having a second chance to see the increasingly rare Black-winged Starling there is a good chance that Asian Woolly-necked Storks will put in an appearance and we should keep our eyes peeled to spot them soaring overhead as well as Spotted Kestrels doing the same thing. Sacred Kingfisher can sometimes be found in this area and species like Oriental Pied Hornbill, Black-thighed Falconet, Black-winged Kite and Changeable Hawk Eagle can also often be spotted here.
More moist vegetation close to the sea provides another opportunity to catch up with Javan Tit Babbler but things get hot really quickly here so we do not intend to hang around beyond mid-morning before starting our journey towards Bali. Stopping for lunch along the way we will board the ferry and make the crossing of around one hour to the other side of the Bali Strait, with Great Crested Tern and Black-naped Terns often seen from the ferry.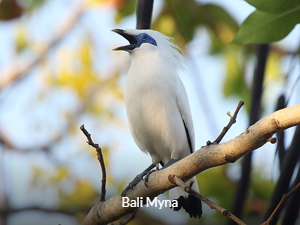 Once on the island of Bali it will not take us long to resume birding with some good spots very close to the port with the once close-to-extinct Bali Myna now thriving in this area; this will hopefully make for a memorable start to birding on this last of our three islands. Colourful Coppersmith Barbet is common here and Brown Honeyeaters can be found in low trees around local boatyards.
Sacred Kingfisher is easily found around the coast here, often perching on fishing boats, while Barred Buttonquail is often seen in open areas. If the tide is low we might see a few waders or a Lesser Adjutant stalking prey in the shallows. Orange-breasted Green Pigeons collect in fruiting trees as the day draws to a close and there is usually a chance to see Savanna Nightjar on a daytime roost, which we can enjoy before making a short journey to our accommodation where we will stay for the next two nights.
Day 23, Bali Barat National Park – 24th August 2024
We will start the morning in the dry forest of Bali Barat National Park where Green Junglefowl is common. Species to search for include noisy Javan Cuckooshrike, the white-eyed (Javan) Hair-crested Drongo, Grey-cheeked Green Pigeon and the local race of Lineated Barbet. More stunning Bali Mynas are likely too before we move on to a more moist area of forest for a visit to another hide which we hope will provide some more extremely memorable sightings. The Balinese form of Javan Banded Pitta will be anticipated here along with Olive-backed Tailorbird, Fulvous-chested Jungle-Flycatcher and the superb Rufous-backed Dwarf Kingfisher. With these birds forming a great morning of birding we still have time to check another area for Black-naped Fruit Dove before taking a break for lunch.
Later, in the afternoon, we can check some coastal areas for shorebirds where we can expect species like Grey-tailed Tattler and Terek Sandpiper to be returning while we should be able to locate a few resident Javan Plovers and beach-loving Malaysian Plover. Pacific Reef Egret can usually be found feeding in these coastal areas, with Golden-bellied Gerygone calling from the fringing mangroves and perhaps Rufous Night Heron hanging out with the more numerous Black-crowned Night Herons. If we are lucky we might be able to find the impressive Beach Thick-knee here and sometimes there are sightings of Great-billed Heron in this area. Sacred Kingfisher, Striated Heron, Collared Kingfisher, Great Crested Tern and some commoner returning shorebirds can all be expected too.
Day 24, Bali Barat National Park – Kuta – 25th August 2024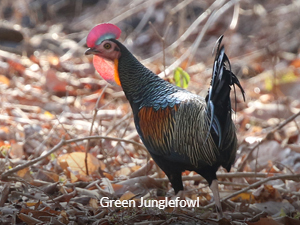 A second visit to the dry forests of Bali Barat National Park to see what else we can find; perhaps Laced Woodpecker will emerge from its favoured tangled woodland, we can enjoy more views of Green Junglefowl and Bali Myna as well as perhaps finding the Balinese subspecies of Black-winged Myna which is another in a long list of potential splits. These woodland areas have birds in abundance so it will give us a last opportunity to get views of species such as Scarlet-headed Flowerpecker, Javan Cuckooshrike, Small Minivet and other flocking birds as well as time to look for any of the key species we may not have seen on the previous day.
We leave our accommodation and start the journey towards Kuta, on the south of the island of Bali, stopping first for lunch and then making a quick stop at a bus station where a colony of Java Sparrows makes for an easy final bird if we did not see them earlier in the trip (which we often don't).
After checking into our hotel at Kuta we have time to take a shower before meeting for our last dinner together where we will be able to reflect on many superb birds and take a vote for "Bird of the trip".
Day 25, Bali – Home – 26th August 2024
A short taxi ride will take you from our hotel to Denpassar International Airport. The time for this can be arranged according to your flight times. This concludes our Java, Sumatra and Bali birding tour.
The following is a list of key species that we have a very good chance of finding based on the experience of previous visits. Although this is a long list it is not exhaustive and there are many other great birds that we will be searching for. However, these are some of the regional highlights that we will put effort into locating because they are memorable and/or are endemics. While we expect to find a very high proportion of these birds we obviously cannot guarantee that we will see all of them; these are wild birds after all.
Sunda Teal – Anas gibberifrons
White-winged Duck – Asarcornis scutulata
Chestnut-bellied Partridge – Arborophila javanica
Red-billed Partridge – Arborophila rubrirostris
White-faced (Grey-breasted) Partridge – Arborophila orientalis
Green Peafowl – Pavo muticus
(Sumatran) Bronze-tailed Peacock Pheasant – Polyplectron chalcurum
Green Junglefowl – Gallus varius
Salvadori's Pheasant – Lophura inornata
(Malayan) Crested Fireback – Lophura rufa
Pink-headed Fruit Dove – Ptilinopus porphyrius
Black-naped Fruit Dove – Ptilinopus melanospilus
Dark-backed Imperial Pigeon – Ducula lacernulata
Sumatran Ground Cuckoo – Carpococcyx viridis
Volcano Swiftlet – Aerodramus volcanarum
Large Frogmouth – Batrachostomus auritus
Gould's Frogmouth – Batrachostomus stellatus
Sumatran Frogmouth – Batrachostomus poliolophus
Javan Frogmouth – Batrachostomus javensis
Sunda Frogmouth – Batrachostomus cornutus
Malaysian Eared Nightjar – Lyncornis temmincki
Bonaparte's Nightjar – Caprimulgus concretus
Salvadori's Nightjar – Caprimulgus pulchellus
Javan Plover – Charadrius javanicus
Christmas Island Frigatebird – Fregata andrewsi
Asian Woollyneck – Ciconia episcopus
Milky Stork – Mycteria cinerea
Lesser Adjutant – Leptoptilos javanicus
Javan Hawk Eagle – Nisaetus bartelsi
Oriental Bay Owl – Phodilus badius
Reddish Scops Owl – Otus rufescens
Rajah Scops Owl – Otus brookii
Javan Scops Owl – Otus angelinae
Javan Trogon – Apalharpactes reinwardtii
Sumatran Trogon – Apalharpactes mackloti
Red-naped Trogon – Harpactes kasumba
Diard's Trogon – Harpactes diardii
Scarlet-rumped Trogon – Harpactes duvaucelii
Fire-tufted Barbet – Psilopogon pyrolophus
Black-banded Barbet – Psilopogon javensis
Flame-fronted Barbet – Psilopogon armillaris
Yellow-eared Barbet – Psilopogon australis
Coppersmith Barbet – Psilopogon haemacephalus roseus
Javan Flameback – Chrysocolaptes strictus
Olive-backed Woodpecker – Dinopium rafflesii
Checker-throated Woodpecker – Chrysophlegma mentale
Sunda Pygmy Woodpecker – Picoides moluccensis
Rufous-collared Kingfisher – Actenoides concretus
Javan Kingfisher – Halcyon cyanoventris
Rufous-backed Dwarf Kingfisher – Ceyx rufidorsa
(Javan) Yellow-throated Hanging Parrot – Loriculus pusillus
Green Broadbill – Calytomena viridis
Long-tailed Broadbill – Psarisomus dalhousiae
(Javan) Banded Broadbill – Eurylaimus javanicus
Schneider's Pitta – Hydrornis schneideri
Javan Banded Pitta – Hydrornis guajanus
Malayan Banded Pitta – Hydrornis irena
Graceful Pitta – Erythropitta venusta
Pied Shrike Babbler – Pteruthius falviscapis
Trilling Shrike Babbler – Pteruthius aenobarbus
Sunda Minivet – Pericrocotus miniatus
Rufous-tailed Fantail – Rhipidura phoenicura
White-bellied Fantail – Rhipidura euryura
Sumatran Treepie – Dendrocitta occipitalis
Orange-spotted Bulbul – Pycnonotus bimaculatus
Ruby-throated Bulbul – Pycnonotus dispar
Cream-striped Bulbul – Alcurus leucogrammicus
Spot-necked Bulbul – Alcurus tympanistrigus
(Javan) Grey-cheeked Tit Babbler – Macronus flavicollis
Crescent-chested Babbler – Cyanoderma melanothorax
Javan Scimitar Babbler – Pomatorhinus montanus
White-bibbed Babbler – Stachyris thoracica
(Javan) Black-capped Babbler – Pellorneum capistratum capistratum
Marbled Wren Babbler – Turdinus marmoratus
Rusty-breasted Wren Babbler – Turdinus rufipectus
Sumatran Wren Babbler – Rimator albostriatus
(Sunda) Eyebrowed Wren Babbler – Napothera epilepidota (epilepidota)
Sunda Warbler – Phylloscopus grammiceps
Pygmy Bushtit – Aegithalos exilis
Javan Tesia – Tesia superciliaris
Sunda Bush Warbler – Horornis vulcanius
Pygmy Cupwing – Pnoepyga pusilla
Javan Bush Warbler – Locustella montis
(Javan) Olive-backed Tailorbird – Orthotomus sepium
Bar-winged Prinia – Prinia familiaris
Blue Nuthatch – Sitta azurea
Black-winged Myna – Acridotheres melanopterus
Bali Myna – Leucopsar rothschildi
Sunda Thrush – Zoothera andromedae
(Horsfield's) Scaly Thrush – Zoothera dauma horsfieldi
Sumatran Cochoa- Cochoa beccarii
Javan Cochoa – Cochoa azurea
Javan Blue Flycatcher – Cyornis banyumas
(Sumatran) Rufous-vented Niltava – Niltava sumatrana
Indigo Flycatcher – Eumyias indigo
(Sumatran) White-browed Shortwing – Brachypteryx montana (saturata)
(Javan) Sunda Blue Robin – Myiomela diana (diana)
(Sumatran) Sunda Blue Robin – Myiomela diana (sumatrana)
Sunda Forktail – Enicurus velatus
Shiny Whistlingthrush – Myophonus melanurus
Javan Whistlingthrush – Myophonus glaucinus
Sumatran Whistlingthrush – Myophonus castaneus
Sumatran Leafbird – Chlorolophus media
Blue-masked Leafbird – Chlorolophus venusta
(Javan) Blood-breasted Flowerpecker – Dicaeum sanguinolentum
Scarlet-headed Flowerpecker – Dicaeum trochileum
White-flanked Sunbird – Aethopyga eximia
Tawny-breasted Parrotfinch – Erythrura hyperythra
Java Sparrow – Lonchura oryzivora
The map of Java, Sumatra and Bali below displays the main locations visited on this birding tour.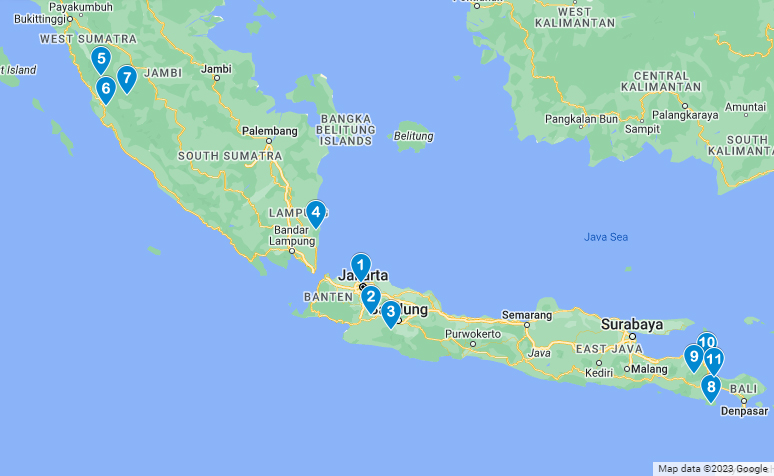 1. Muara Angke
5. Gunung Kerinci National Park
9. Gunung Ijen
2. Gunung Gede/Cibodas
6. Tapan Road
10. Baluran National Park
3. Kawah Putih
7. Lempur Forest Trail
11. Bali Barat National Park
4. Way Kambas National Park
8. Alas Purwo National Park
The following is a selection of the birds of Java, Sumatra and Bali photographed at sites visited on this tour.
Javan Plover

Fire-tufted Barbet

Grey-bellied Bulbul

Pygmy Cupwing

Intermediate Egret

Indigo Flycatcher

Grey-rumped Treeswift

Grey-chested Jungle-flycatcher

Chestnut-crowned Warbler

Pied Shrike Babbler

Coppersmith Barbet

Malayan Crested Firwback
All above photographs copyright Nick Upton/Calidris Birding Tours.
---
Tour Details
Tour Cost: £TBA per person
Single supplement: £TBA Depending on the number of participants, single accommodation may not be possible at Alas Purwo and/or Baluran National parks. This is because the accommodations have a limited number of rooms. 
Included in the tour cost; All transport including airport transfers, accommodation (based on two people sharing a room) including a hotel on the night preceding the tour and on the final night of the tour, flights within Indonesia, all meals, bottled water, national park entry fees and permits, services of English-speaking birding guide, translator and Calidris Birding Tours guide.
Not included in the tour cost; International flights,  travel insurance, visa, alcoholic drinks, tips, excess baggage fees, laundry and any other items of a personal nature. On the odd occasion camera fees are levied at some national parks; any fees that may be charged are not included in the tour cost (this was not an issue in 2023).
Accommodation: All attempts are made to ensure that accommodation is convenient for accessing the birding sites and keeps travel time to a minimum. Accommodation includes a very comfortable airport hotel in Jakarta on several occasions, a fairly comfortable (if a bit tired in decor) gueshouse at Cibodas, a fairly comfortable hotel at Ciwidey (Kawah Putih), a simple but very clean and comfortable wildlife lodge at Way Kambas, a fairly basic homestay at Kerinci, a fairly comfortable hotel at Sungai Penuh, a fairly basic but clean guesthouse at Alas Purwo, a very nice hotel at Gunung Ijen, a simple local hotel at Baluran, a very pleasant and comfortable family-run resort near Bali Barat and a very comfortable hotel at Kuta, Bali . All accommodation, apart from perhaps that at Alas Purwo depending on the number of participants), has en-suite shower and toilet facilities. A wifi signal is available at most locations, but these are often weak and unreliable. However, phone signals are available everywhere so buying an Indonesian Sim at the airport solves this problem and is highly recommended.
Physical Effort:  Overall you will require a reasonable level of fitness/mobility to enjoy this Java, Sumatra and Bali birding tour to its full. Days 1-2 are simple, requiring only the ability to board and disembark from a medium-sized fishing vessel. Day 3 involves a moderate hike up the paved trail at Gunung Gede; the distance involved is not huge but the uneven flagstones does make for a tiring day of walking, although this is always done at birding speed with many tea breaks and is never especially steep. Days 4-6 involve slow strolling along paved tracks although these can involve steep gradients for short preiods Days 7-10 involve fairly long birding days but walking along flat forest tracks. Days 11 and 17 are travel days which involve a long road journey and a flight. Days 12-13 involve a fair bit of hiking up a steep forest trail and these can be long days, although we take plenty of breaks. Days 14 and 16 involve easy walking along a forest road. Day 15 involves a two-hour hike along an inclined track with some short steep slopes, to get in place at the right time for the target species. Days 18-24 are all fairly easy, birding along mostly flat forest tracks, although at Gunung Ijen we bird along a road which runs uphill. The itinerary has been planned to try and  ensure that things are done at a sensible pace and there is enough time to find a very high proportion of target birds. Most people with good levels of mobility will be able to enjoy this trip. On a number of days there will be breaks in the middle of the day and a couple of early finishes before hikes on the next day. 
Weather: Warm to hot in the lowlands with quite high levels of humidity; air quality can be an issue on the boat trip day from Jakarta. When at higher altitude much cooler temperatures are normal. We expect mostly dry and bright conditions but there can be some rain at any time. Overall weather conditions are not extreme.
Food: Indonesian food is typical of Southeast Asian cuisine, based on rice accompanied by a variety of stir-fried dishes, some of which are spicy, others of which are not. Vegetarian food is widely available with one of the best meat substitutes in the world (tempe) originating in Indonesia. People with food allergies can be catered for, but please notify us of these in advance.
---
Tour Leaders

Nick Upton
Nick Upton has been birding since the age of seven and leading birding tours full-time since 2007. After travelling extensively in Asia he settled in Thailand in 1997, teaching English and science while establishing thaibirding.com. With a BSc (Hons) Wildlife & Countryside Conservation he is well placed to understand the ecology of birds as well as the conservation issues that affect them.
Nick is co-founder/director of Calidris Birding Tours.
---
While we make every effort to adhere to the advertised itinerary for this Java, Sumatra and Bali birding tour we reserve the right to make changes in the case of unforeseen circumstances that are beyond our control. These include problems with accessibility, national park closures, unseasonal weather events or any other reason that may demand a change of itinerary.
---
Recommended Field Guide
Birds of the Indonesian Archipelago: Greater Sundas and Wallacea (Second Edition)
Published in 2021 this is the most complete guide to the birds of Indonesia and an update on the first edition. We strongly recommend that all participants on this tour purchase a copy after booking to familiarize themselves with the birds we hope to see. The checklist that Calidris Birding Tours will issue for this tour will be based on IOC taxonomy with reference to the taxonomy used within this field guide.
When booking this Java, Sumatra and Bali Birding Tour participants will receive a 10% discount code to use when ordering the book directly from Lynx Edicions.
Read our full review of the book here – Birds of the Indonesian Archipelago.
---
Related Blog Posts
---
Terms and conditions: Please read full Calidris Birding Tours terms and conditions which apply to the Java, Sumatra and Bali Birding Tour.